Round Bottle Labeling Machine FH-130: Control & Installation
- Tuesday, July 30, 2019
Description of the control system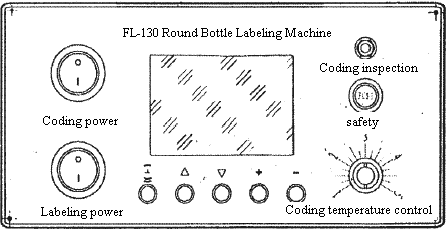 Labeling power: to control the power switch of the Round Bottle Labeling Machine
Coding power: to control the power of the coding machine
Coding inspection: to check if coding machine works regularly
Coding temperature control: to control the heating temperature of the coding machine
Monitor: Displays timefor waiting, labeling, and bottle pressing; single label, double label and counting functions.
button for selecting single label or double labels.
button for selecting the function of the monitor.
button for setting the time parameters. Press both buttons down at the same time for one second to automatically reset the counter.
Installation
Instructions for Installation of Label Tape and Adjustment of the Tightness of the Label Tape
Unscrew the press tape handle, and wind up the label tape according to the label winding diagram; clamp the label tape head tight with the U-type rewinding tape and press tight against the press tape handle at the same time.
The tightness of the label tape must be appropriate as the tape may break if it is too tight and labeling position may be affected if it is too loose. User may adjust the pressure of the micro pressure block and the tightness of the brake strap according to the actual situation.
If the scratch tape is too tight or too loose, user may adjust the inner hexagon screws on the tape rewinding wheel.
Instruction for Adjustment of the Rotary Moment of the Bottles
Adjust the distance between the drive roll and non-drive roll according to the size of the external diameter of the bottle, and then adjust the pressure of the press roll for press bottles. The pressure shall be subject to the requirement that label may be successfully stripped during the labeling process while the bottles are not going to slip.
Instructions for Labeling
Adjust the position forward or backward of the optical coupling for label inspection and the label itself to have it located at the exact position for labeling.
Turn on the power for labeling. If coding is required, turn on the power and temperature control switch for coding machine at the same time (for details, referring to the manual for operating instruction of the coding machine).
Set the time for bottle pressing, waiting, and labeling on the control panel as required. In the event of double labels there should be an interval. Put in the bottles for automatic labeling after setting all the parameters.
Leave your comment
Also Offers
New Arrival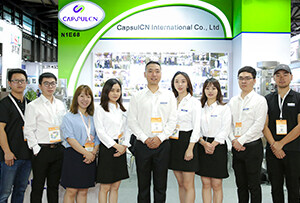 Our Team
As an expert in the pharmaceutical and pharmaceutical packaging industry, iPharMachine has provided solutions for hundreds of pharmaceutical and health product manufacturers for 17 years. By visiting customers, we get good reviews from our customers.