The capsule filling machine is a machine specially used for filling capsules. This kind of equipment has a fast filling speed and small size difference, so it is widely used in pharmaceutical manufacturers, health care products factories, hospitals and other places. The capsule filling machine can be divided into a fully automatic capsule filling machine and a semi-automatic capsule filling machine.
The filling machine combines the filling of the capsule shell, the capsule cap finishing, and the capsule set. The entire device is compact and convenient, which has a small footprint and is suitable for mass production.
They have the function of arranging and locking the capsules, which reduces the body and floor space. It involves fewer manual steps and is therefore very hygienic. And it is easy to operate, easy to maintain, low power consumption, economical and practical. Just replace the corresponding type of capsule filling board, you can easily produce different types of capsules.
This kind of machine can fill hundred or thousand capsules per minute depends on machine model. So the fast filling speed saves up a great cost of human labor. By the way, you can start a 00,0,1,2,3,4,5 size and safety capsule with the change of mold, which is your best choose for mass capsule production.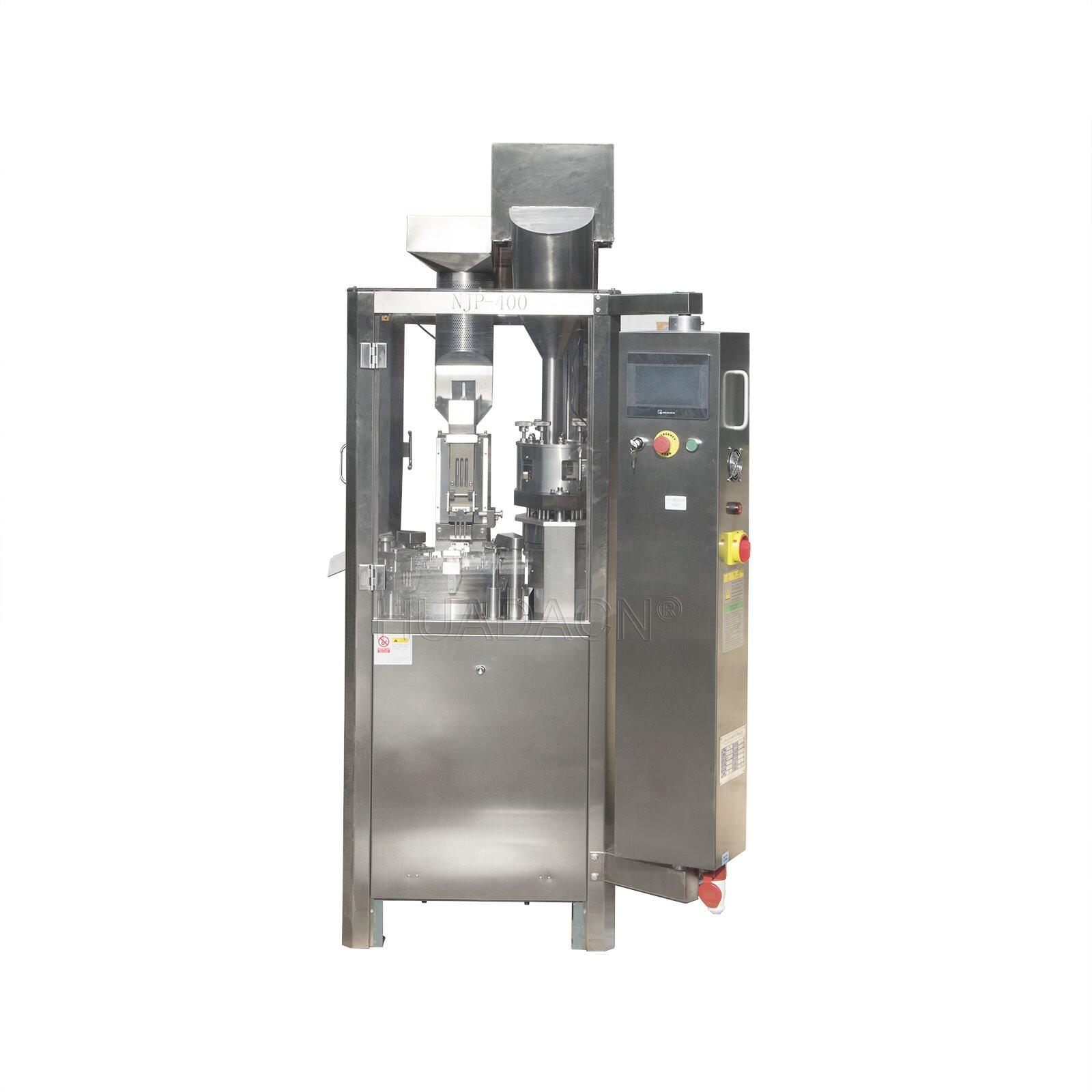 Touch screen operation of automatic capsule filling machine:
a. There are six function keys in the operation menu, which can be selected according to your needs.
b. The screen can automatically operate the screen. In addition to displaying and setting the speed control frequency, this screen also displays the number of machines produced per minute and the total production volume of the machine. When the fully automatic work button is activated, the machine enters the automatic working state. All work keys that are manually operated are automatically reset.
c. In the parameter setting screen, there is a "feeding working status" selection button to select the feeding working mode.
Automatic feeding time setting: about 3~5 seconds for delayed feeding and about 20~25 seconds for stopping medicine. If the feed motor does not start (stop) after the set time has elapsed, the main unit will stop running.
Timing medication time setting: delay the drug supply for about 10~20 seconds, about 30~40 seconds delay the drug stop.
d. Manual work screen: Four buttons can work independently, for tuning and debugging.
e. Fault display screen: There are five fault alarm points. As long as one of the faults occurs, the screen automatically pops up the fault point display and the alarm sounds, and the machine automatically stops. If the fault elimination screen is automatically restored to its original state.
For more operation of the capsule filling machine, you can subscribe our youtube channel about automatic capsule filling machine or visit our products.