Uphill Elevating Capsule Polisher and Sorter LSV-C100
Introduction
LSV-C100 Capsule Polisher has achieved double functions of capsule polishing and elevating. Inlet of the machine can be connected with any model of capsule filling machine, and outlet with capsule sorter and metal detector, so that to realize the production line of capsule polishing, elevating, sorting and detecting.
Specifications
Model
LSV-C100

Application

Suitable for polishing, improvement, and faulty capsule rejection of all types of capsules. 

Applicable capsule size

00#, 0#, 1#, 2#, 3#, 4#

Machine shell

304 stainless steel, with mirror-surface treatment

Parts in contact with capsules

316L stainless steel, with mirror-surface treatment

Compressed air flow

0.3 m

³

/min

Compressed air pressure

0.3 Mpa

Vacuum cleaning

3.0 m

³

/min

Vacuum cleaning pressure

0.02Mpa

Working voltage

220V/110V, 50/60Hz

Input current

About 160mA 110V; about 80mA 220V

Rated power

200W

Power cable

1.8m with a plug

Max. output

600,000 pcs/h

Ambient temperature

18℃ - 26℃

Environmental requirements

Dustproof and anticorrosive

Height & Dimension of inlet

Height: 800mm   Dimension: 300*250mm

Height & Dimension of outlet

Height: 1040mm   Dimension: 65*50mm

Dimension (L*W*H)

500*841*1458mm

Weight

80KG
Remarks
Designed with up-to-date concepts and adopting several advanced technologies, the machine is equipped with following characteristics:
Double functions of capsule polishing and elevating to leave high flexibility for follow-up equipment line;
360° circle adjustment for inlet and outlet to make production more convenient and save factory room;
Automatically sort less dosage, empty, fractured and cap-body separated capsule;
Fast-joint system to ensure safe and quick disassembly and assembly;
Parts in contact with medicine all made of 316L stainless steel or other material conforms to modern medicine safety standards;
Detachable brush on main shaft can be thoroughly cleaned. No blind spot during whole machine cleaning. Meet cGMP demands.
review(s)
The speed of this machine is so fast that the capsules are separated very well.
From: Isabella | Date: 3/1/2021 3:28 AM
Was this review helpful?
(

0

/

0

)
Write your own review
Also Offers
New Arrival
Related products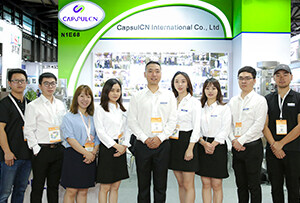 Our Team
As an expert in the pharmaceutical and pharmaceutical packaging industry, iPharMachine has provided solutions for hundreds of pharmaceutical and health product manufacturers for 17 years. By visiting customers, we get good reviews from our customers.
Recently viewed