RJWJ-115 Softgel Production Line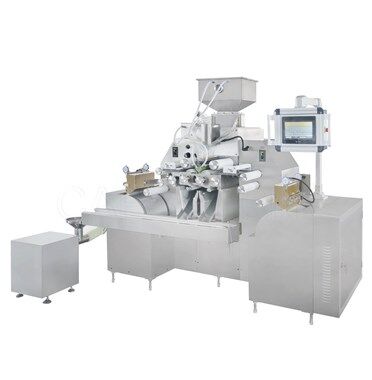 Some of the shapes that you can make using the softgel encapsulation machine are:
* Oblong Softgel Capsules
* Round Softgel Capsules
* Tube Softgel Capsules
* Oval Softgel capsules
The sizing of the softgel capsules also vary from 000 which is the biggest to size 5 which is the smallest.
Introduction
Soft gelatin encapsulation line is suitable for filling a certain amounts of prepared medicine solutions into two lines gelatin sheet and forming soft gelatin capsules or balls with various size, shape and color after compression under the action of one pair opposite movable moulds.
It's consist of compression system, gelatin melting system, raw material compounding system, shaping and drying system, cleaning system, recycling system etc. During gelatin compression and forming, it can be finalized within the sealed cavity so as to avoid coming across medicine oxygenation. All material contact parts are made of S.S. 316L in full compliance with "GMP" standard requirements.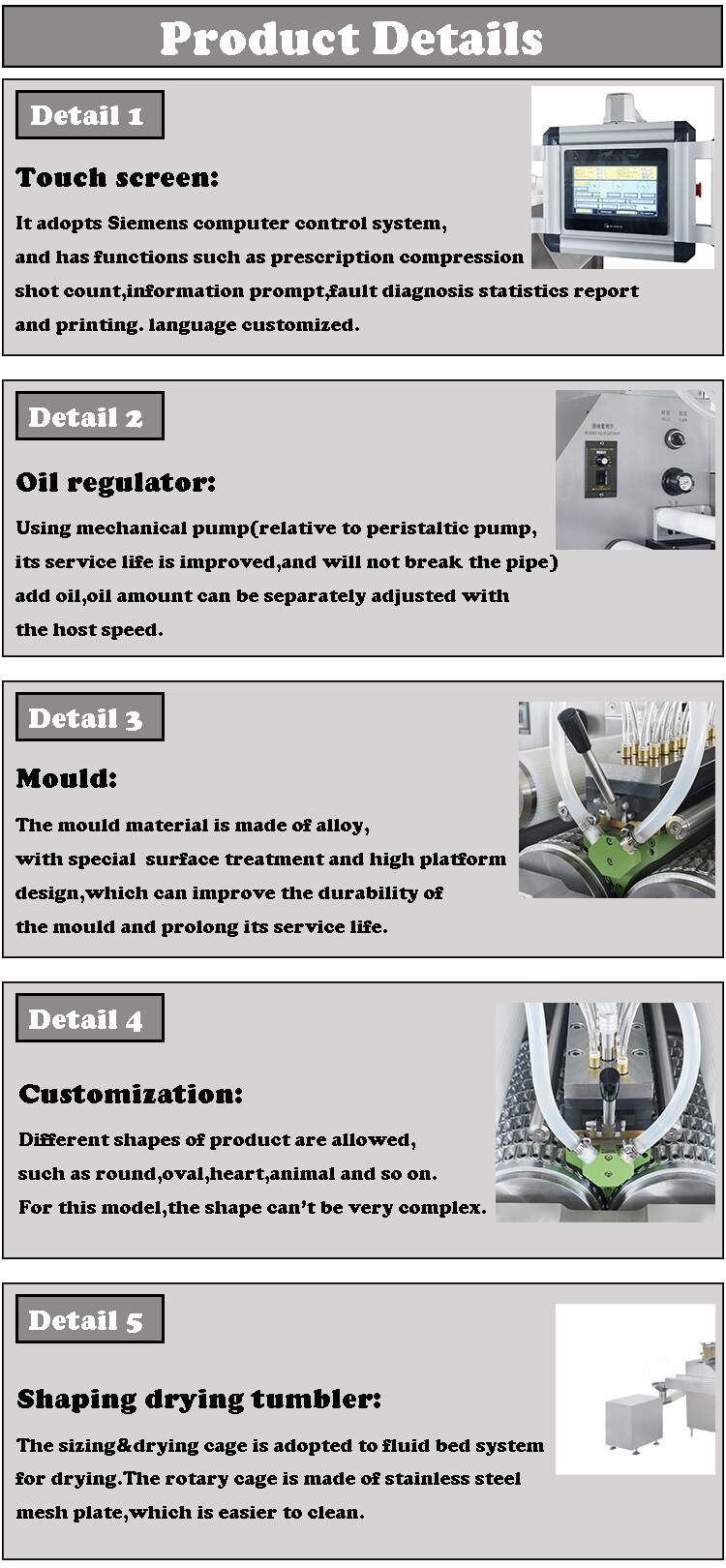 Specifications
Die Roll Capacity In Common Use

Shape

Model

RJWJ-115

RJWJ-200

RJWJ-300

Mould cavity

Capacity of the medium speed(Pill/Hour)

Mould cavity

Capacity of the medium speed(Pill/Hour)

Mould cavity

Capacity of the medium speed(Pill/Hour)

Oval

4

114

17100

286

51480

714

85680

8

85

12750

230

41400

585

70200

20

52

7800

140

25200

334

40080

Oblong

4

86

12900

236

41400

554

66480

8

64

9600

206

37080

468

56160

20

48

7200

138

24840

315

37800

Round

8

82

12450

231

41580

590

70800
Remark
Strong product capacity, it can produce 300 million granules (No.8 oval shape, 3 revolutions/minute, 24 hours / day, 300 days/year).
Injecting medicine part adopts advanced linearity driving system, and it makes sure that the precision of
charging and filling is less than 2%. Capsule package rate is up to 98%.
The gelatin ribbon is lubricated by fine oil supply technology in order to lower the consumption of
lubrication oil. The ribbon is lubricated by vegetable oil, so the capsules produced is free of wash.
High quality capsule deferent equipment adopts food conveyer belt authorized by American FDA, without
poison and adhibition and easy to clean.
Optimized designed mould is made of high quality aviation alloy material by high precision numerical
control process to insure the mould's service life.
Write your own review
Also Offers
Save $1,000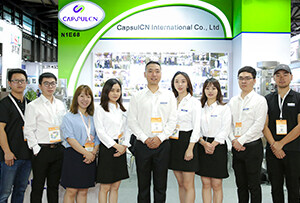 Our Team
As an expert in the pharmaceutical and pharmaceutical packaging industry, iPharMachine has provided solutions for hundreds of pharmaceutical and health product manufacturers for 17 years. By visiting customers, we get good reviews from our customers.
Recently viewed