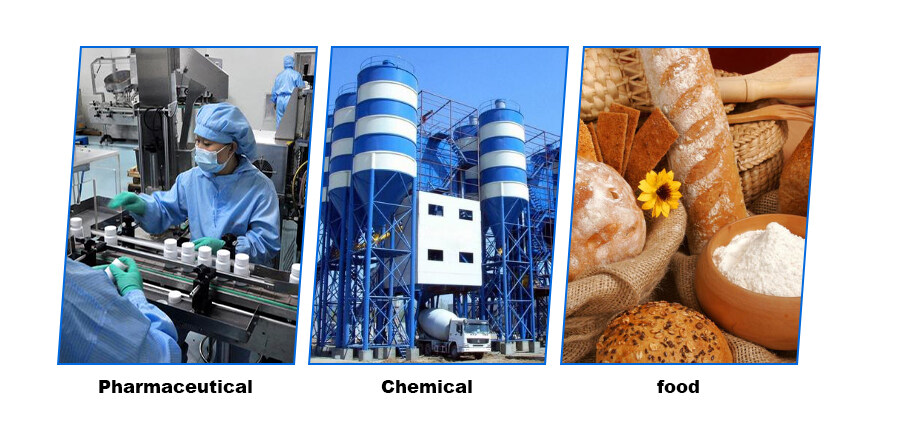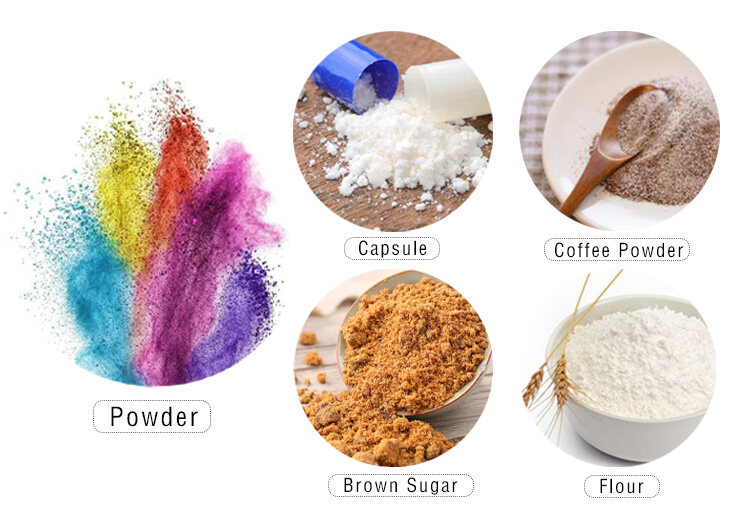 The machine is suitable for mixing dry, powdery, granular materials and irregular materials in pharmaceutical, chemical and food products.
We have various types of mixers, please tell us your needs, and we will recommend a suitable machine for you!
Introduction
The double cone mixer is a kind of equipment for mixing dry powder or dry granular materials, which is suitable for pharmaceutical industry, chemical industry, food, agriculture and other industries.
Characteristic:The double cone mixer has a unique structure design. The mixing container rotates. During this process, the materials in the container move in all directions, which makes the materials in the container be mixed more, with good effect and high mixing uniformity. The maximum load coefficient is 0.7.
Working principle:The rotation axis of the double cone mixer deviates an angle from the center of the mixing container during mixing. When the container rotates, the material diffuses, flows and moves tangentially. In this way, under the action of frequent and rapid rotation and turning, the mixed materials are mixed with each other, which ensures that the materials can meet the ideal mixing requirements in a short time.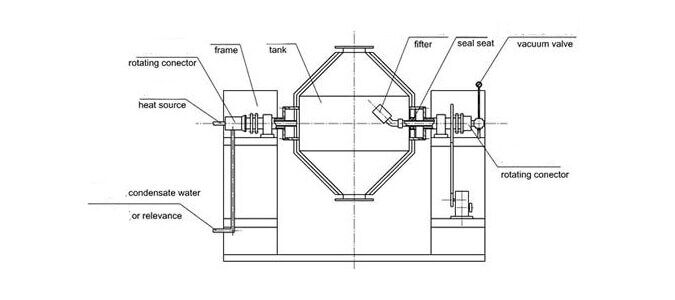 Structure:
The double cone mixer is composed of the machine frame, drive system, the mixing container, electrical control system and other components.
● Machine frame: it is composed of structural parts and stainless-steel panel, with drive system and the electrical control system inside.
● Drive system: it consists of the belt, speed reducer, chain wheel and other drive mechanisms.
● Mixing container: Double-cone special structure is made of high-quality stainless steel. Its internal and external surfaces have been polished and are easy to clean, which conforms to GMP requirements. The material discharging is controlled by the butterfly valve. The material is discharged smoothly under the action of gravity, without accumulation and cross contamination.
● Electrical control system: See the Electrical Schematic Diagram.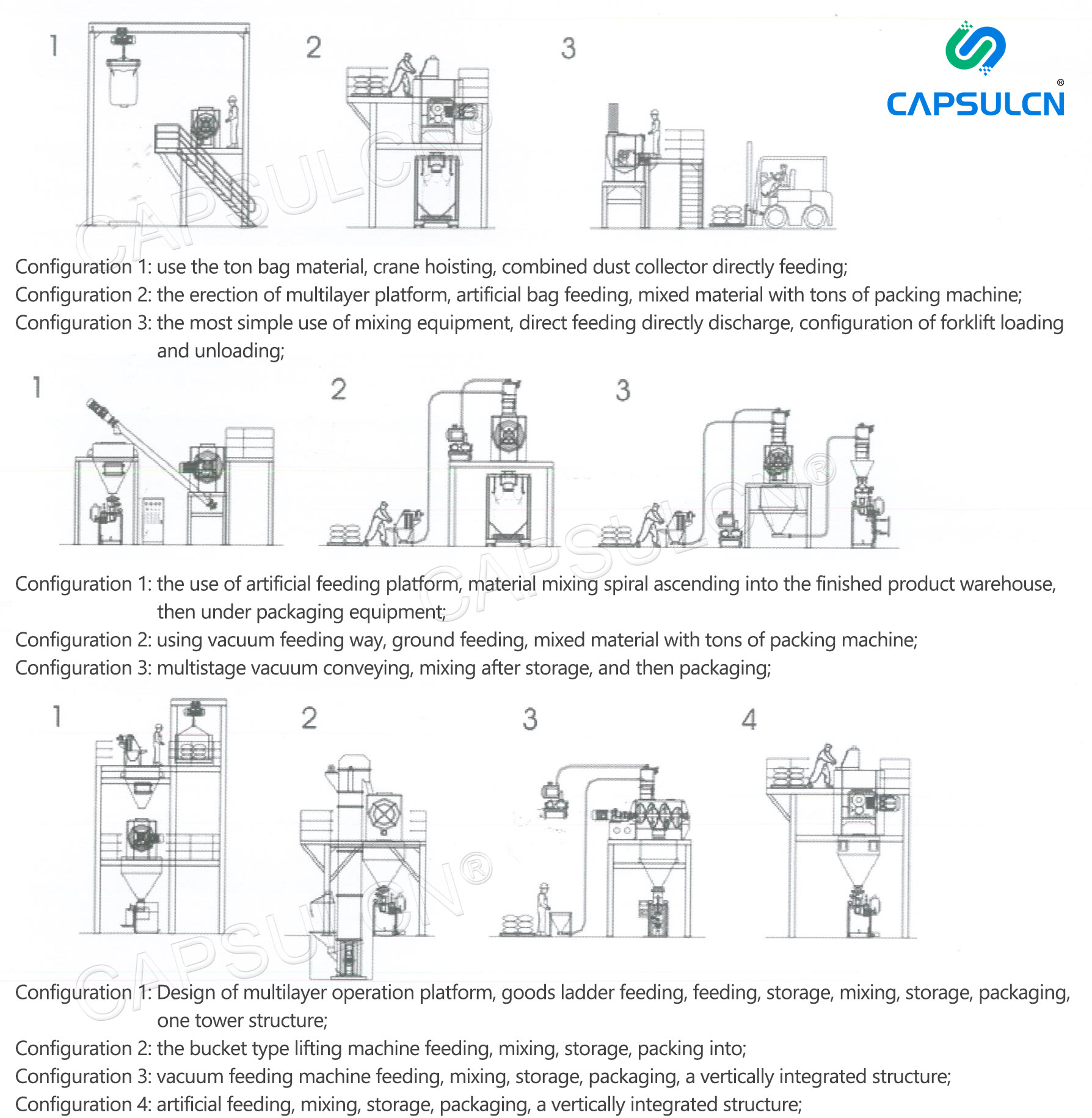 Specifications
Model
CW-300
CW-500
CW-1000
CW-2000
Volume
300L
500L
1000L
2000L
Mixing speed
                                                      3-12Rpm/min
Maximum mixing amount
150kg
250kg
500kg
1000kg
Total power
2.2KW
3KW
4KW
7.5KW
Weight
500kg
800kg
1200kg
2000kg
Dimensions
1685×900×1300mm
1910×1220×1950mm
2765×1650×2200mm
3100×1900×2550mm
Remarks
Applicable for crushing with different specific gravity or mixing with other additives.

Using internal and external rotary stirring, the uniformity is high.

The mixing barrel can be tilted at any angle, which is convenient for discharging and cleaning.

Equipped with an automatic timing device, which can be set to stop automatically within 0-60 minutes.

Stainless steel butterfly valve is used for discharging, so there is no dust leakage and flying phenomenon.

The principle of gravity diffusion is used for mixing, the pressure on the material is small, and the material will not be sheared and crushed.

The barrel is made of high-quality stainless steel, and the inner and outer walls are polished. There is no pollution to the material during the mixing process. The power consumption is small, and it is easy to clean. Simple operation and easy cleaning, suitable for GMP food and pharmaceutical factories. 
Write your own review
Also Offers
New Arrival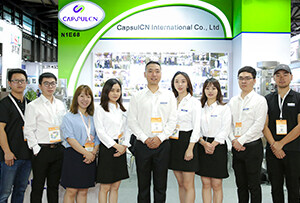 Our Team
As an expert in the pharmaceutical and pharmaceutical packaging industry, iPharMachine has provided solutions for hundreds of pharmaceutical and health product manufacturers for 17 years. By visiting customers, we get good reviews from our customers.
Recently viewed