Rotary Tablet Press ZPW-15D
Introduction
Rotary Tablet Press ZPW-15D is a tablet pressing machine with automatic rotation and continuous tablet pressing. It can press all kinds of granular raw materials into tablets, but not suitable for pressing semi-solid, moist powder or non-granular superfine powder. It is mainly used in pharmaceutical, chemical, ceramic, food, electronic, plastic and powder metallurgy industries.
Specifications
| | |
| --- | --- |
| Model | ZPW-15D |
| Punch quantity (set) | 15 |
| Max. tablet pressure (kN) | 60 |
| Max. tablet diameter (mm) | 22 |
| Max. tablet thickness (mm) | 6 |
| Max. filling depth (mm) | 15 |
| Max. production capacity (pc/h) | 35,000 |
| Depth of middle punch (mm) | 22 |
| Diameter of middle punch (mm) | 34 |
| Diameter of upper and lower punch (mm) | 26 |
| Length of upper punch (mm) | 115 |
| Length of lower punch (mm) | 115 |
| Machine's coverage area (mm) | 615*890 |
| Machine height (mm) | 1,415 |
| Machine weight (kg) | 1,000 |
Remarks
The upper and lower pressing wheels adopt the rolling friction, which helps reduce the working resistance and the power loss.
The adjustment and control mechanisms of filling amount, tablet thickness and rotation speed are all under centralized control, which makes operation easy.
This machine adopts enclosed oil-immersed worm gear drive to reduce power loss and prolong the service life of worm gear.
The peripheral cover is a fully-enclosed structure and the sealed pressing chamber and driving mechanism are completely separated, which can prevent dust from flying and avoid cross contamination of oil.
This machine is equipped with an independent vacuum cleaner, whose high efficiency in dust collection ensures the normal operation of the machine.
Write your own review
Also Offers
New Arrival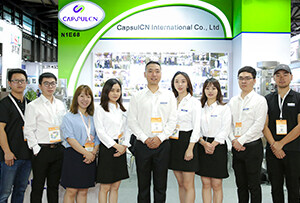 Our Team
As an expert in the pharmaceutical and pharmaceutical packaging industry, iPharMachine has provided solutions for hundreds of pharmaceutical and health product manufacturers for 17 years. By visiting customers, we get good reviews from our customers.
Recently viewed