Small automatic Capsule Filling Machine NJP-400C
Video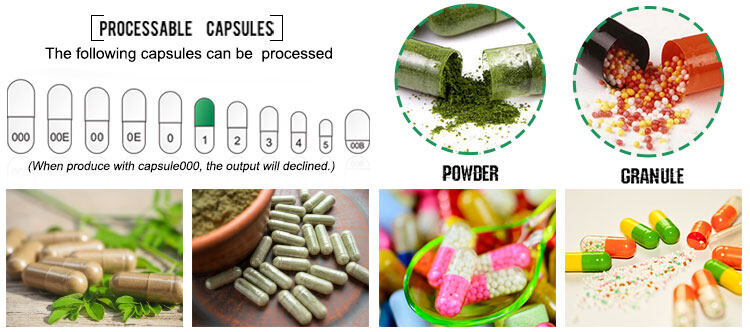 Introduction
NJP-400C automatic capsule filler processes the products for optimal productivity up to 400 capsules per minutes, featuring low-maintenance operation, minimal downtime, and overall dependable production.Filling of pellets is available.
The benefits that you will enjoy from using the automatic capsule filler machine include:
1.The machines are simple and easy to operate, clean and maintain at very low costs.
2.It has adjustable and flexible settings that will improve the levels of capsule filling and production.
3.Most parts of the machine are enclosed tightly thus preventing the entry of dust and other foreign materials.
4.Since the filling process is automatic, the machine saves time and energy through a fast filling process.
5.The machine also comes with automatic sensors that will warn you of any imminent danger in the machine operations.
6.The sensors will also assist in the predetermination of the filling levels in different hoppers.
7.It has different parts that will maintain the integrity of the capsules leading to minimal or no damages on capsules.
8.The filling process is precise and accurate leading to proper filling levels of all the capsules.
9.You can easily integrate the machine properly with other machines for a complete encapsulation process.
10.The machine is also compliant to the right quality standards such as CE and cGMP that ensures high quality standards.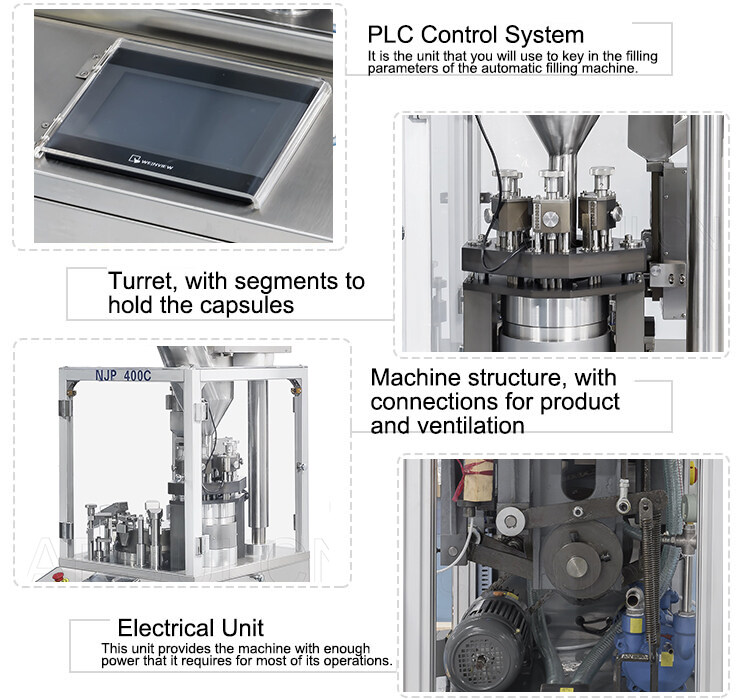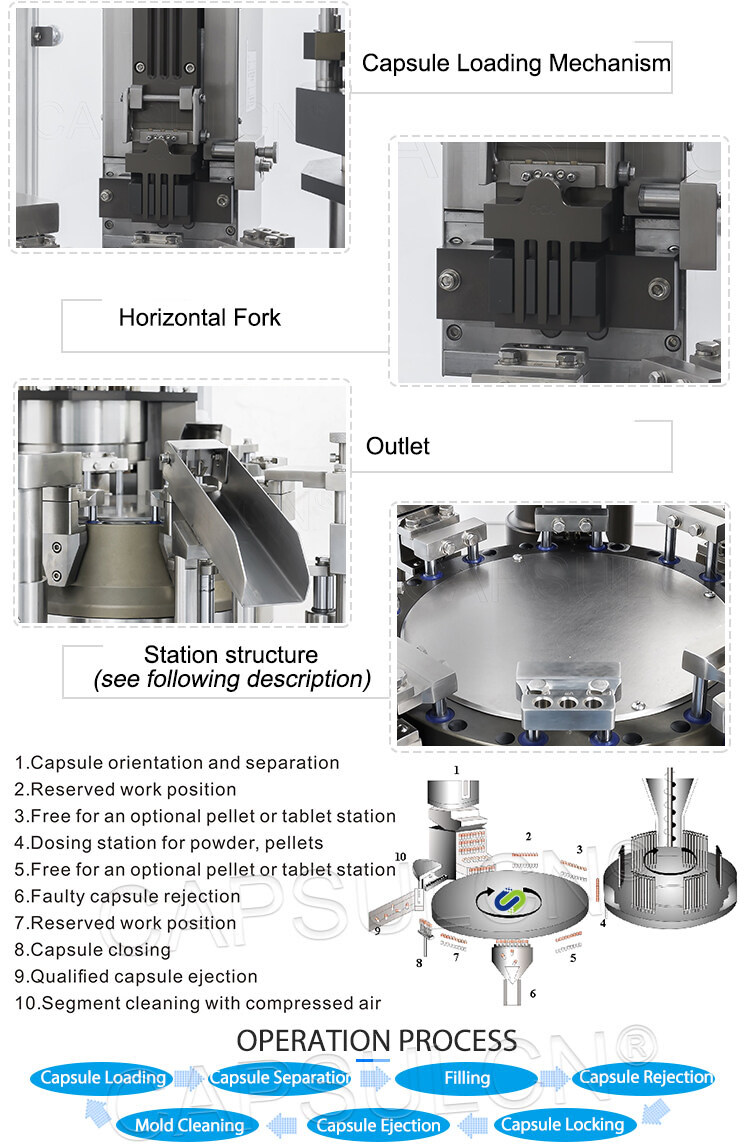 Specifications
C Type Automatic Capsule Filling Machine

Machine model
NJP-400C
NJP-800C
NJP-1200C
NJP-2000C
NJP-3500C
Max capacity
24000capsules/hour
48000capsules/hour
72000capsules/hour
120000capsules/hour
210000capsules/hour
Suit for capsule size
00#-5# and safety capsule
00#-5# and safety capsule
00#-5# and safety capsule
00#-5# and safety capsule
00#-5# and safety capsule
No.of mould bores
3
6
9
18
26
Power
380/220v,50/60Hz,3.7kw
380V,50Hz,5.05kw
380/220v,50/60Hz,6kw
380/220v,50/60Hz,10kw
380/220v,50/60Hz,12kw
Noise
<75dB
<75dB
<75dB
<75dB
<75dB
Machine dimensions
750x700x1700mm
1080x1240x1930mm
1180x1340x1980mm
1500x1350x2100mm
1386x1156x2100mm
Net weight
700kg
800kg
1000kg
1600kg
2500kg
D Type Automatic Capsule Filling Machine
Model
NJP-1200D
NJP-3000D
Capacity
72000caps/h
165000caps/h
NO.of mould bores
9
21

Capsule size

000#-5# and safety capsule
000#-5# and safety capsule
Power
380/220V,50/60Hz,7KW
380/220V,50/60Hz,11KW
SNR
<70dB
<70dB
Dimensions
980*980*2100mm
1610*1210*2180mm
Net weight
1000KG
2200KG
Remarks
cGMP design with emphasis in powder dust handling: Enclosed main turn table avoid dust getting into mechanical parts.
Automatic control for capsule and powder supply.
PLC control for reliable operation. Touch Screen HMI, featuring user friendly controls: production counter, manual / automatic / parameter setup modes, alarms.
Precision capsule segments and dosing disk minimizes adjustments following parts changeover.
SS 304 stainless steel frames and transparent safety interlock guards.
review(s)
working very well, next time I should probably buy a faster model.
From: Guest | Date: 9/6/2019 5:25 AM
Was this review helpful?
(

2

/

0

)
Write your own review
Also Offers
New Arrival
Related products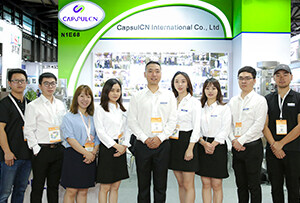 Our Team
As an expert in the pharmaceutical and pharmaceutical packaging industry, iPharMachine has provided solutions for hundreds of pharmaceutical and health product manufacturers for 17 years. By visiting customers, we get good reviews from our customers.
Recently viewed