Automatic Label Printing Machine is designed for small business, click Labeling Application Machineto buy online, or browse other similar products.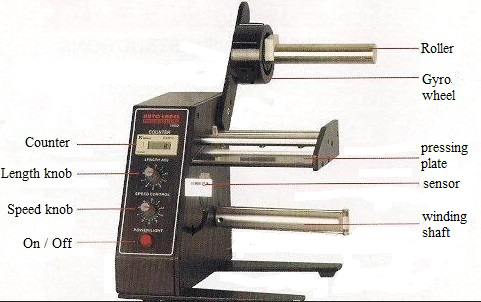 Schematic diagram
Features:
A. Using the label peeling machine, labels will be clean without being polluted, and will not be damaged or wrinkled. The machine is able to improve efficiency while reduce the demand for manpower to ensure product qualities.
B. The machine changes traditional ways of working, and reduce the adverse effects caused by human factors. Additionally, it adopts electronic control and auto-sensing operation. It is able to separate stickers rapidly to improve the pasting effect and reduce the working intensity.
C. It is suitable for rapid separation and pasting of self-adhesive labels, bar codes, anti-counterfeiting labels, laser tag, bronzing stickers, package trademark, insulating material adhesive pad, toy stickers, labels of production date and printed pattern.
Functions:
1. Power source: 220V/110V, 60Hz/50Hz.
2. The machine is able to automatically count from 0 to 999999, and is equipped with winding shafts to rewind body papers automatically, and it is easy to replace labels. So that the automation of production management can be achieved.
3. Export version of machines do not have the function of stopping by self-test, or the function of delayed start (export version only).
4. Easy to operate, one machine is able to provide labels for several persons. Applicable label length: 3-150 mm, width: 4-140 mm.
5. Inner diameter of paper tubes: 25mm / 50mm or more, outside diameter of label rolls: 250mm or less.
6. Distribution speed: 1-8 m / min. It needs less than 3 seconds to paste a label.
7. Dimensions: (L) 210 × (W) 210 × (H) 220 mm
8. Net weight: 3.8kg.
Operation instructions:
1. Enwind labels according to the diagram.
2. Fix the body paper on the winding shafts with pressure paper clips.
3. Adjust the paper retaining ring to make labels closed to the vertical plate.
4. Turn on the machine, adjust the speed in accordance with production needs. For small labels, please make the speed slow.
5. Adjust the angle of the sensor to peel off labels as long as possible. Remaining 2-3mm at the label edge is the best.
6. Before to start working, make the counter clear