Introduction
MT-50W Semi-auto Round Bottle labeling Machine is an ideal semiautomatic labeling device for labelling on cylindrical product, such as round bottle, and it is widely used in daily Chemical, food and beverage, medicine, chemical industry and other light industries.
The machine is applicable to round bottles of various sizes and is suitable for pilot production. It only can be used independently and cannot be added in production line.
Features
1. The machine has a proper structure, reliable performance, and is easy to operate. It adopts photoelectric detection which guarantees labeling accuracy.
2. Adopts advanced labeling mechanism to ensure the labeling precision.
3. Adaptable, and is able to label bottles of various sizes.
4. The label optical eye, of which the sensitivity is adjustable, can identify the backing paper of the label of varied transmittance, compare and adjust light sensitivity, and optimally adjust labels of different lengths to ensure smooth and correct labeling.
5. Most of mechanism, including the frame, catch pin, and fastener, adopts stainless steel and aluminum profile that are rust-proof, free of pollution, and meets the GMP environmental requirements.
Detail diagram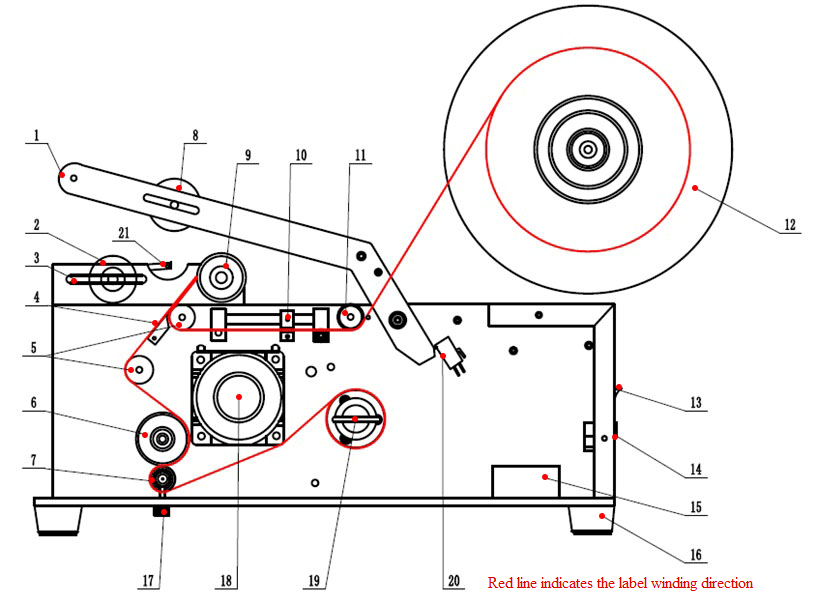 | | | |
| --- | --- | --- |
| 1. Bottle pressing swinging arm | 2. Bottle supporting roller | 3. Bottle supporting stand |
| 4. Stripping plate | 5. Transition roller | 6.label pulling soft roller |
| 7.Label pulling knurl wheel | 8. Bottle pressing roller | 9. Labeling soft roller |
| 10.Label sensor | 11. Guide rod | 12. Paper supply tray |
| 13. Power switch | 14. Power socket | 15. Control module |
| 16. Footing | 17. Label pulling adjusting screw | 18. Label pulling motor |
| 19. Paper collecting wheel | 20. Microswitch | 21. Catch pin |