Tablet Deduster Machine SZS200 is made of mobile operating platform, main machine, outer cover, accessories and control system. Please see Figure 4. Sketch map of machine structure.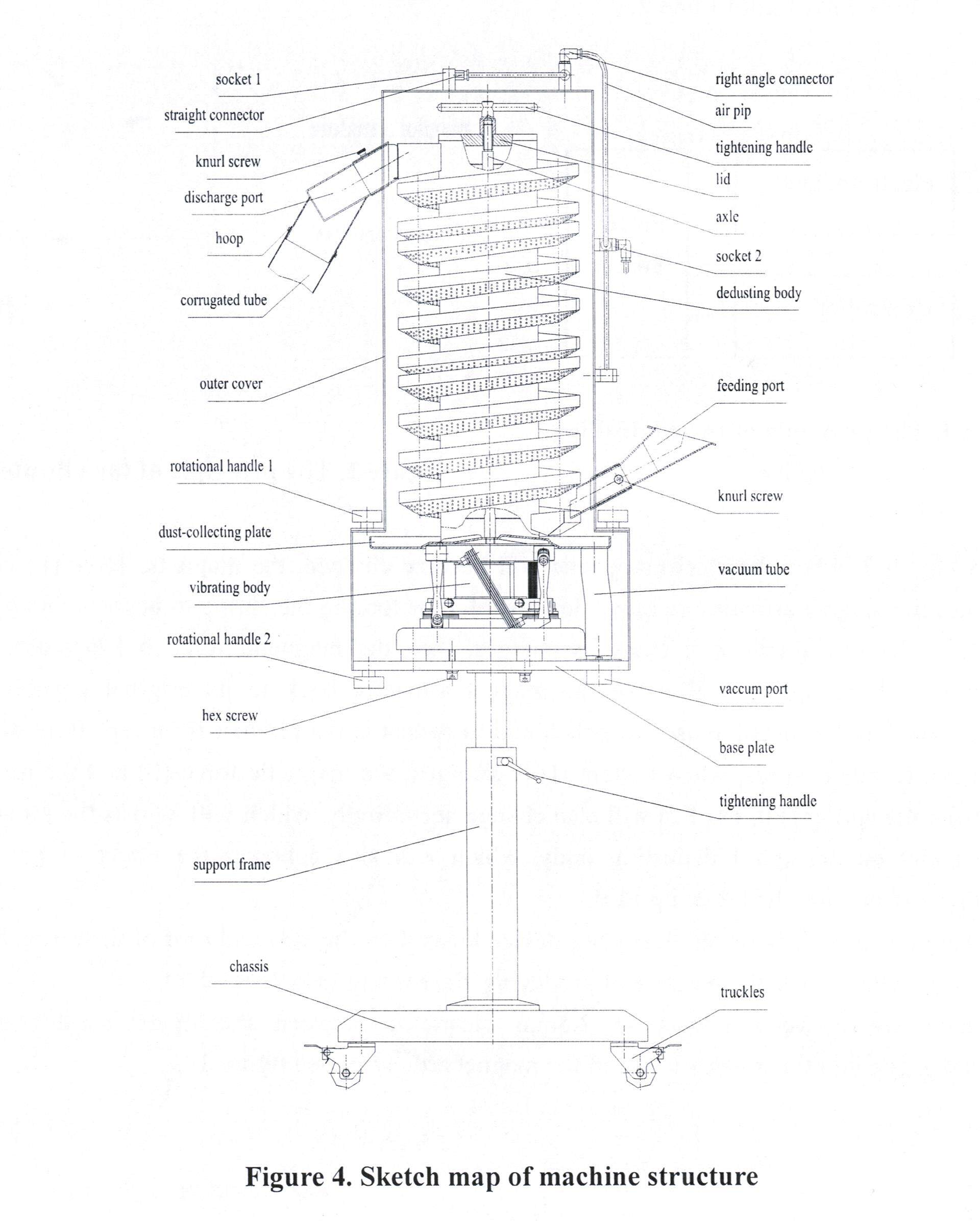 The mobile operating platform is comprised of truckles, chassis, support frame, tightening handles, and base plate. A very rigid chassis is used to achieve maximum stabilization. A set of lockable truckles ensures the machine's mobility. A height adjustable and rotatable support frame allows the machine to fit in any working environment.
The major part of the machine is the main working body. It is comprised of vibrating body, dust-collecting plate, vacuum device, dedusting body, axis, lid, tightening handle, and some other parts. In these, the vibrating body and dedusting body is the heart of the entire machine. Vibrating body is the source of vibration, which is utilized by the dedusting body for polishing, dedustingm, and movement of the tablet. The dust-collecting plate and vacuum device can work with an external vacuum to remove the dust from polishing of the tablet. With these devices, the main machine can accomplish it main purpose of polishing, dedusting, moving the tablet and extracting dust.
The outer cover is comprised of circular cover, square cover, observational window, feeding port, and discharge port. Observational window can be used to observe the entire polishing, dedusting and moving process. The square cover in connected to the mobile operating platform with rotational handle and the circular cover in term is also connected to the square cover with a rotational handle. This structure formed a closed operating chamber, thus isolated the main machine from the outside world and effectively prevented cross contamination. The feeding port, and discharge port is bolted onto the outer cover. It can only be removed when the outer cover and mobile operating platform is securely attached together. All these setups ensure a clean and safe working environment.
Accessories include air powered dedusting device and corrugated tube. The vacuum device is made up of socket, straight connector, right angle connecter, and air pip. Its main purpose is to collect the dust removed from the tablet in the polishing and dudesting process, therefore enhancing the dedusting result.
The control system includes electromagnet, controller, switch, and socket for electronic cables. The controller and switch is mounted on the square cover. If for any reason, the square cover needs to be removed, please make sure to lift the square cover and disconnect all the electric cables from the socket before attempting to remove the square cover. For a picture of the control panel, please refer to Figure 5.

During any time of production, the control knob can be used to adjust the dedusting and moving speed of the tablet. The purpose of the control system is to ensure a continuous vibrating motion of the dedusting body, therefore maximizing the production rate.