How Does an Auger Filling Machine Work?
- Wednesday, February 22, 2023
When it comes to powder packaging, there is a wide selection of machines to choose from. Among them, auger filling machines are always a go-to for many industrial companies.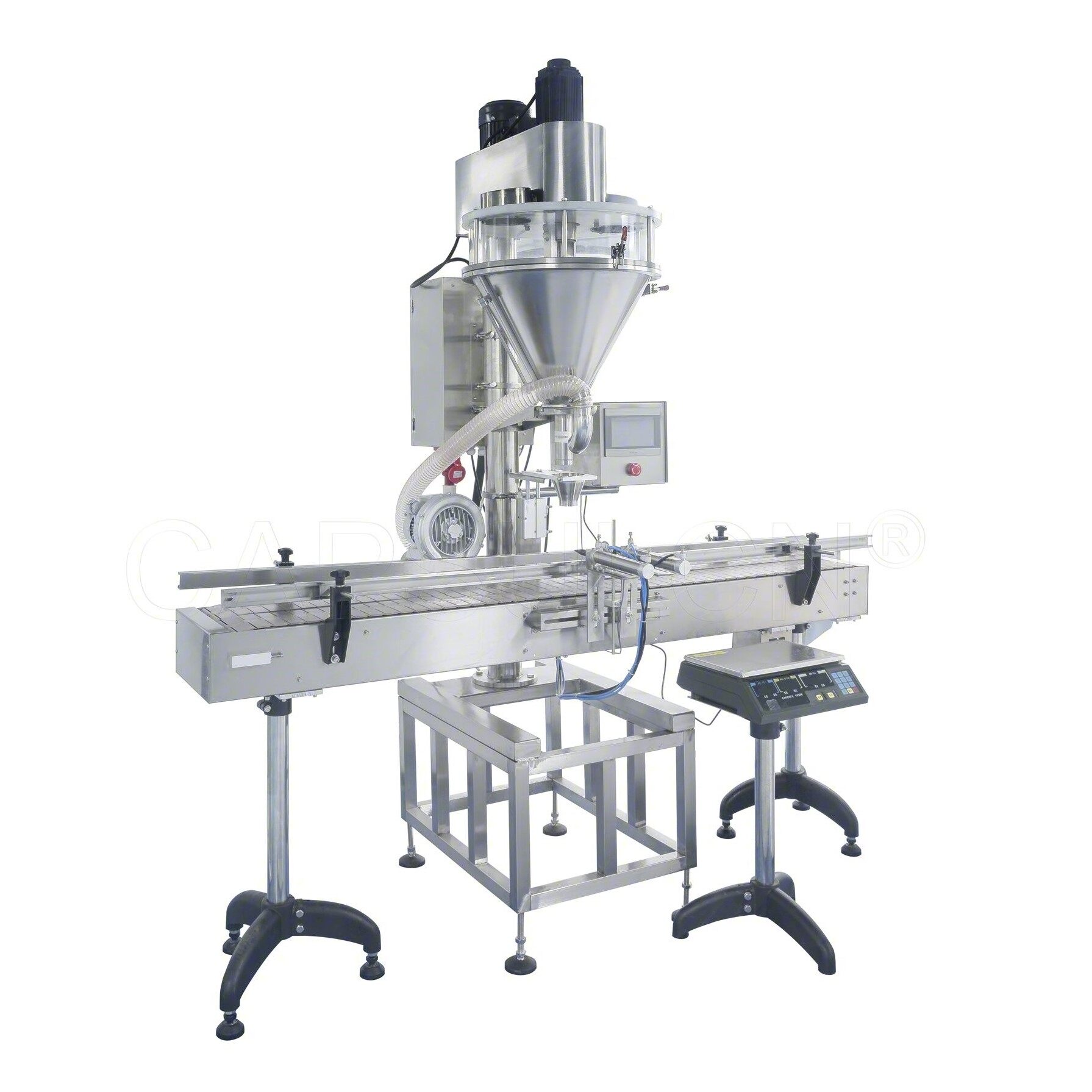 Yet, powder filling can be a tricky task. Speed, precision, and versatility, none of these can be dispensed with. So, an auger filler machine is essential in powder filling. This machine can provide high-efficient, accurate, and flexible filling and packaging operations.
This article will shed light on the auger filling machine working principle, its definition, and other information you might be interested in.
What is an auger filling machine?
Auger filling machines are widely used for filling free-flowing and non-free-flowing powders, granular materials, and viscous products.
They're designed for dosing the desired amount of materials into containers such as bottles, jars, and other packs like sachets and pouches.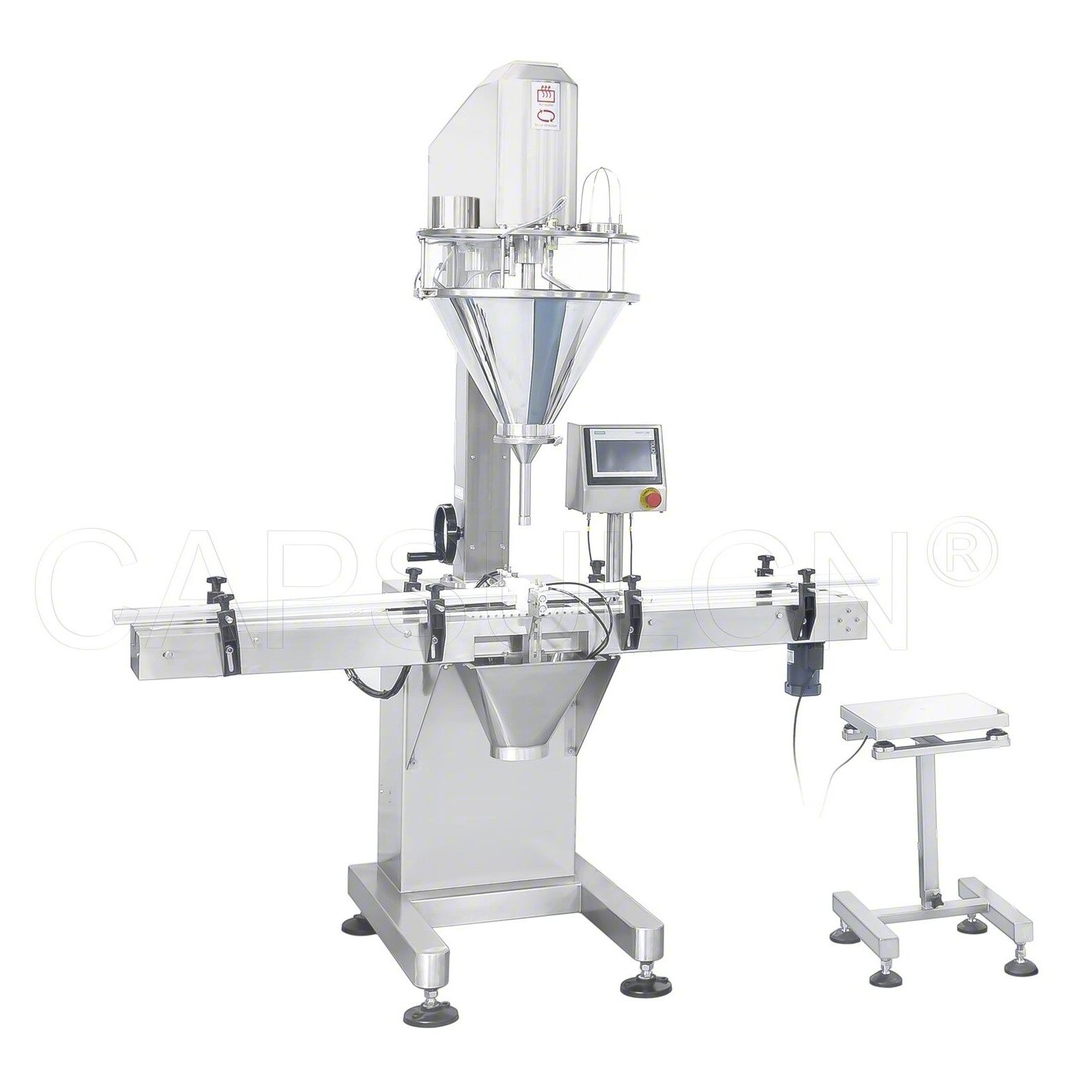 An auger is a type of drill that looks like a screw. In addition to making precise holes in various materials, it functions as a tool to move materials forward as it rotates. Auger filling machines use an auger screw to dispense products, which is how they got the name.
In the auger filling process, containers can be manually placed under the filling head. Also, they can be automatically filled on a conveyor belt.
Auger filling machine working principle
As one of the most popular filling machines, the auger filling machine works on a straightforward principle.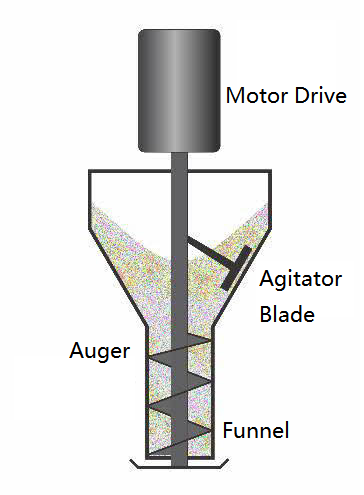 After bulk materials are fed into the hopper, the auger drive keeps the auger rotating at a constant speed to move the materials down to the funnel.
The agitator blade is operated and controlled separately. The agitator blade rotates in the opposite direction of the auger. It works to get rid of air in the powders, making the mixture more uniform.
Further, the agitator blade is designed to go all the way down to the funnel. This keeps rat-holing and cavitation from happening and ensures that the auger flights are always packed with the products.
The auger flights are spaced at the same distance. This ensures that each flighting pitch is filled with ingredients of the same bulk density and particle size. It helps achieve precise dosing as the auger rotates.
What are the significant parts of an auger filling machine?
If you have a rough idea of the auger filling machine working principle, let's take a look at what parts enable the machine to work efficiently.
Here's a diagram of a typical auger filling machine structure.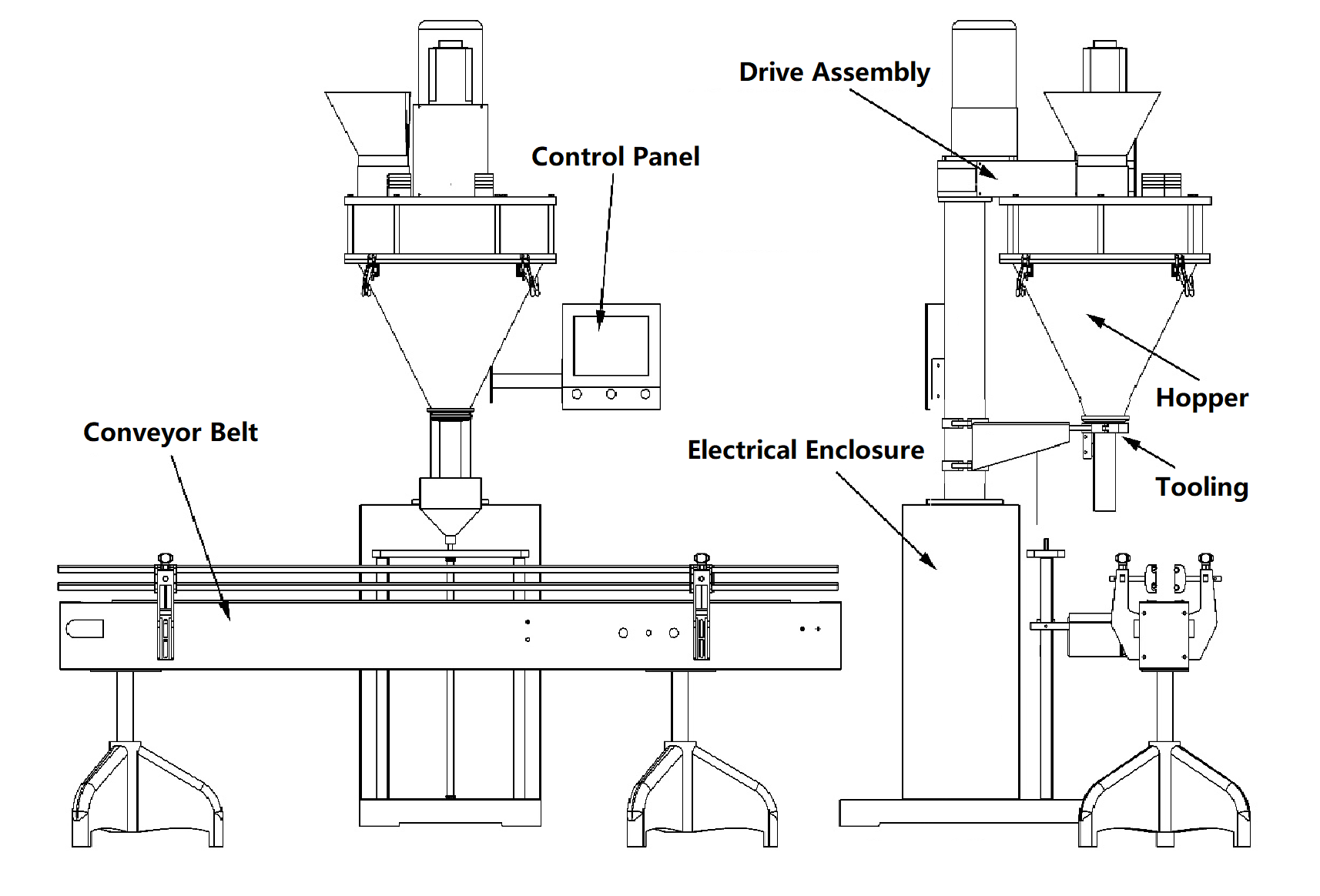 1. Drive assembly
The auger filling machine's drive assembly is mainly made up of the servo drive and transmission mechanism. This assembly powers the auger and controls its speed so that accurate, constant-volume dosing can be done.
In addition, since the auger screw rotates in the opposite position to the agitator blade, an independent agitator motor is required to control the speed and the number of revolutions of the agitator.
2. Hopper
The hopper is an essential component of the auger filling machine. It is where the material to be packed is held before being dispensed by the auger screw.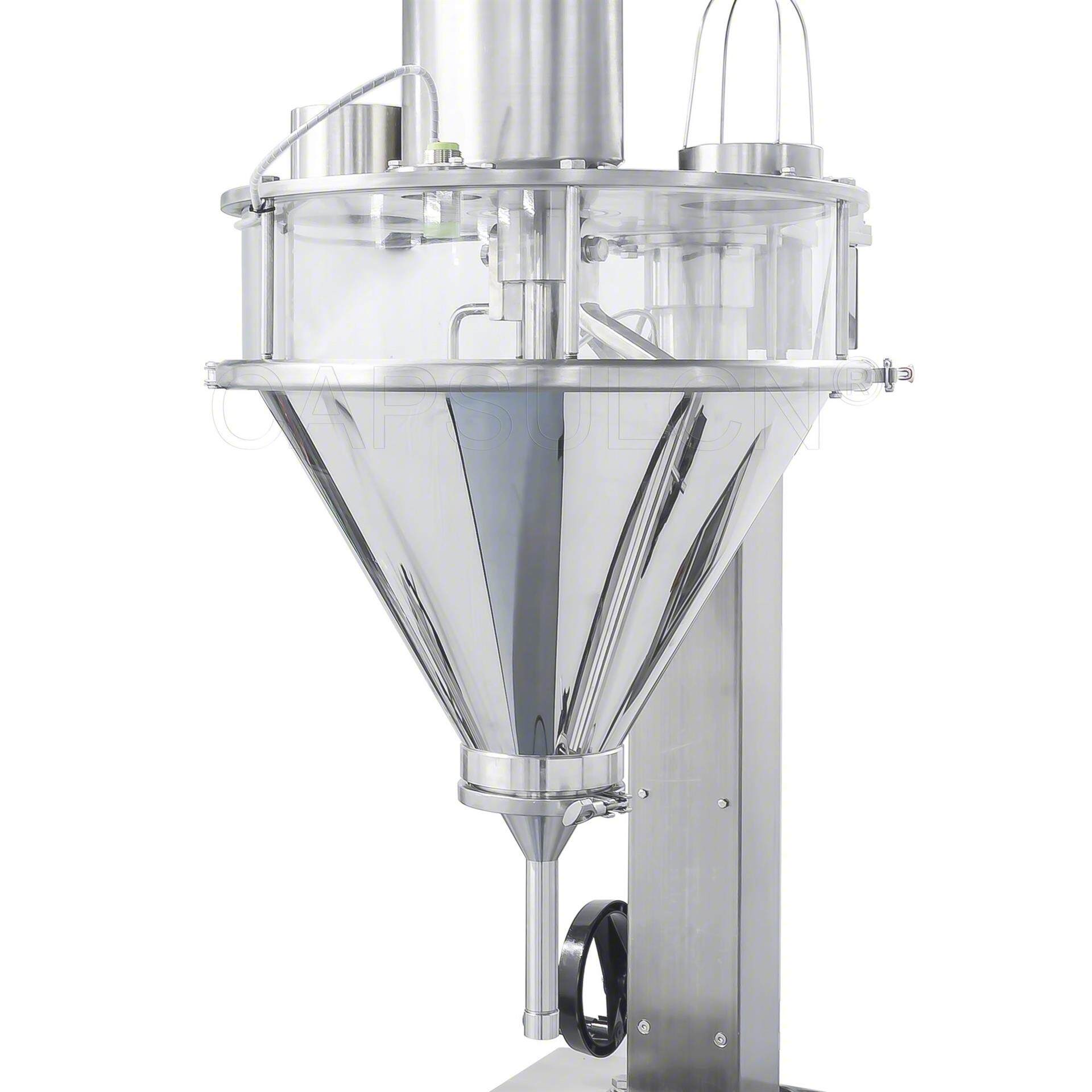 This component can vary in size, shape, and other designs. It generally comes in a split design. The split hopper comes with quick-release clamps, allowing operators to get inside the hopper for easy cleaning and tooling changeover.
Further, the upper part of the hopper features clear viewing glass. It allows operators to see what's going on with the products inside the hopper.
Hoppers are usually made of 304 stainless steel. But in the case of corrosive environments, they can often be upgraded to 316 L stainless steel.
3. Tooling
The tooling used in the auger filling machine consists of the auger, agitator blade, and funnel. These components are all replaceable units depending on the product properties, fill weight, container neck finish, and other factors.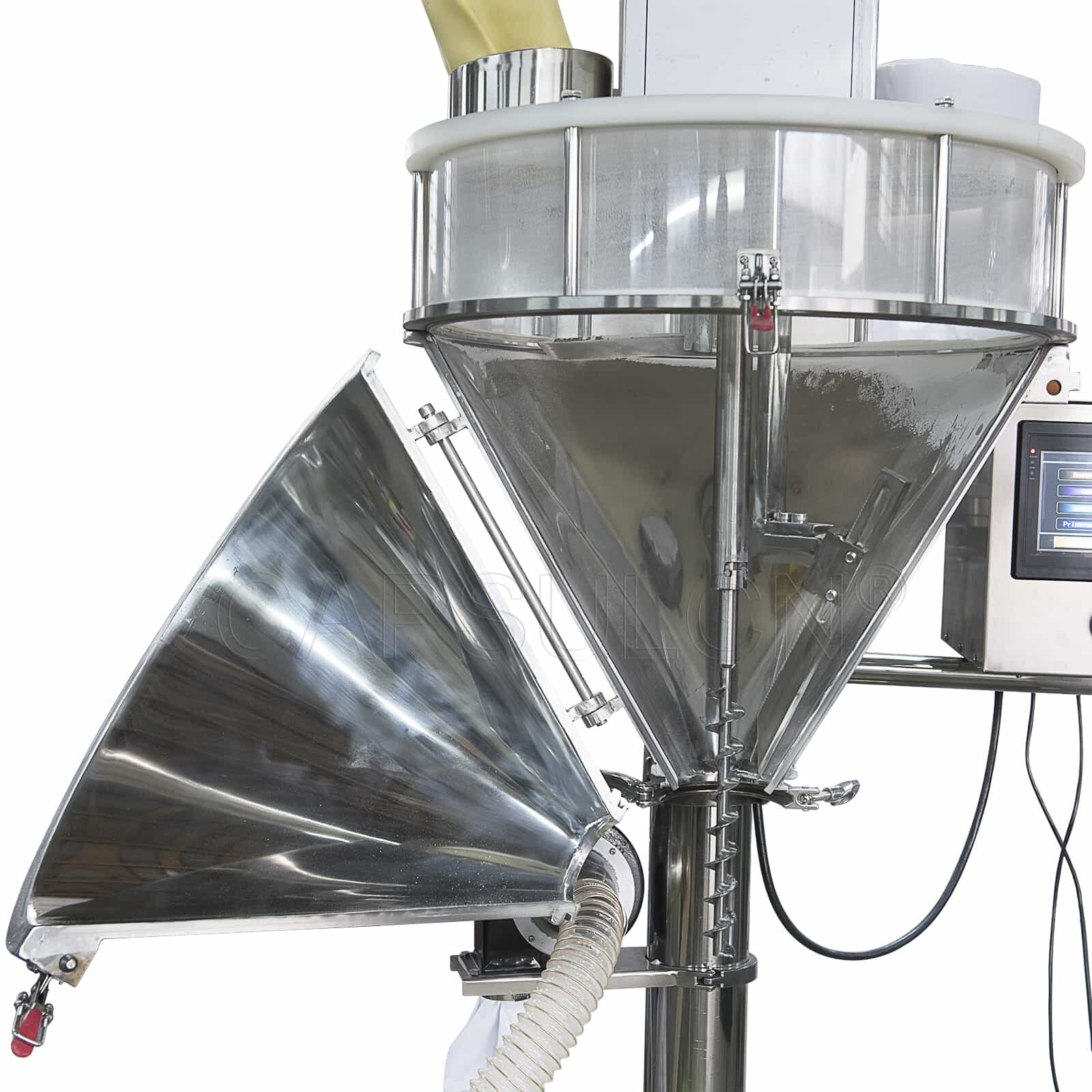 a. Auger: vertically rotates within the hopper to convey the product downward and feed it out of the funnel.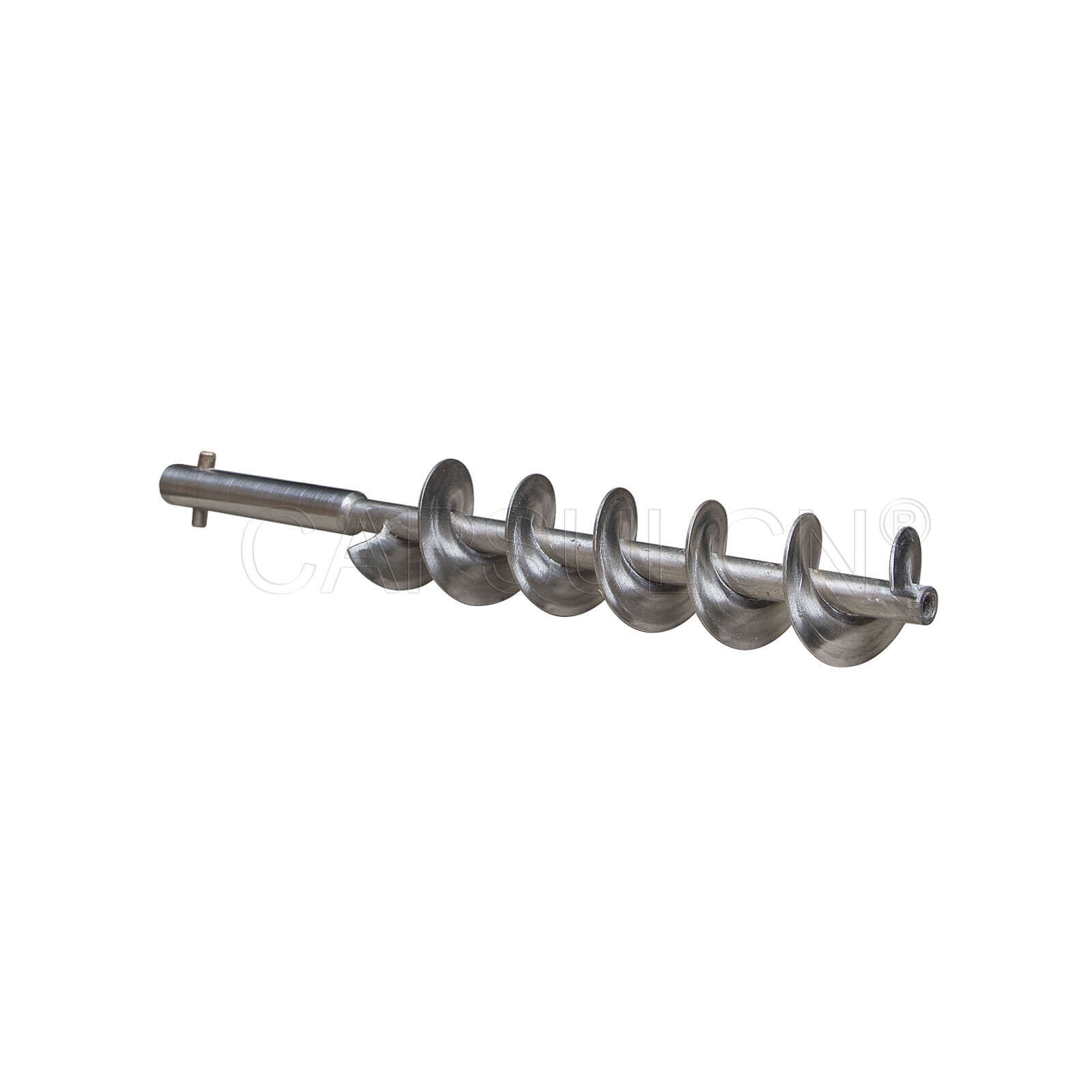 b. Agitator blade: assists in guiding and propelling the product toward the flights of the auger.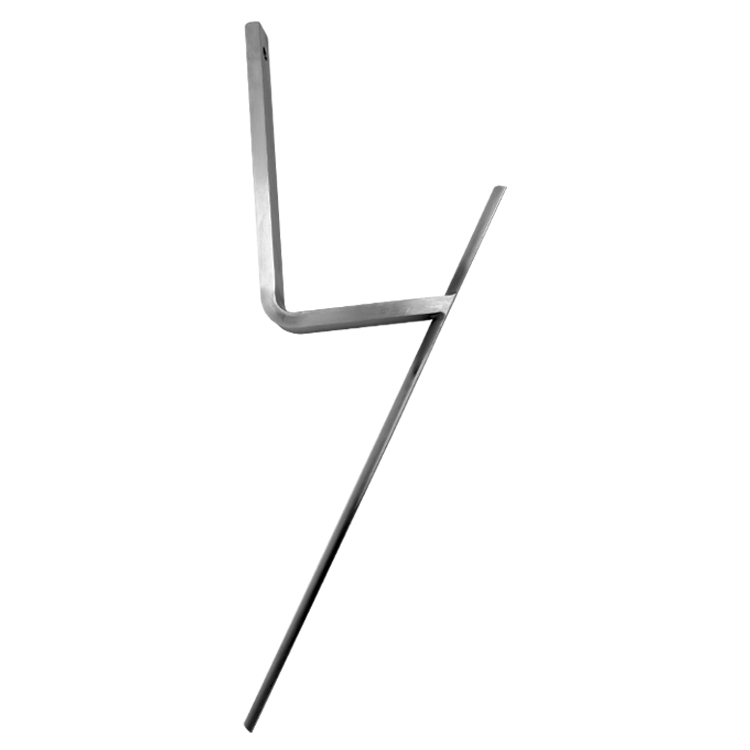 c. Funnel: acts as the discharge port of the hopper and is where the auger dispenses the product.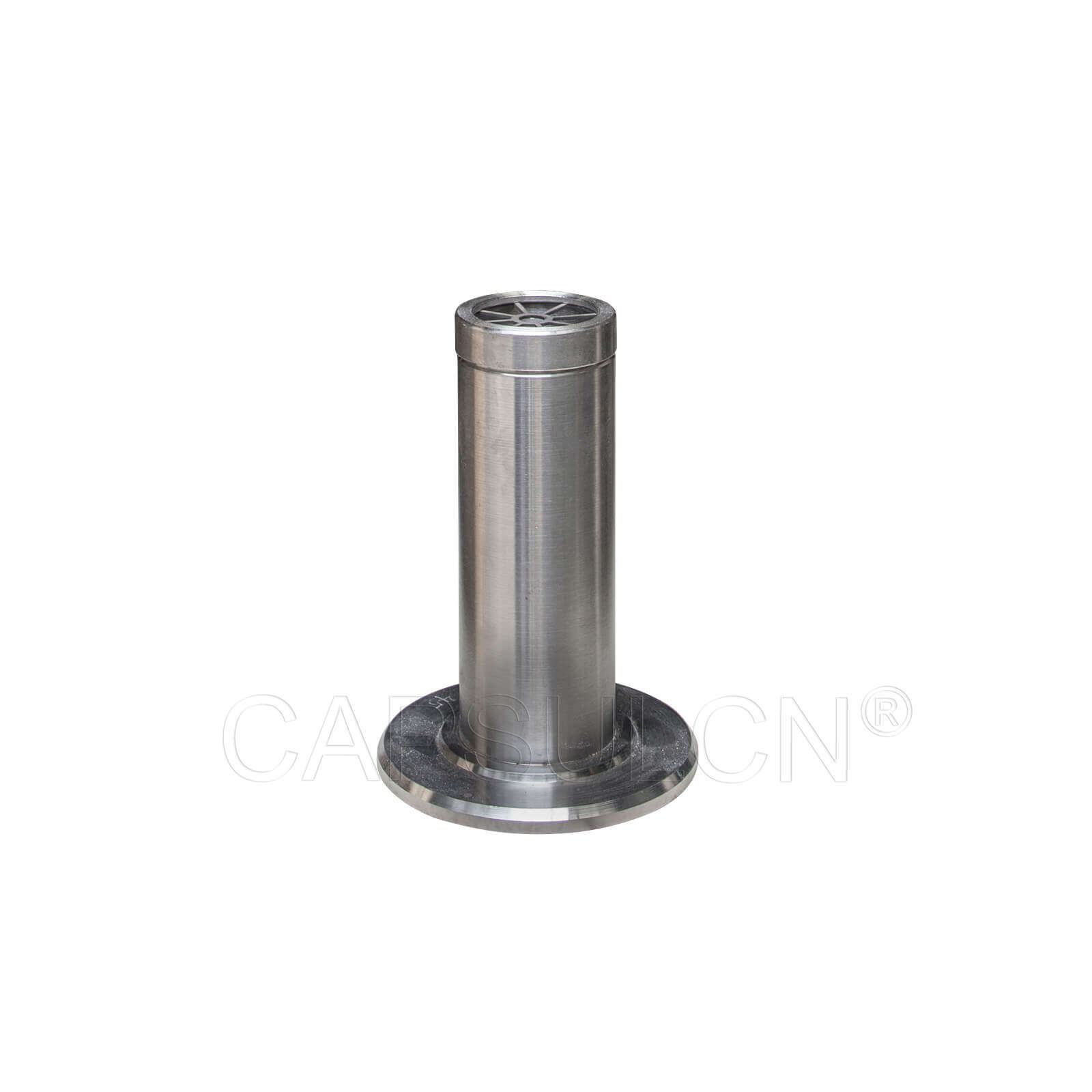 4. Control panel
This component enables operators to control the auger filling machine easily. With this touch screen, operators can manage and change the settings and parameters for the filling process depending on the product characteristics and filling requirements.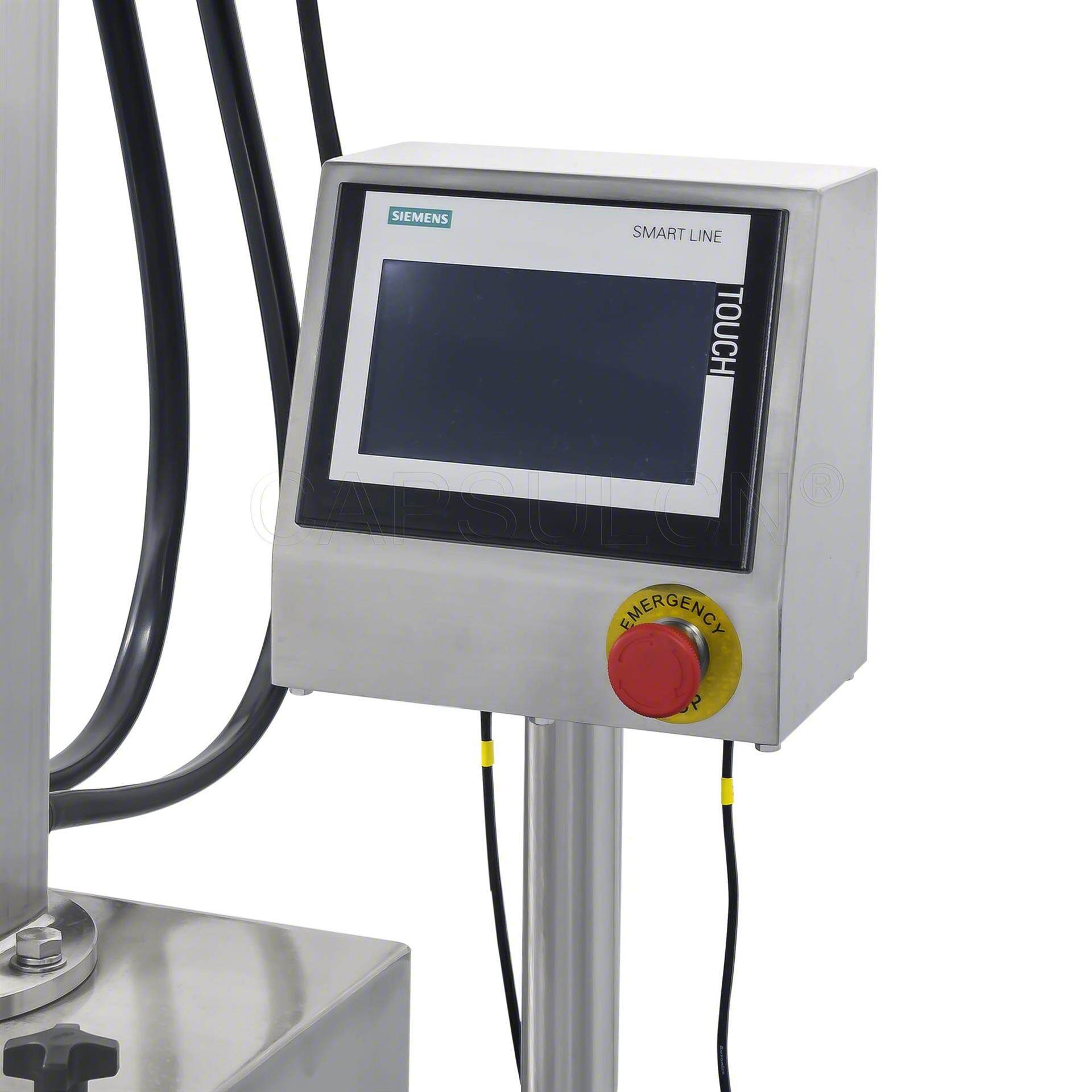 5. Conveyor belt
The conveyor belt is used to transfer containers like bottles, jars, and pouches for automated powder filling.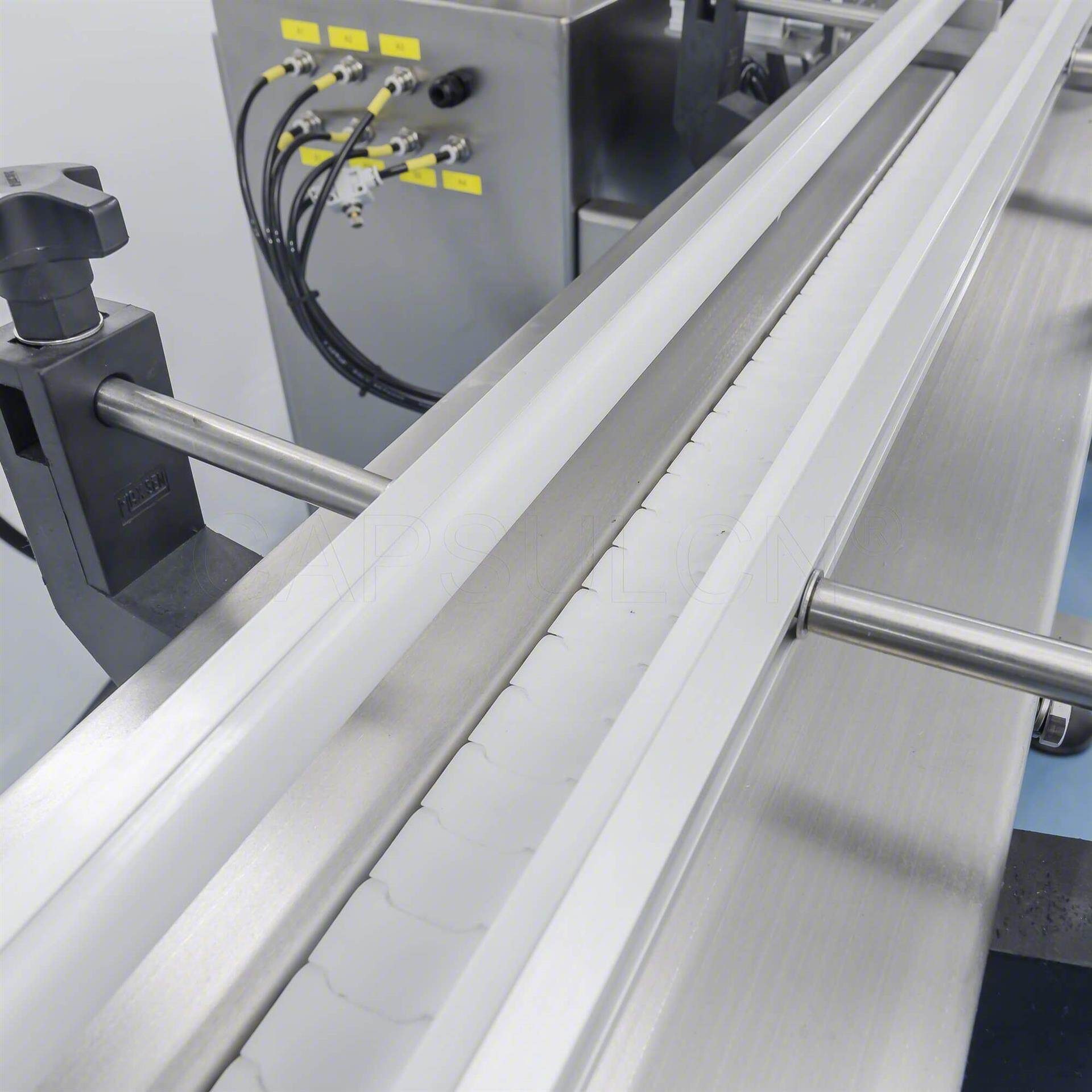 Typically, the conveyor belt is designed with adjustable guide rails, variable speed controls, container holders, and photoelectric sensors.
This conveying system can be integrated into the auger filling machine, ready to be put into a new or existing production line.
Types of auger filling machines
The above is the auger filling machine working principle and critical parts. Now you might wonder what type of auger filling machine best suits your business needs.
As with most processing machinery, auger filling machines are available in semi-automatic and fully-automatic types.
Semi-automatic auger filling machine
A semi-automatic auger filling machine is a piece of manually operated equipment. It is used to fill containers with fine powders or granules.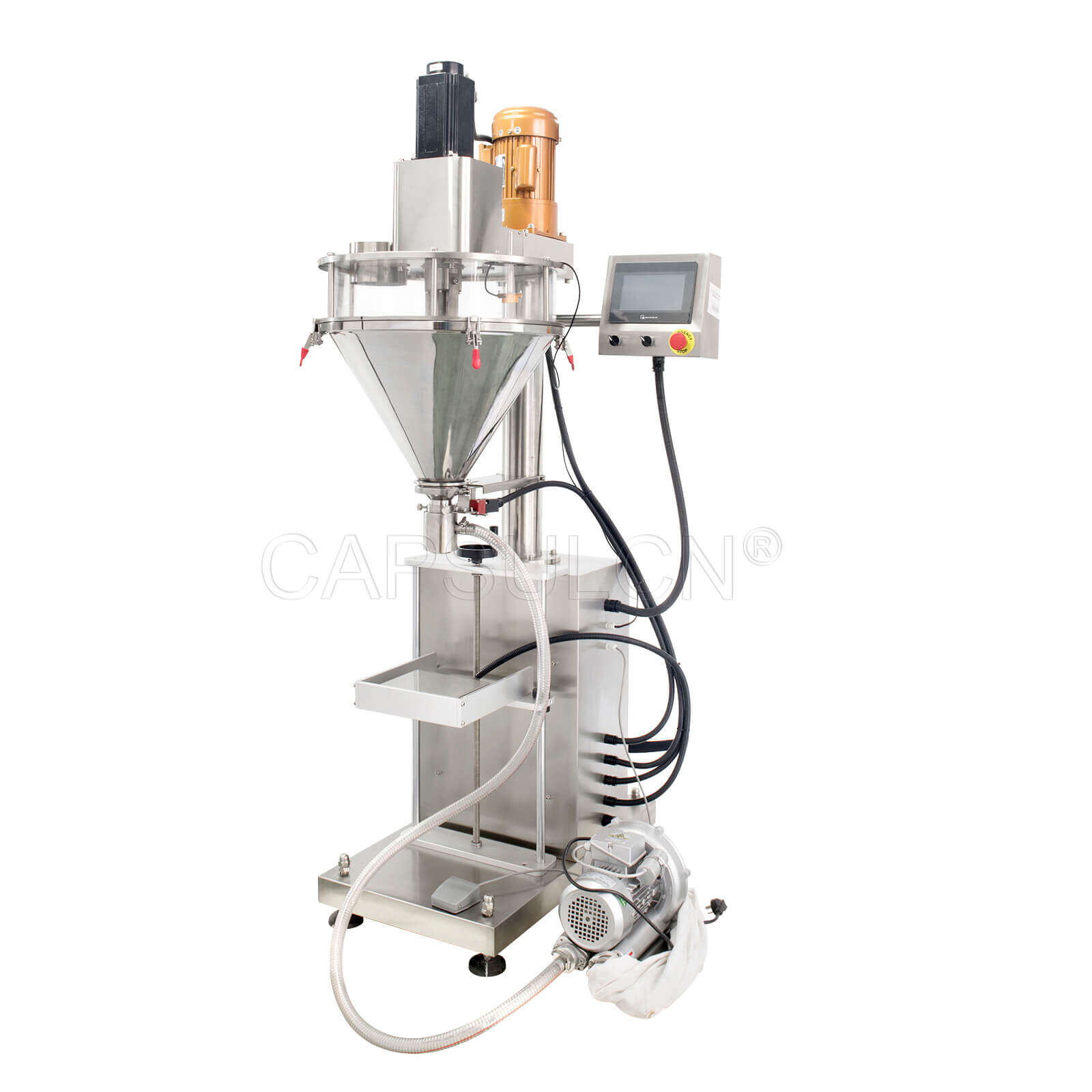 At iPharMachine, the CN-HZFB Auger Powder Filling Machine is a semi-automatic model. This model has received a lot of good reviews from customers across the globe. The CN-HZFB comes in a robust, stainless-steel construction. It's capable of filling 10-30 containers per minute.
This machine requires an operator to place the container under the funnel for filling. It generally comes with a foot pedal. This component functions as a feeding switch, allowing the operator to control each fill cycle.
It's worth mentioning that this semi-automatic auger filling machine is scalable and upgradable to fully automatic operation. If you're looking for precise filling of your formulations in a repeatable, cost-effective way, the CN-HZFB will be your best bet.
Automatic auger filling machine
At iPharMachine, we also offer automatic auger filling machines. The CN-HZFC Auger Powder Filling Machine can perform a variety of operations automatically, including automatic volumetric filling, automatic error correction, material level control, material clearing, and more.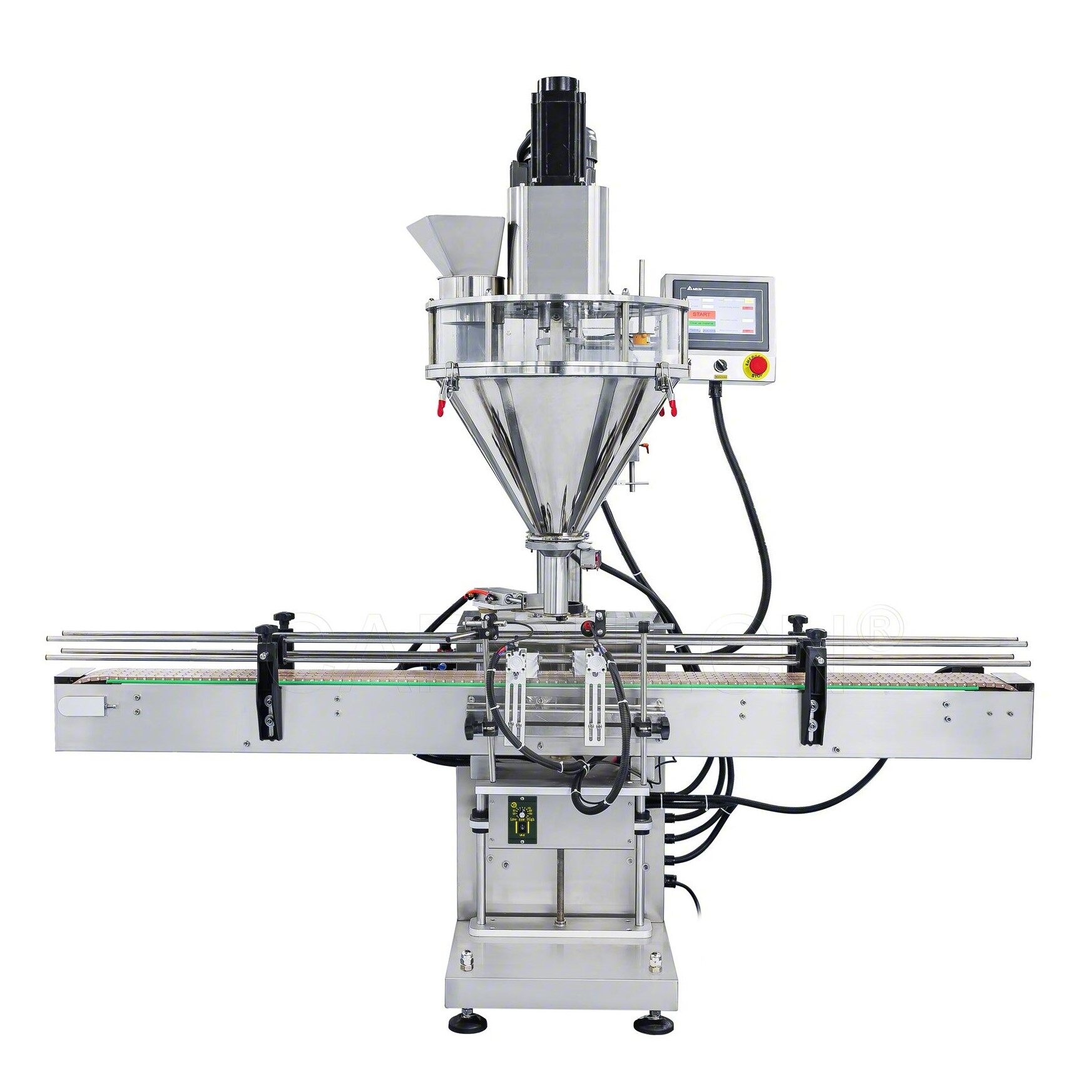 The CN-HZFC is powered by a PLC and stepper motor. It performs reliable, repeatable, low-noise filling operations. All contact parts are made of high-quality stainless steel, preventing corrosion and cross-contamination.
This model can fill 1500-2500 containers per hour. It's suitable for different materials by changing over the tooling within 10 minutes. This automatic auger filling features a conveyor belt, allowing for automatically transferring containers for higher-efficiency filling.
What are the uses of auger filling machines?
The auger powder filling machine has a variety of applications and can be utilized in industries.
Pharmaceutical and nutraceutical industries. Many companies use auger filling machines to fill fine powders, granules, pellets, and other solid particles.
Food industry. Auger filling machines keep food from getting contaminated when cookies, coffee beans, spices, and other dairy products are made and packed.
Cosmetic industry. Auger filling machines can also meet the packaging needs of beauty and cosmetics companies. They are used to fill baby powders, cosmetic powders, creams, and lotions by quick and easy changeover of tooling.
Metal industry. In addition, auger powder filling machines are utilized by the metal industry for packaging aluminum powder. Copper and iron powders are other common products packaged using auger filling machines.
The bottom line
The auger filling machine working principle and design makes operating the device easier. Depending on how they are configured, the devices are capable of processing a diverse array of formulations, including free-flowing or non-free-flowing particles, fluids, slurries, and processed products.
Today, the demand for these powder fillers is growing in a variety of industries. As a pharmaceutical machinery manufacturer and supplier with years of experience, iPharMachine is here to help you choose the right auger filling machine.
Contact us today!
Leave your comment
Also Offers
New Arrival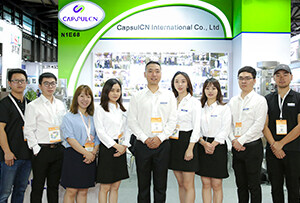 Our Team
As an expert in the pharmaceutical and pharmaceutical packaging industry, iPharMachine has provided solutions for hundreds of pharmaceutical and health product manufacturers for 17 years. By visiting customers, we get good reviews from our customers.