How to Package Powder: A Complete Guide
- Monday, February 20, 2023
In the manufacturing industry, powder packaging is essential. Various products can be in powder form, like powders used in pharmaceutical companies, nutrition powders, spices, etc. Besides, there are many things to consider if you want the powder to be packaged successfully.
Besides, the massive growth of industries leads to increased demand for powder packaging machine. But you need to understand that only premium powder filling equipment is not enough. You should have knowledge of vital things in the complete packaging for powder products.
You can follow the reading if you want to learn the powder packaging essentials. It will be helpful for you in dry packaging products in your company.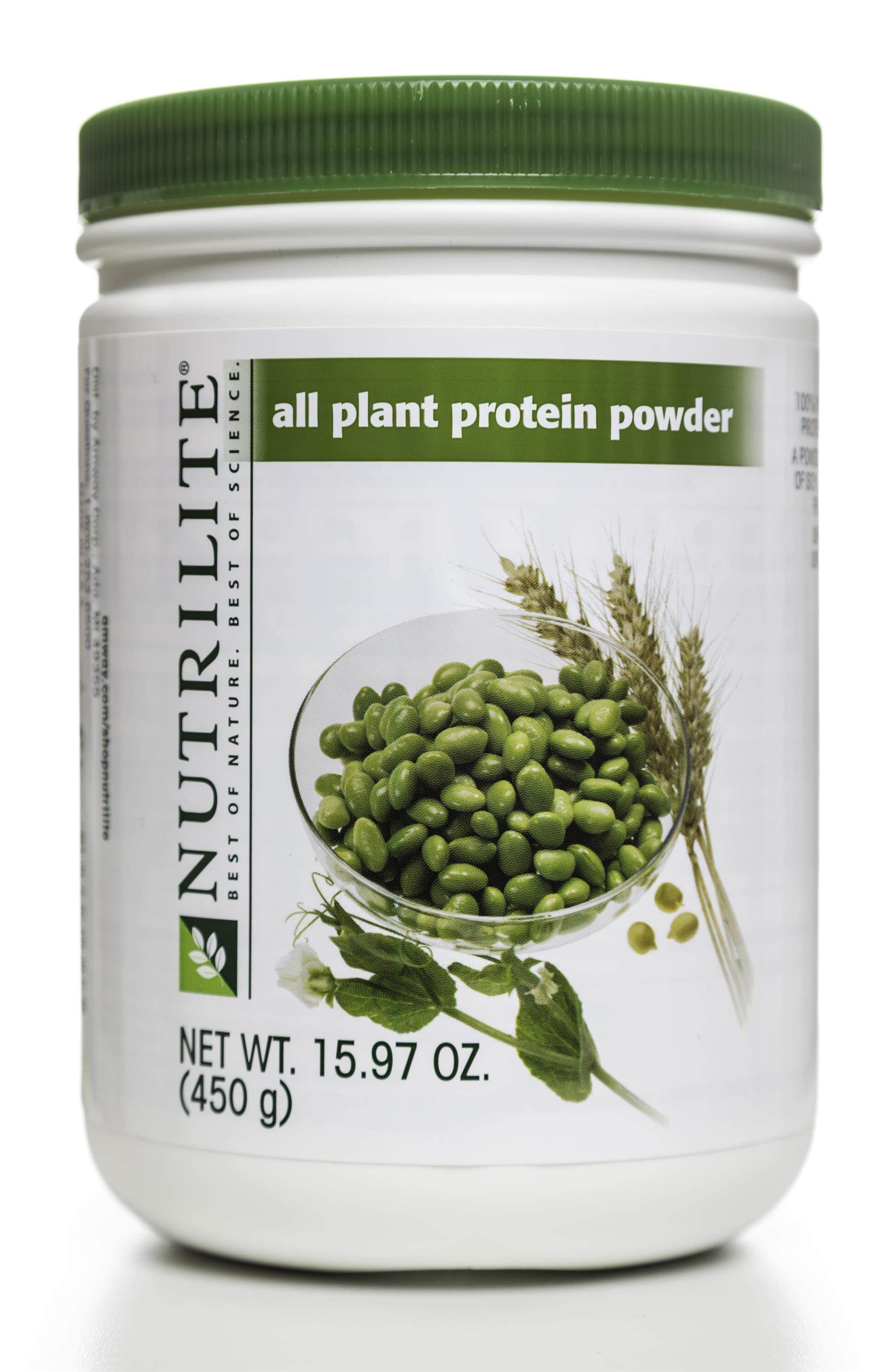 A Few Things To Consider For Powder Packaging
Here are some factors that are essential for you to learn before starting the powder packaging process:
1. Powder Flow
The foremost thing is the knowledge of powder flow. There are usually two types of powder flows:
1) Free-Flow
Free flow is the flow where powder particles are not cohesive. A few examples of free-flow include table salt or granulated sugar. When you dispense them, they move or flow freely while packaging powder.
2) Non-Free Flow
Another type of powder flow is non-free flow. In this type of flow, the particles are completely cohesive. Powdered milk is one of the best examples of a non-flow powder.
3) How To Check Free or Non-Free Powder Quickly:
If you want to check the flow of the powder, you can use some pressure. After you add the pressure, if the powder does not get compacted, the powder has free flow. Besides, if the powder shape can be manipulated, it has a non-free flow.
2. Select Appropriate Container
The industries like pharmaceutical, food, chemical, and more need to pack powder for various purposes. With a proper powder packaging machine, you should also know about the right containers.

The powder has fine particles that result from processes like crushing, disintegration, or grinding of the solid material. These procedures require a significant amount of air and moisture for proper outcomes.
Generally, the machines fill the powder as follows:
Raw material
Intermediary product
End product
The characteristics, like the texture of the product particles, are important to know. After identifying the fundamental aspects of your powder, you can select which type of container is best to pack it in.
Therefore an essential property of the powder that matters in choosing the container is "powder fineness." The range of fineness goes from very fine to very coarse. Besides, also check the frictional properties, flow rate, cohesive strength, and more to select a feasible container for packaging.
3. Powder Filling Technologies
Modern powder packaging technologies in the industries are based on the following:
1) Tools and Drive For Powder Filling
The tools and drives are devices that are vital to incorporate with the powder filling machines. For instance, if you use an auger powder filling machine, auger and tube dimensions vary and depend on the following:
Accuracy level
Dosing rate
Fill weight
Product characteristics
Neck of containers
2) Gravimetric Powder Filling Technology
The main motive behind the release of gravimetric powder filling technology was to attain the filling technique according to the weight. But you may need a reason to select this powder filling equipment that uses a fill-by-weight-filler.
So, there are basically some common issues associated with non-fill-by-weight types of equipment:
Variable product density.
Inconsistent tare weight.
Compromising crucial fill weight.
Occasional variation of proper fill weight.
Therefore, you should switch to the fill-by-weight equipment if you want a solution for the above issues. Besides, the three effective primary ways for regulating weight are setpoint, bulk, dribble, and feedforward.
3) Volumetric Filling Technology
The volumetric filling technique is focused on the fill capacity. In simple terms, it represents that the number of revolutions of an auger is directly proportional to the quantity filled in the container. The principle is suitable for either one or multiple augers, whether using semi or completely automatic machines.
Connect it to the weigh-cell for the optimized functioning of the volumetric filling device. Following are some reasons for it:
Aids rejection of unnecessary weights.
Weigh-cell effective;y records and shows fill weight.
Compensated for any trend change in fill density.
Best Tips For Powder Packaging
1. Product Dustiness
Some powder products can form dust clouds when dispensed and cause mechanical issues. You must know how to tackle such a situation and what is the best way to package powder products. The first tip is that the machine's jaw drive must be closed to protect moving parts. Next, select a machine that has an IP-rated enclosure. It prevents cloud particles from entering the machine.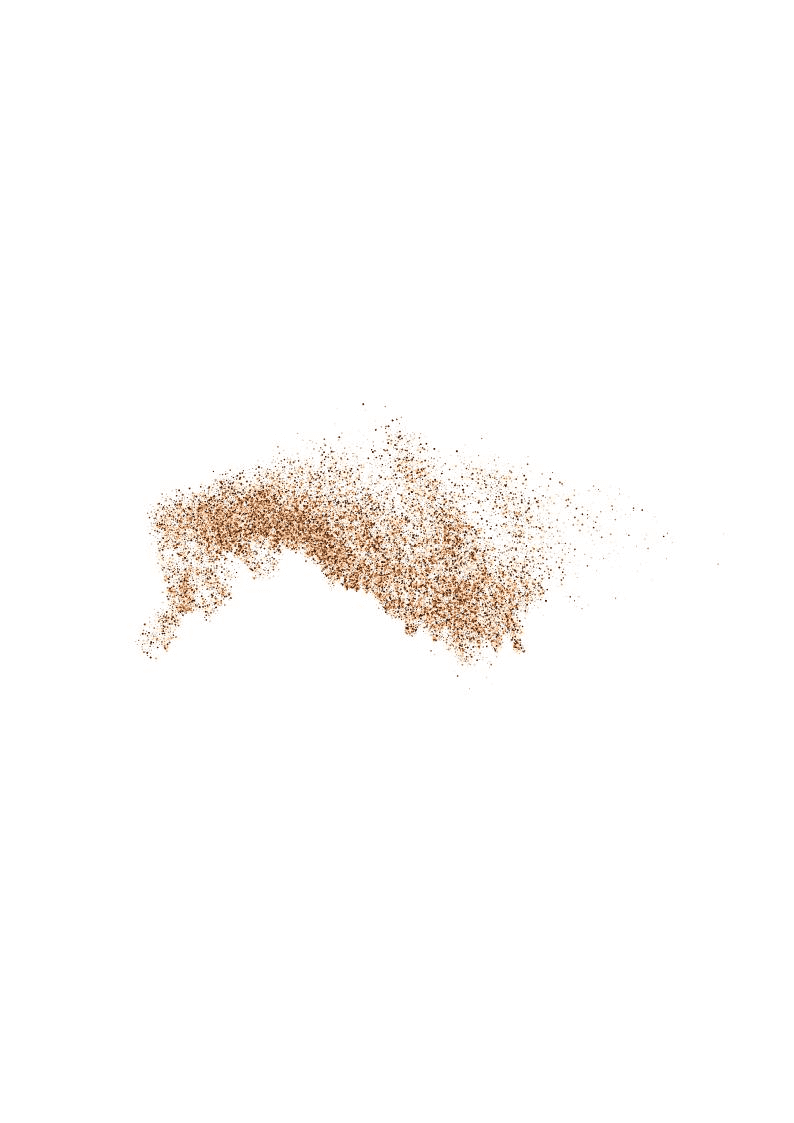 2. Target Market
Knowing your target market is a crucial aspect of the packaging. It tells you what people you want to appeal to buy the product. An essential thing to consider here is not to focus on selling the product to everyone. If your powdered product is for the younger generation, add the elements that attract them.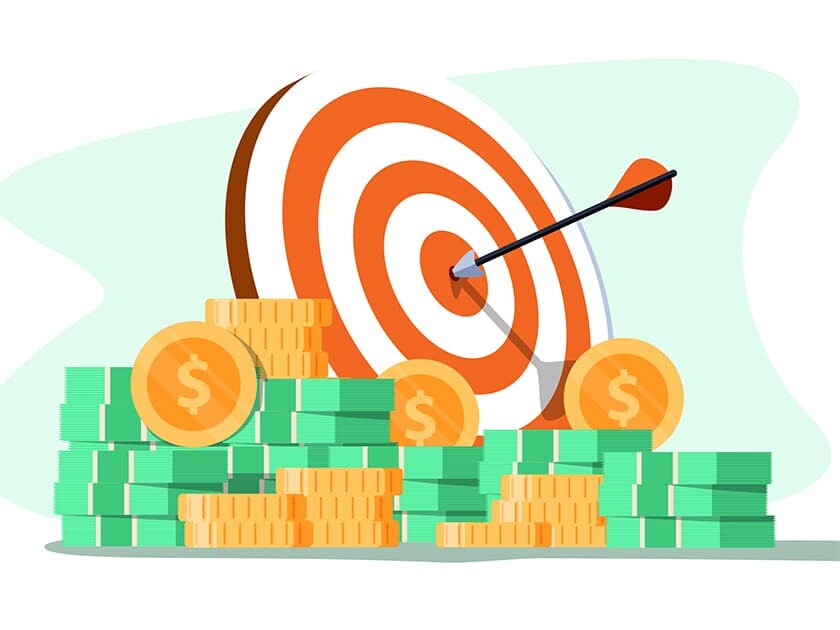 3. Branding
Industries mostly do bulk powder packaging. Nowadays, selling a product is possible with effective branding. The packaging represents your brand image and is crucial in appealing to buyers. So, ensure the creative packaging of your product and also include vital information.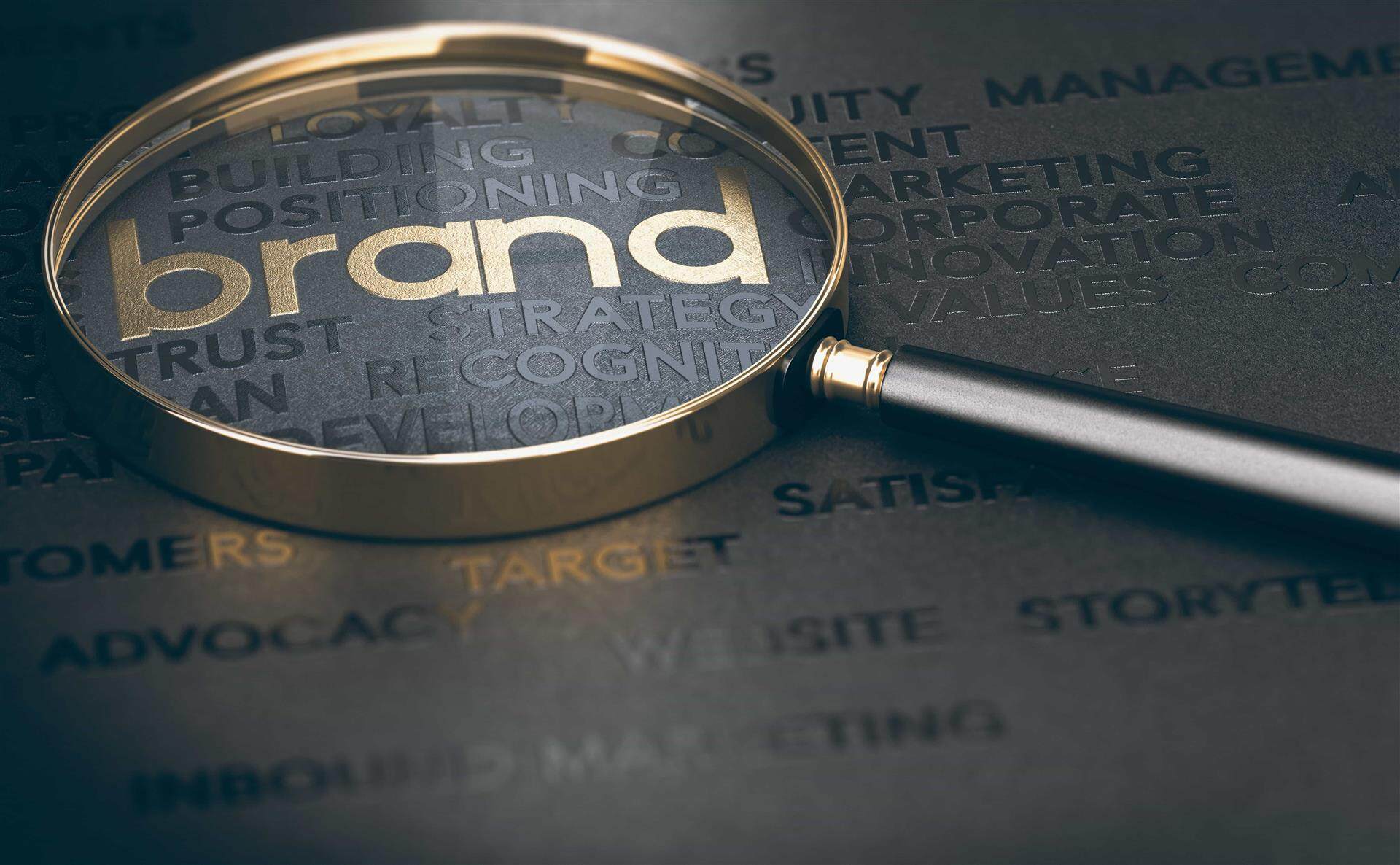 4. Different Sizes
Another essential tip for packing powder products is to consider the packaging in various sizes. Consumers have different requirements, and not everyone will buy the same amount of product. Thus, the packing process should also have the added feature of packing the product in various sizes.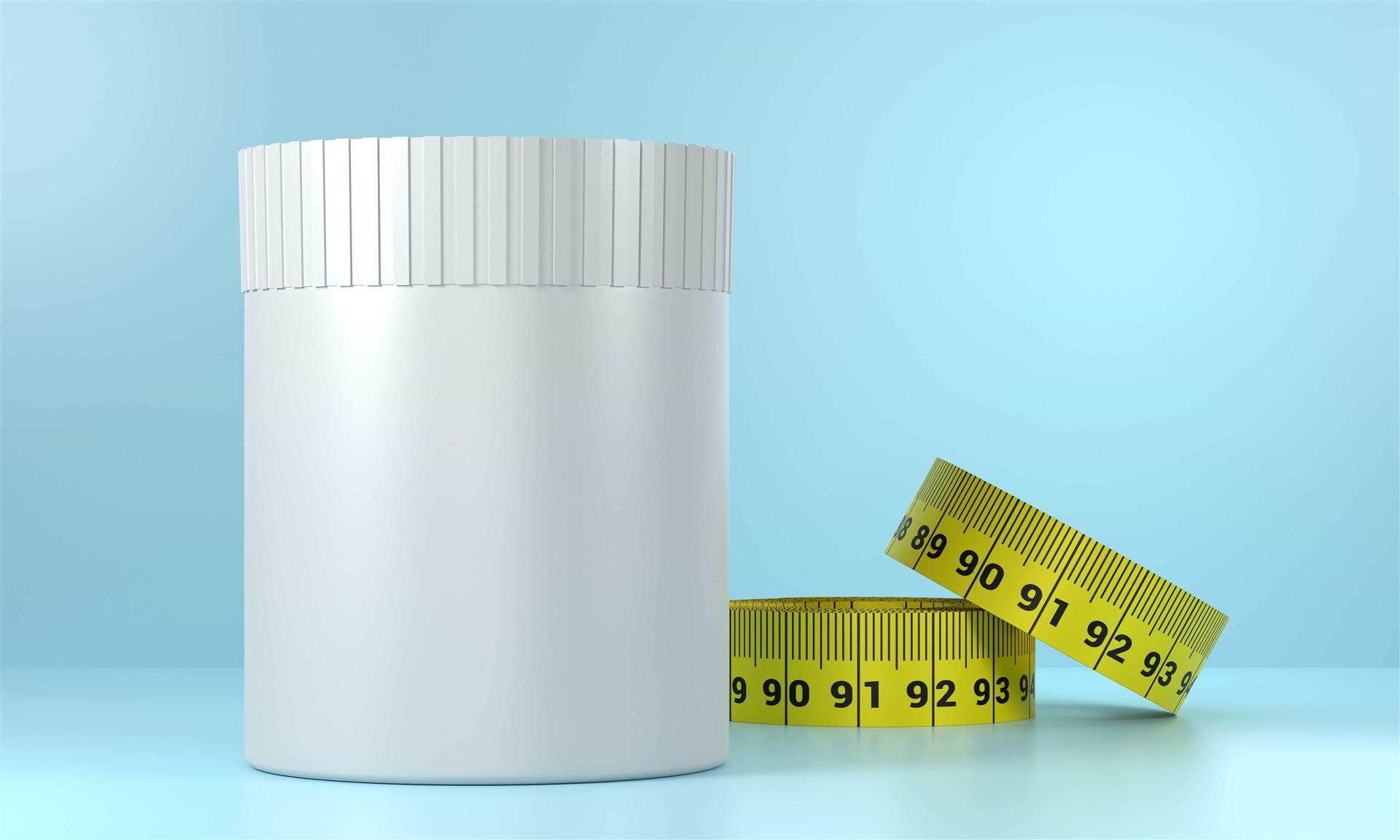 Main Parts of Powder Filling Machine
The powder packing machines have numerous parts according to the machine's design and model. However, some common dry powder packaging equipment parts are: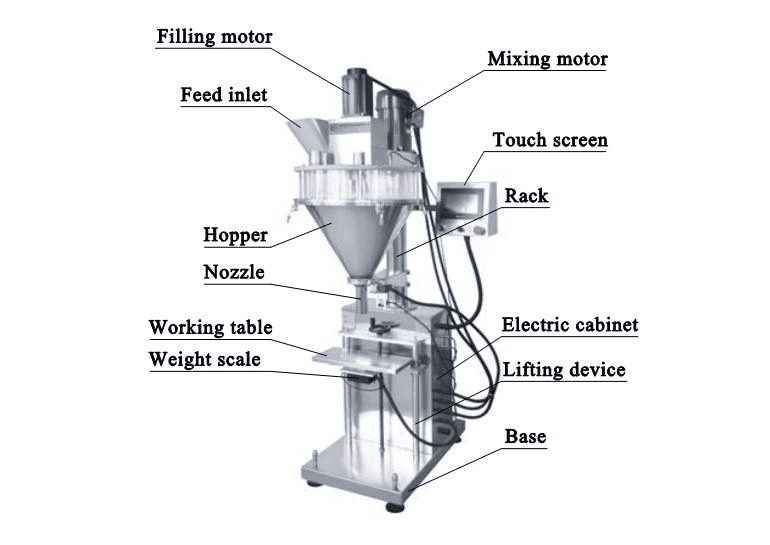 Mixing Motor: For controlling the operation intensity of the blenders.
Filling Motor: Regulates the revolution rate of the filling jar.
Level Detector: Checks the powder level filling into the packages.
Hopper: For making the dosing system.
Feeding Port: Provides passage to powdered products.
Filling Spout: One more dosing system part.
Control Box: A locker with controller buttons and plugins.
Pedestal: Gives sturdy mechanical support for positioning the overall machine.
Top Machines For Powder Filling
There are many powder filling machine manufacturers in the market suitable for various industries. We are listing the two best powder filling machines by iPharmachine below:
1. Auger Powder Filling Machine CN-HZFB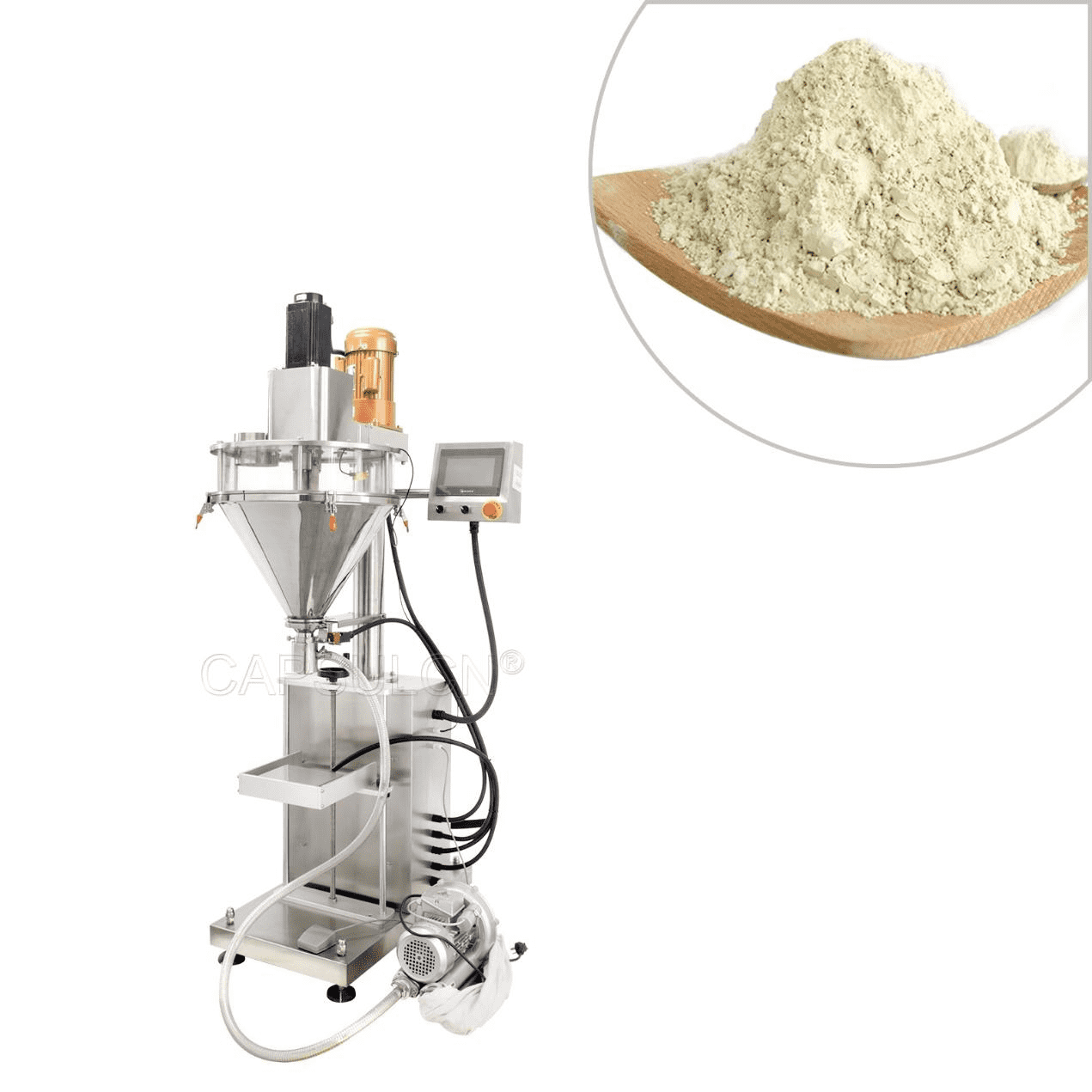 Auger Powder filling machine CN-HZFB is a semi-automatic machine. It is a modern generation device that has exceptional features: proper rations, simplified structure, reduced failure rate, flexible combination, and wide adaptability.
This CN-HZFB powder filling machine is capable of various functions like:
Automatic quantitative filling.
Automatic material clearing and calculation.
Automatic error correction
Material level control.
SOME TECHNICAL PARAMETERS:
Container: Aluminum foil bags, plastic bags, paper bags, cloth bags, wide-mouth bottles, etc.
Specification: 10g~5000g
Accuracy: 1%
Power: AC 220V 50Hz 1100W (Feeding machine not included)
Speed: 1500~2500 bags/hour (Related to material properties and so on)
Total weight: 360 kg
Dimension: 2000*980*20000mm (L*W*H)
With excellent qualities like high sensitivity, reliability, and accuracy, it is effective for the quantitative filling of small and even granular products. Besides, it effectively conforms with the GMP production standard.
2. Auger Powder Filling Machine CN-HZFC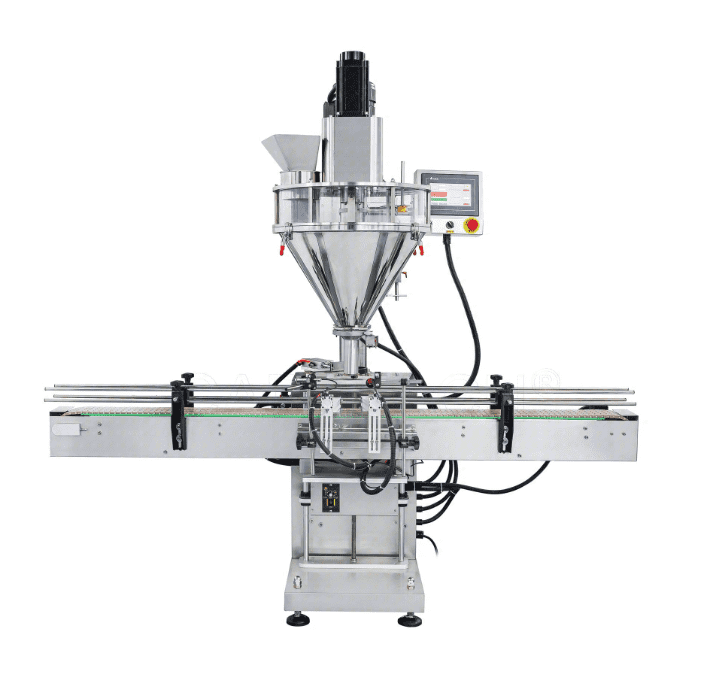 Auger powder filling machine CN-HZFC is a fully automatic powder packaging machine. This machine also has characteristics like the CN-HZFB model. Some are its extensive adaptability, accurate quantitative filling operation, simple design, and low failure rate. However, as per your requirements, you can select the capping device, automatic feeding equipment, and more for enhanced outcomes.
The CN-HZFC powder filling machine also has various functions to offer, such as:
Automatic quantitative filling
Material level control
Automatic error correction
Automatic material cleaning and calculation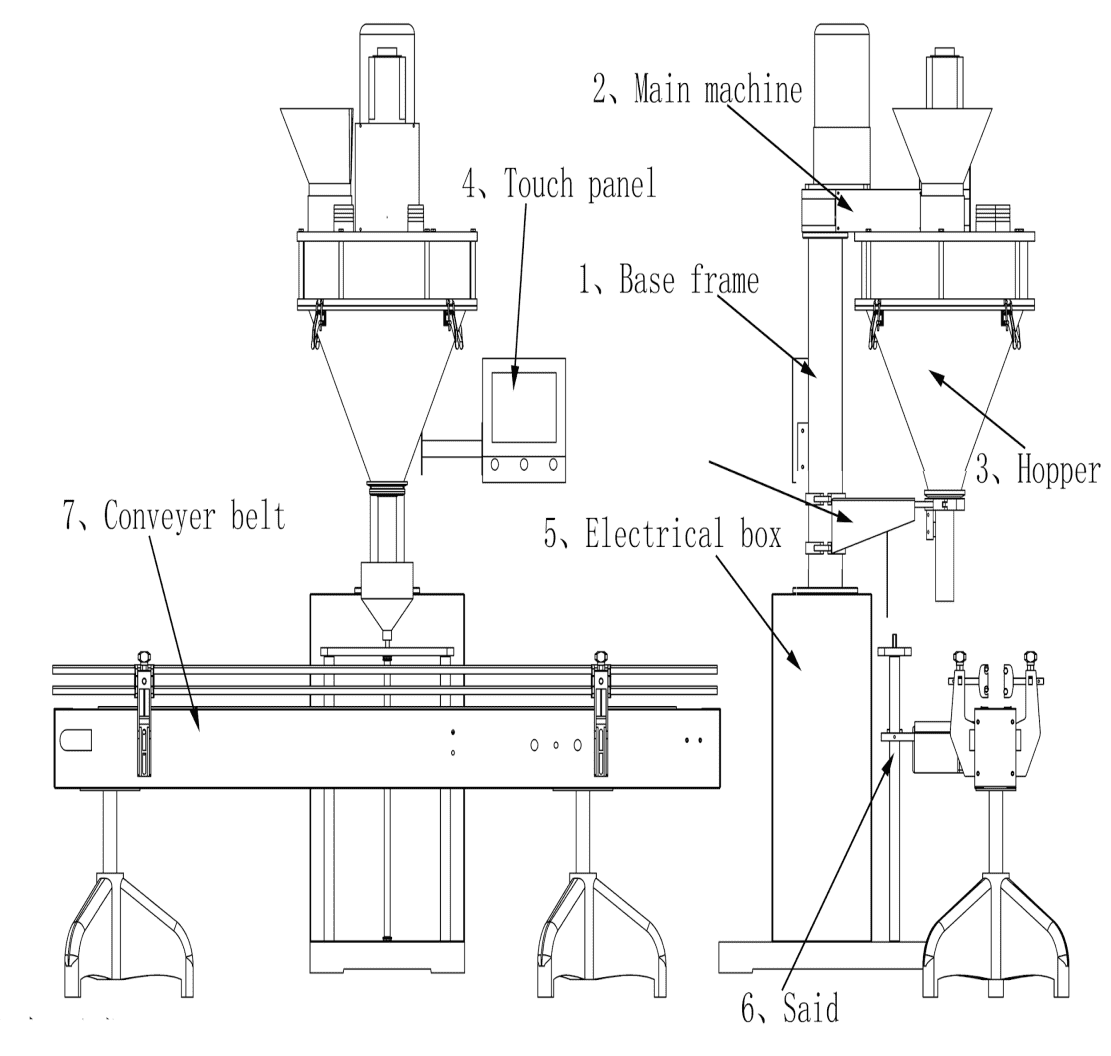 SOME TECHNICAL PARAMETERS:
Filling container: wide-mouth bottle
Filling specifications: 10g-5000g (Replace the spiral part)
Filling accuracy: 1%
Input Voltage Power: AC220V 50Hz 1000W (Without Feeding machine)
Filling Speed: 10-40 bottles/ mins (depending on the material quality, filling specification, and professionalism of operators)
Suitable bottles: Diameter of the bottle body 20-150mm; Bottle height 60-300mm
Total Wt: 360kg
Overall Dimension: (L*W*H) 2000*980*20000mm
Furthermore, CN-HZFC is a perfect powder filling machine with high sensitivity and accuracy. The reliability of the machine is also commendable. The main aspect is that this machine is appropriate for the qualitative filling of uniform and small granular materials. It also conforms to the GMP production standards.
Uses of Powder Filling Machine
Powder filling machines are suitable for various industrial areas. Below are some industries that majorly require the powder filling equipment:
1. Pharmaceutical Industry
Powder filling machines are vital for the powder packaging of machines and drugs for different packages such as sachets or glass bottles.
2. Chemical Industry
In the chemical industry, powder filling equipment is necessary for filling both mind and reactive powdered chemicals.
3. Veterinary Industry
Various veterinary medications are in powdered form and water-soluble. Therefore, the filling of such drugs is possible with powder packaging machines.
4. Cosmetics Industry
The cosmetic industry also requires powder packaging machines. A few products like cosmetic detergents or baby powder can be filled appropriately using the machine.
5. Agricultural Industry
Powder packing equipment is effective for the packaging of agricultural products. For example, powdered organic and inorganic fertilizers.
In The End
Lastly, the above information is appropriate for basic understanding. Besides, after a complete understanding of the powder packaging requirement, you can start packaging powders. We have also included the top iPharmachine powder filling machines. If you are in the manufacturing industry and need powder filling equipment, check the range of iPharmachine.
Leave your comment
Also Offers
New Arrival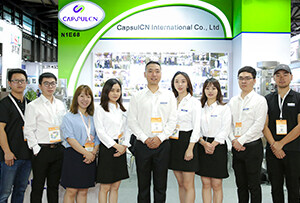 Our Team
As an expert in the pharmaceutical and pharmaceutical packaging industry, iPharMachine has provided solutions for hundreds of pharmaceutical and health product manufacturers for 17 years. By visiting customers, we get good reviews from our customers.