Types of Encapsulation Machines - Choose One Suits You Best
- Monday, August 29, 2022
According to buyers' budgets, purpose (for business use or home use), production scale (for small drug stores or pharmaceutical companies), as well as the types of capsule they want to fill (for soft gels or capsules), they may make different choices when selecting capsule fillers.
Read the following parts, and you will know what types of encapsulation machine suit you best, which is likely to boost your business in the long run. To give a quick overview of different types of encapsulation machines, we'll discuss them separately in terms of their brief introduction, advantages and disadvantages.
1. encapsulation machine definition and types
What is encapsulation machine? Capsule fillers are also known as encapsulators, a sort of pharmaceutical equipment used to fill empty capsules with pharmaceutical ingredients, like powders or granules. So it plays an important role in manufacturing drugs and supplements.
For individuals or pharmaceutical companies who are looking for the best machines, they need to know the types of encapsulation machines first. Generally, there are three main types of encapsulation machines:
Manual encapsulation machine
Semi-automatic encapsulation machine
Automatic encapsulation machine
To be specific, the automatic encapsulation machine can be divided into two types:
Hard gelatin automatic encapsulation machine
Liquid encapsulation machine
To have a deep understanding of capsule fillers, you may want to know the three main types of encapsulation machines. Below are the detailed introduction of manual, semi-auto and automatic encapsulation machines, as well as their respective advantages and disadvantages.
2. The simplest type - manual capsule filler
A manual encapsulation machine is also called hand-operated capsule filler, a type of capsule filler widely used in small-scale production. Without many complex mechanisms, a manual capsule filler is typically made of acrylic, a solid and transparent material. 
It is a low-cost machine that fills capsules with powders, granules, and pellets. Sometimes, it can fill sticky powders or non-aqueous liquids into capsules. Due to its cost-effectiveness, portability, easy-to-use design, and easy maintenance, the manual capsule filler is widely used in small-scale pharmaceutical industries such as small laboratories, clinics, and homes.
To have a better understanding of manual capsule fillers, check this guide, and you will know the operating procedure for manual capsule fillers.
Compared with semi-automatic and automatic machines, a hand-operated capsule filler has both strengths and drawbacks:
1) Benefits of manual types of capsule fillers:
a. Easy-to-use design
Its easy-to-use design allows everyone to fill capsules easily. Without too much training, everyone can operate this machine after reading instructions. 
b. Cost-effectiveness
Compared with other types of encapsulation machines, a manual encapsulation machine costs much less. Its average price ranges from a little more than 10 dollars to 3000 dollars. 
As for the installation and maintenance, it doesn't cost a penny as the process of dismantling, assembling, or cleaning is very easy and convenient. Even during the filling process, it doesn't consume electricity.
c. More Choices of Capsules
Manual encapsulation machine is the only type of capsule filler that supports filling both joined and separated empty capsules. Those manual encapsulators that can fill separated capsules are much cheaper than those support filling joined ones, and they can save much time in removing caps from the body.
d. Portability and Easy Maintenance
The ideal manual capsule fillers tend to be crafted by acrylic sheets, which can greatly lower the weight of body. With only a few removable screws, a manual capsule filler can be dismantled easily for quick cleaning.And both its acrylic sheets and the stainless steel parts comply with the hygienic requirements of cGMP standards.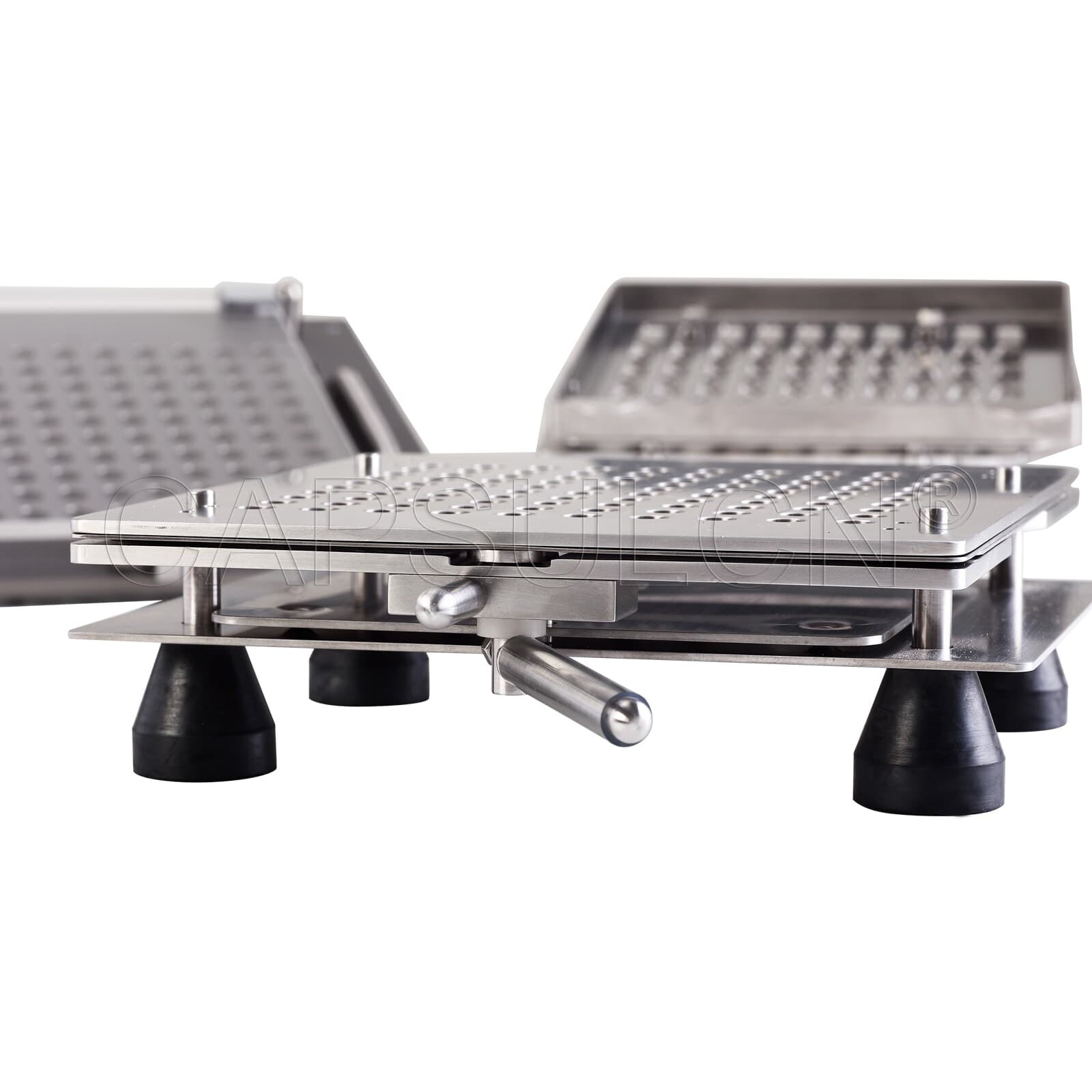 2) Drawbacks of manual types of capsule fillers:
Despite its low cost and great convenience, manual capsule fillers still have many limits, which is self-evident in large-scale production.
a. Low production efficiency
Manual encapsulation machines can only fill 10 to 800 capsules per cycle, and produce up to 600 to 4000 capsules per hour.Though this is much more efficient than simply filling capsules by hand, its production capacity is overshadowed by semi-automatic and automatic ones. After all, they boast a much more complex mechanism and can manufacture 10k to 450k capsules per hour.
b. Low Filling Accuracy
Another big drawback is that without the help of a computer program, it's difficult to pin down the exact amount of powder for each capsule. So a manual capsule filler is hardly possible to achieve the micro-dosing of capsules.
c. High Labor cost
Human labor is indispensable when filling the capsules. Besides, as it is a separate machine that does not support production integration, you need to manually move finished products to capsule polishers. All the work is laborious compared with automatic production lines.
3. The efficient type - semi-automatic capsule filler
A semi-automatic encapsulation machine combines manual and automatic encapsulation machines, which can manufacture 10k to 20k capsules per hour, fitting for medium-scale production. You need to spend around 10,000 to 25,000 dollars to purchase a device. 
Except for liquid or suspension, a semi-automatic capsule filler can fill hard gelatin capsules with most materials like powders, granules, or pellets. With many automation features like powder filling auger systems and pneumatic systems, this type of encapsulation machine has achieved a certain degree of automation.
But still, you need at least one employee to monitor and control the filling process. And it still can be difficult when you want to integrate it into your production line. Generally, buying a semi-automatic encapsulator for medium-size production is a good choice.
Compared with manual encapsulation, the working principle of semi automatic encapsulation machines ensure higher efficiency and a simplified working process. Moreover, with the aid of the dosing disc, semi-automatic capsule fillers can fill capsules accurately.
With all these great benefits, this encapsulation machine still has some drawbacks. Overall, compared with the other two types of encapsulation machines, its filling efficiency is higher than the manual machine, while its cost is lower than the automatic ones:
1) Benefits of semi-automatic capsule fillers:
a. Cost-effectiveness
The first great benefit is its cost-effectiveness. When it comes to the manufacturing cost, you need more labor if you choose manual capsule fillers, while the type of semi-automatic machine only needs one operator.
Compared with a fully automatic encapsulator, in most cases, a semi-automatic type is much more affordable, which is almost half the price of the former.
b. Higher working efficiency
Compared with the low filling capacity of manual capsule fillers (only 600 to 4000 capsules per hour), the semi-automatic encapsulation machine has greatly improved working efficiency (10k to 20k capsules per hour), very suitable for medium-size commercial production.
c. Higher filling efficiency
With the aid of PLC control systems and many automation components, a semi-automatic capsule filler boasts great dose accuracy and consistency. In comparison, human error can not be avoided when using a hand-operated type of capsule filler.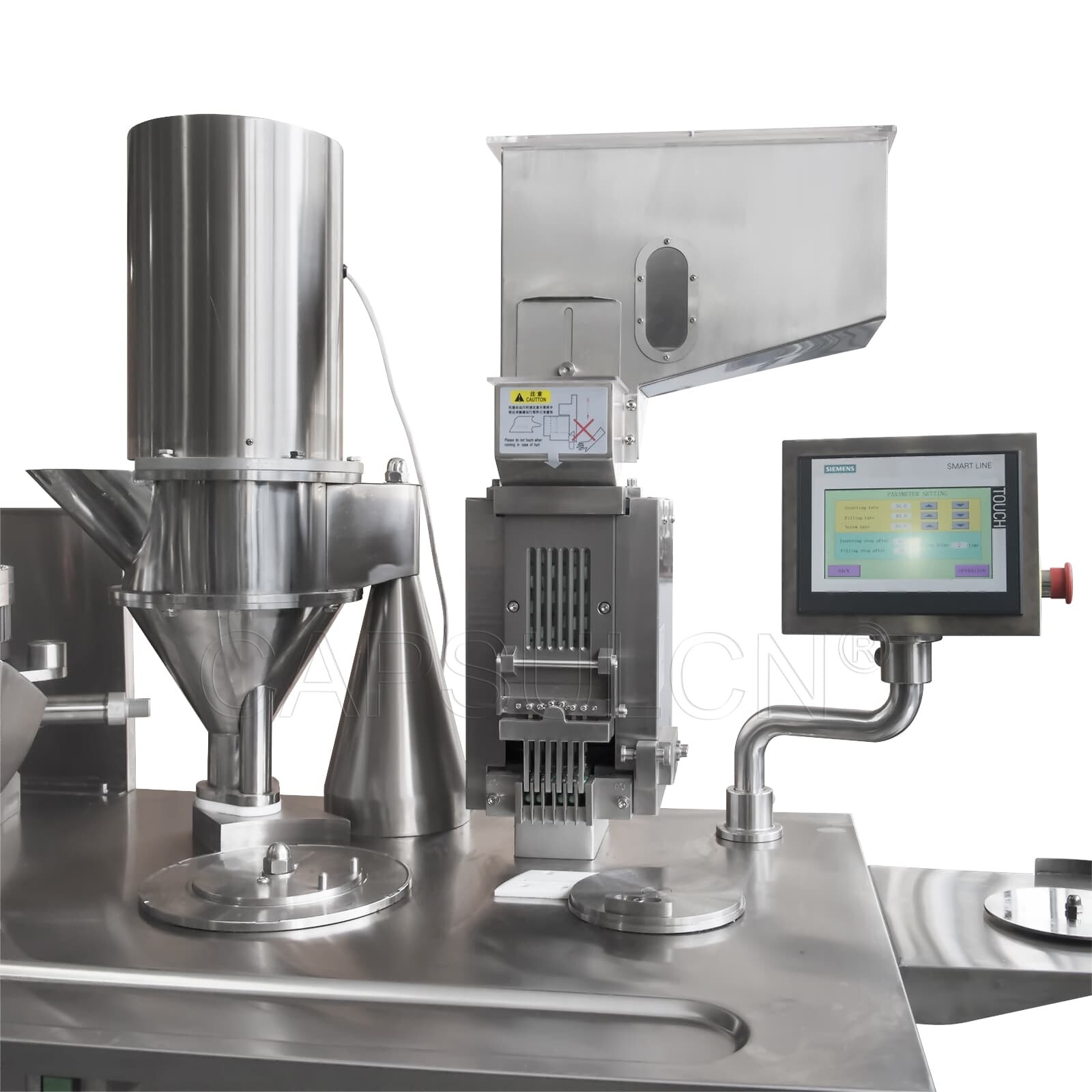 2) Drawbacks of semi-automatic types of capsule fillers:
a. Extra Personel Cost
Since it is not fully automatic, a semi-automatic type still needs to have an operator, which can add extra personnel cost, and will inevitably lower working efficiency after long hours on the assembly line.
b. Heavy weight
Compared with the small size of manual capsule fillers, a semi-automatic machine is cumbersome, which can cause great inconvenience to installation, cleaning, and maintenance.
c. Incompatible with softgels and other support equipment
As many processes still need a manual operation (like you need to move the filled capsule body to the locking device manually), it can not fill soft gelatin capsules, which requires automatic capsule filler to achieve hermetical sealing. Moreover, you may find it difficult to integrate this type of encapsulation machine with other support equipment.
4. The most powerful type - automatic capsule filler
Made of stainless steel, an automatic encapsulation machine features electromechanical encapsulation systems that can achieve accurate and high-speed capsule filling in an ultra-quiet environment (it makes little noise). 
Overall, a fully automatic encapsulation machine is the best choice for your pharmaceutical business as long as you have sufficient funds to purchase one. Generally, the average price of this encapsulation machine ranges from 30'000 dollars to 50'000 dollars. But in the long run, it is still cost-effective since it can greatly reduce personnel.
You can easily integrate it with other supplement equipment to form a complete capsule filling line. Ideally, purchasing a reliable automatic capsule filler can skyrocket your business, as its great production capacity allows it to fill 12K to 450K capsules per hour. 
Compared with the former two types of encapsulation machines, an automatic encapsulation machine typically represents the top-notch technology in the pharmaceutical industry.
Despite its high investment cost and limited portability, a high-quality automatic encapsulator is well fitted for commercial production. In the long run, it is the type of capsule filler that can skyrocket your business:
1) Benefits of automatic types of capsule fillers:
a. High working efficiency
A fully automatic capsule filler can independently finish all the processes, including separating, filling, locking, ejecting, sorting, etc. Without much human intervention, an automatic encapsulator is well fitted for commercial production, with its filling capacity reaching 12K-450K capsules per hour.
b. Perfect safety measures
In terms of safety measures, this type of capsule filler is equipped with automatic sensors that can detect malfunctions in filling. And its interlock safety door will automatically shut down the machine if someone opens the door when it is in operation. As for its self-diagnostic system, it will alert personnel that the machine is not in proper condition so that it can get maintenance timely.
c. High filling accuracy and low waste
To achieve lean production, its automatic sensors and dosing disc help determine the filling levels, ensuring accurate filling. During filling, an automatic type of capsule filler can even recycle the excess powder, reducing the waste of filling material. 
d. Upgrade accessible and Compatible with support equipment
Compatibility is also one of its great highlights. Some automatic equipment support upgrades, meaning you can boost their production efficiency when new technology comes out. And it can easily integrate with other support equipment to form a complete production line.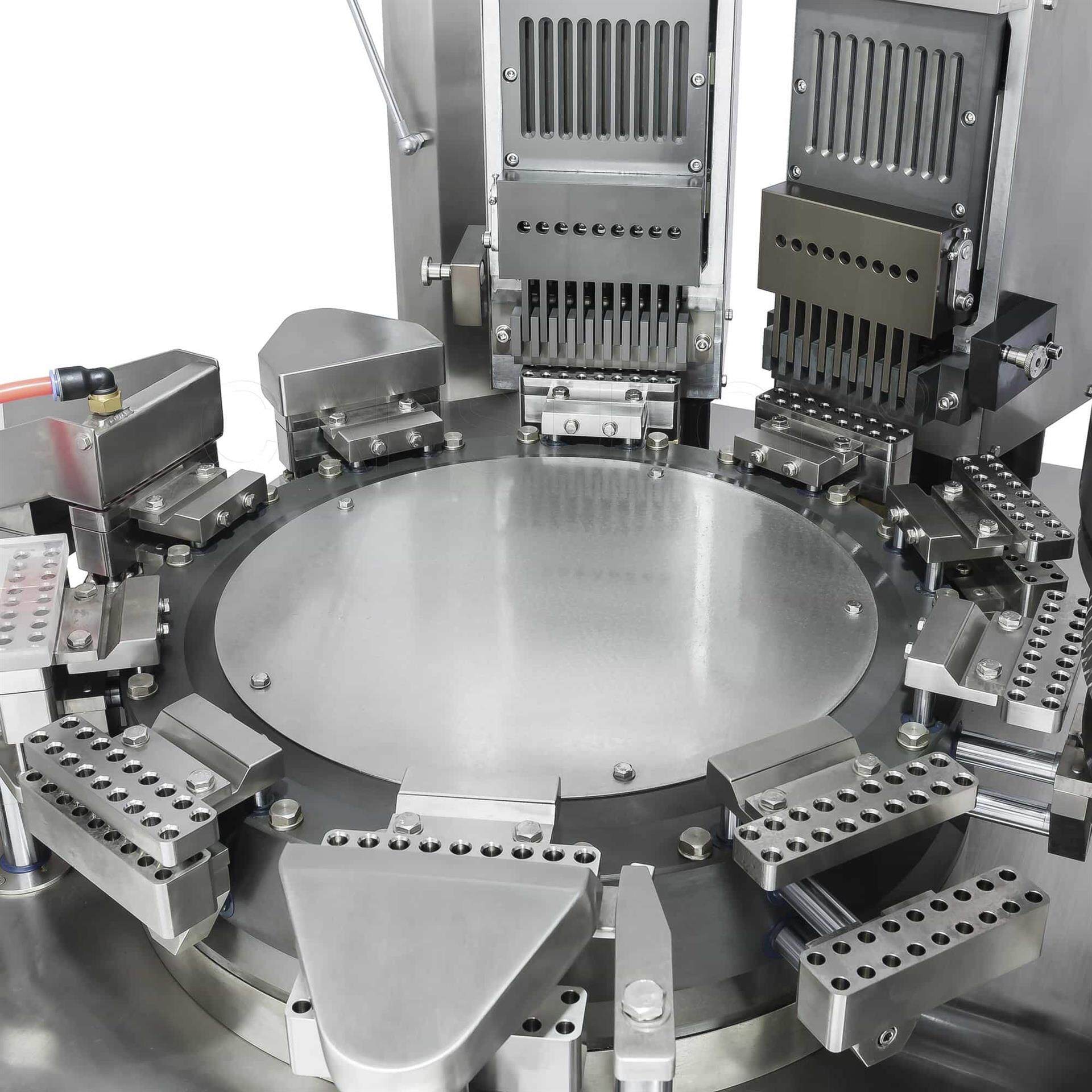 2) Drawbacks of automatic types of capsule fillers:
a. High initial cost
The biggest drawback of this type of capsule filler is its high cost. To purchase a fully automatic encapsulator, you have to spend around 30'000 dollars to 50'000 dollars, which is a big sum for a small company.
On top of the initial investment, you have to spare much warehouse space for its installation. Unlike operating a manual encapsulation machine, you need to train professionals to manage, maintain and troubleshoot the device.
b. Heavy weight 
The more sophisticated and automatic a capsule filler becomes, the less likely you can move it whenever you want. Compared with manual capsule fillers, automatic versions achieve automation at the expense of their portability.
c. Incompatibility between two types of automatic capsule fillers 
Due to the different filling requirements, an automatic hard gelatin encapsulator can not replace a softgel encapsulation machine. You still need to pay extra money if you want to fill capsules with liquids, semi-solids, or suspensions.
5. In the End
Before taking action, learning what is a encapsulation machine and different types of capsule filling techniques is the preparation every buyer has to make. Now, you must have a clear view of this important pharmaceutical equipment and want to find quality machines from a famous smanufacturer. 
Check iPharMachine. We are a first-class pharmaceutical equipment supplier in the industry. Our range of products includes all types of capsule filling machines. You definitely can find one that satisfies your customized needs and boosts your business.
Leave your comment
Also Offers
New Arrival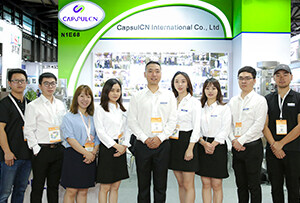 Our Team
As an expert in the pharmaceutical and pharmaceutical packaging industry, iPharMachine has provided solutions for hundreds of pharmaceutical and health product manufacturers for 17 years. By visiting customers, we get good reviews from our customers.