How To Make Softgel Capsules: Everything You Need To Know
- Thursday, October 27, 2022
Today, many people are looking for ways to boost their health, thanks in part to COVID-19. Research shows that dietary supplements have become more popular than ever. According to the FDA, three out of four Americans take dietary supplements on a regular basis.
Dietary supplements are available in a variety of forms, including capsules, softgels, tablets, powders, gummies, drinks, and energy bars. And among them, softgels are one of the most popular delivery forms.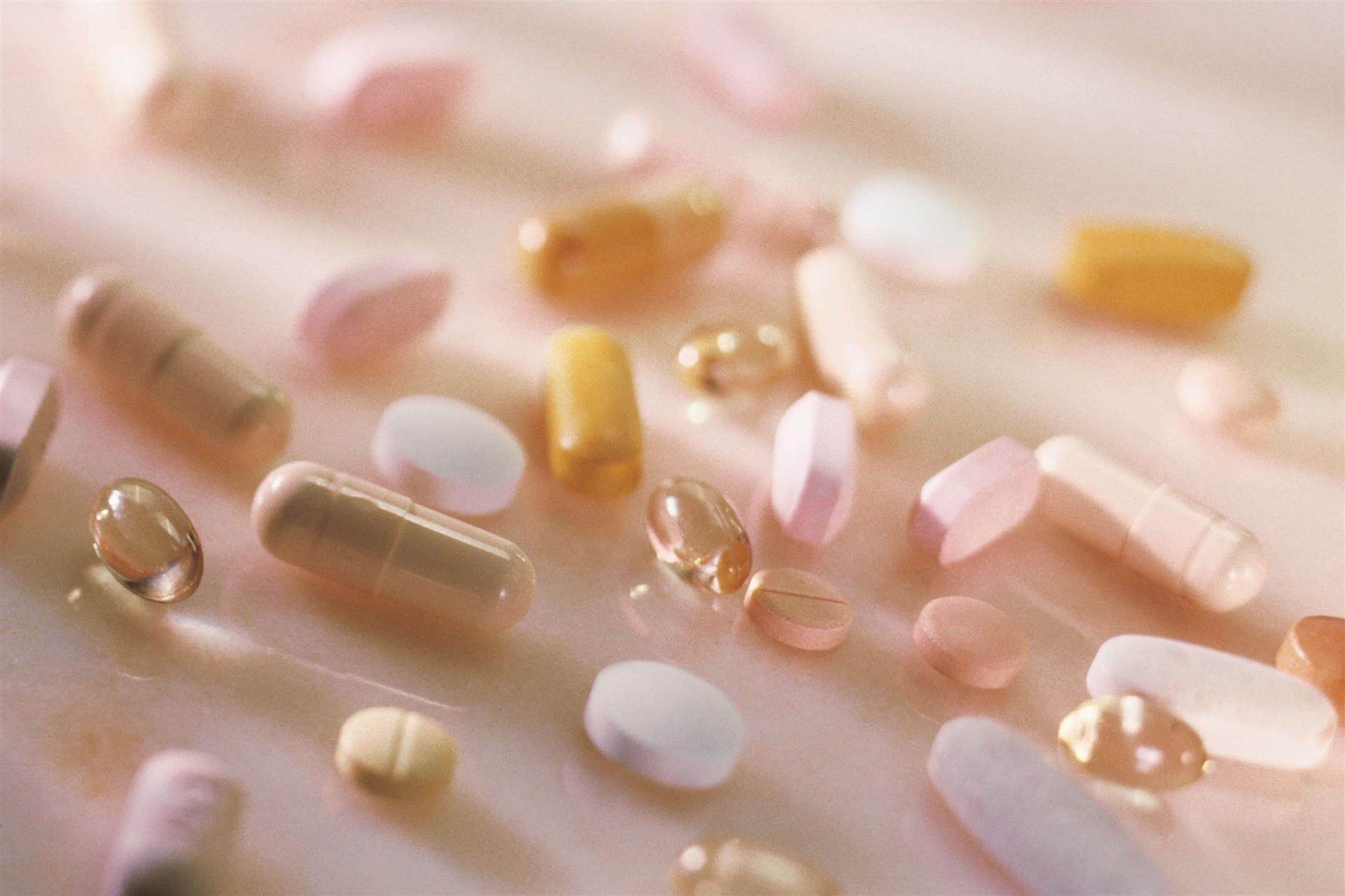 Despite its popularity, softgels prove to be one of  the dosage form that is hard to produce as well.
What are softgels? How to make softgel capsules? This article will help you understand more about this oral dosage form as well as the softgel encapsulation machines. 
What Are Softgels? And Why Softgels?
Similar to capsules, softgels are composed of a gelatin-based shell encasing a liquid fill. These special capsules offer a lot of benefits over other delivery forms.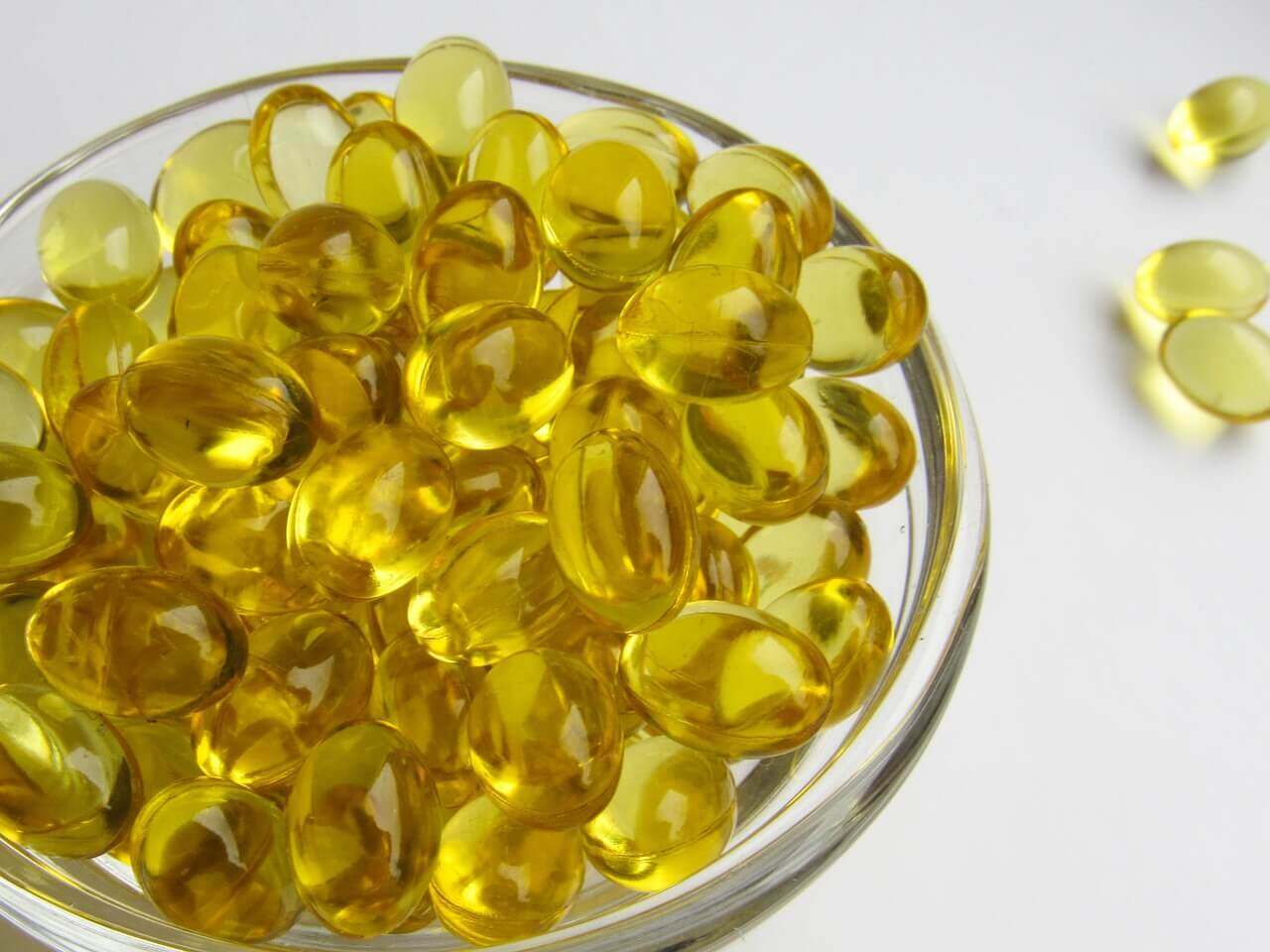 Softgels are often easier to swallow than hard-shell capsules or tablets. If you have trouble swallowing, they will be your best bet.
Softgels have no unpleasant odors or taste. The ingredients are enclosed in the gelatin shell, allowing you to swallow them without noticing any odor. So, it's great for people who're sensitive to smell.
Softgels have better bioavailability than tablets, hard-shell capsules, and powders. The gelatin shell dissolves easily in your stomach, thereby releasing nutrients quickly.
Softgels allow dose uniformity. They can deliver more accurate dosing than other oral dosage forms.
Softgels are tamper-resistant. Since softgels cannot be broken in half like conventional capsules or tablets, they are safer as well.
These benefits allow softgels to hold a greater share of the global dietary supplement market. As a result, the demand for softgel encapsulation machines keeps on rising.
If you already have a rough idea of the softgel capsules, let's now advance to the next question: how to make softgel capsules? 
Read more:
How to Fill Gelatin Capsules with Liquid
How to Make Softgel Capsules?
To make softgels, you'll need a softgel encapsulation machine. This piece of equipment performs a softgel manufacturing process known as encapsulation. It can fill softgels with liquid or semi-solid ingredients.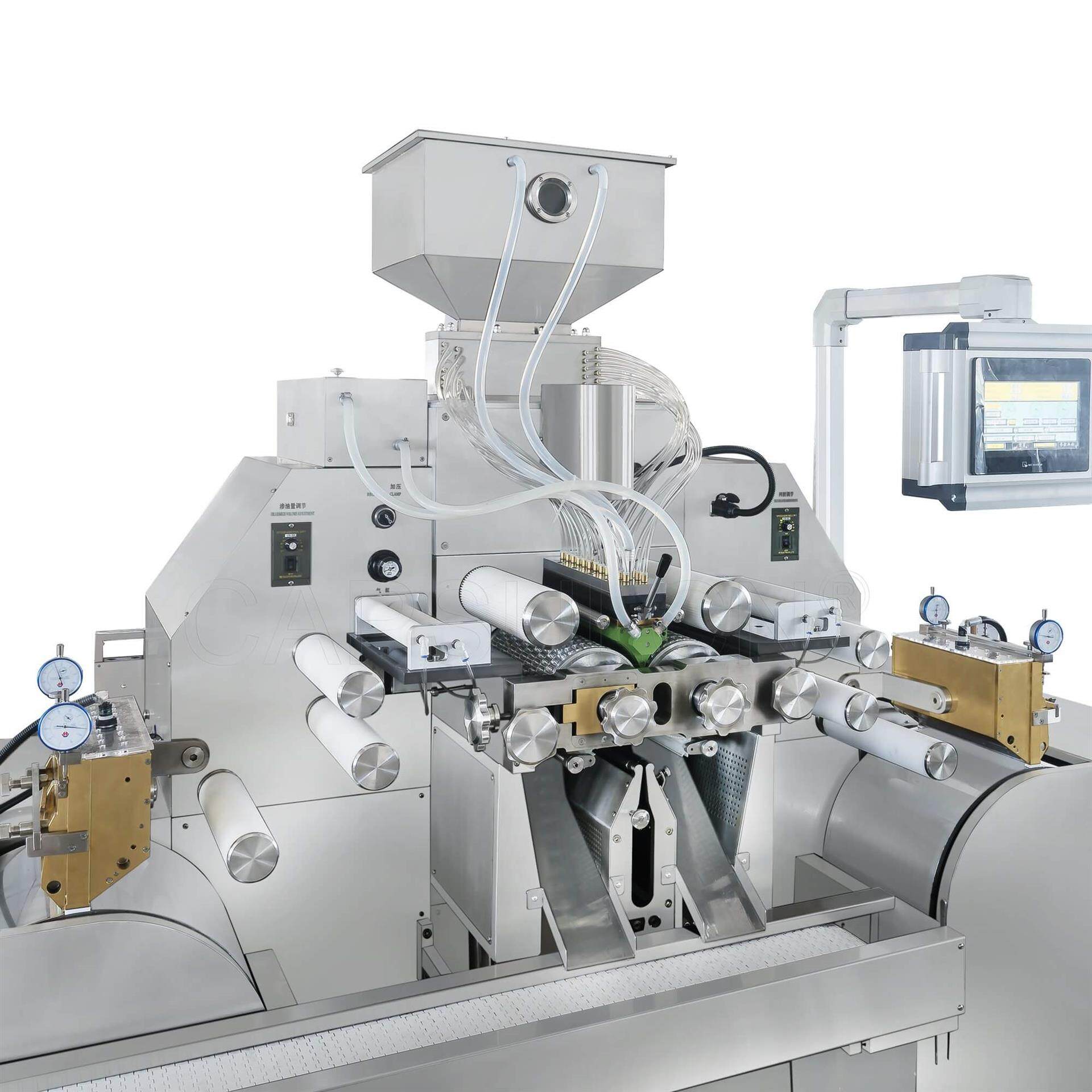 So, how does a soft encapsulation machine work? The softgel manufacturing process can be divided into the following three stages.
1. Preparing Shell Materials And Liquid Fills
A softgel capsule typically consists of two parts: the shell and the liquid fill. In this stage, the shell materials and liquids are prepared in separate hoppers for shell making and liquid filling.
Shell Materials
The shell of a softgel is usually made from animal gelatin. Of course, some pharma manufacturers opt for vegetable-based gelatin or vegan starch for the softgel coating.
It should be noted that the temperature for the animal- or non-animal-based gelatin varies due to their different viscosities.
Liquid Fills
The liquid fills of a softgel comprise a blend of active ingredients. The formulations are based on the manufacturer's production needs. The active ingredients are sealed in the shell, allowing the softgel to offer better absorption and bioavailability.
2. Encapsulation Process
This is the critical stage of the softgel manufacturing process. It can be defined by several steps as follows. And before you learn the working principle, you may want to be familiar with softgel encapsulation machine parts.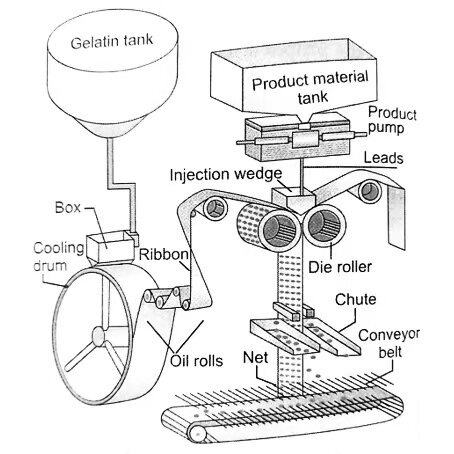 Step 1: When the shell material is pumped into the machine, it forms two thin ribbons of gelatin. By the way, the thickness and size of the ribbon are adjustable.
Step 2: After passing over a set of rollers, the ribbons are then constantly fed between two rotatory die rolls to form the two halves of a softgel. The die rolls are used to shape and size the softgel capsules.
Step 3: The ribbons come together at an injection wedge. The fill material is then measured and precisely pumped out of the hopper for encapsulation.
Step 4: The die rolls keep rotating. The filled capsule halves are then sealed together using heat and pressure and are then ejected.
During the encapsulation process, it's necessary to monitor and regulate the gelatin temperature, ribbon thickness, seam width, and fill volume.
3. Drying Softgels
After being encapsulated, the filled softgels are transferred by the conveyor belt to a tumble dryer for softgel drying. The tumble dryer typically consists of lint-free towels and forced air.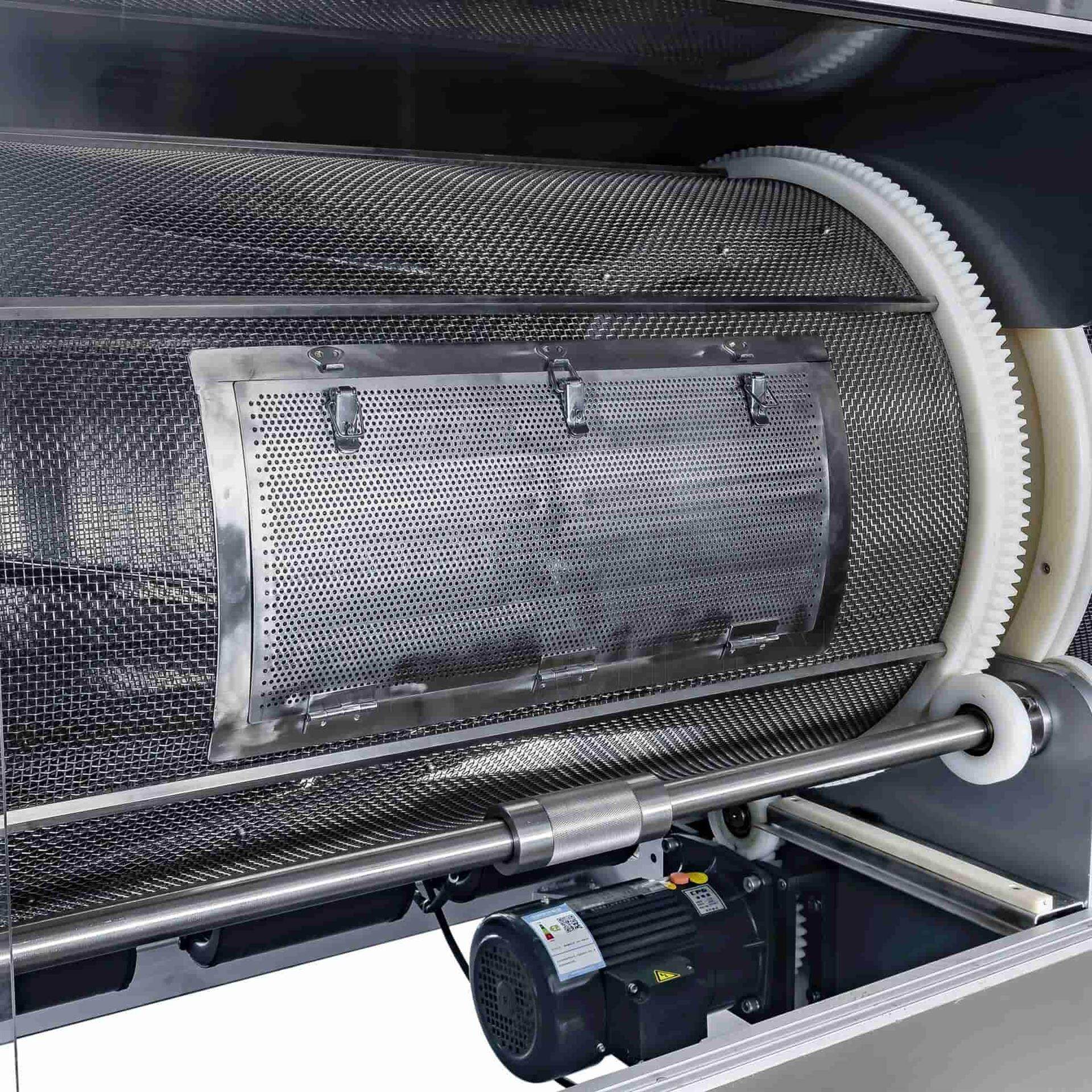 Following drying in the tumbler, the softgel capsules are spread on trays and transferred to the low-humidity drying room. Drying the softgels at room temperature helps to get rid of any extra moisture.
During this stage, gelatin hardness must be kept under close observation. The gelatin shell initially has a water content of about 30%. It's better not to package or ship the softgels unless they end up with a water content of 8 or 9% after the drying process.
Softgel Encapsulation Machine
Now that you know how to make softgel capsules, you might be looking for softgel encapsulation machines to benefit from the booming market for dietary supplements.
At iPharMachine, we offer a flexible, versatile softgel production line - RJWJ series to match your manufacturing needs. The RJWJ series softgel encapsulation line is capable of handling capsules of all shapes ranging from round, oblong, oval, and tube to suppository. The RJWJ-300 can achieve an oval 4 softgel output of up to 85,000 caps per hour.
Features of The RJWJ Series Softgel Production Line:
The softgel encapsulation machine is powered by PLC and comes with a touch screen for operators to easily and precisely monitor the softgel manufacturing process and control variables.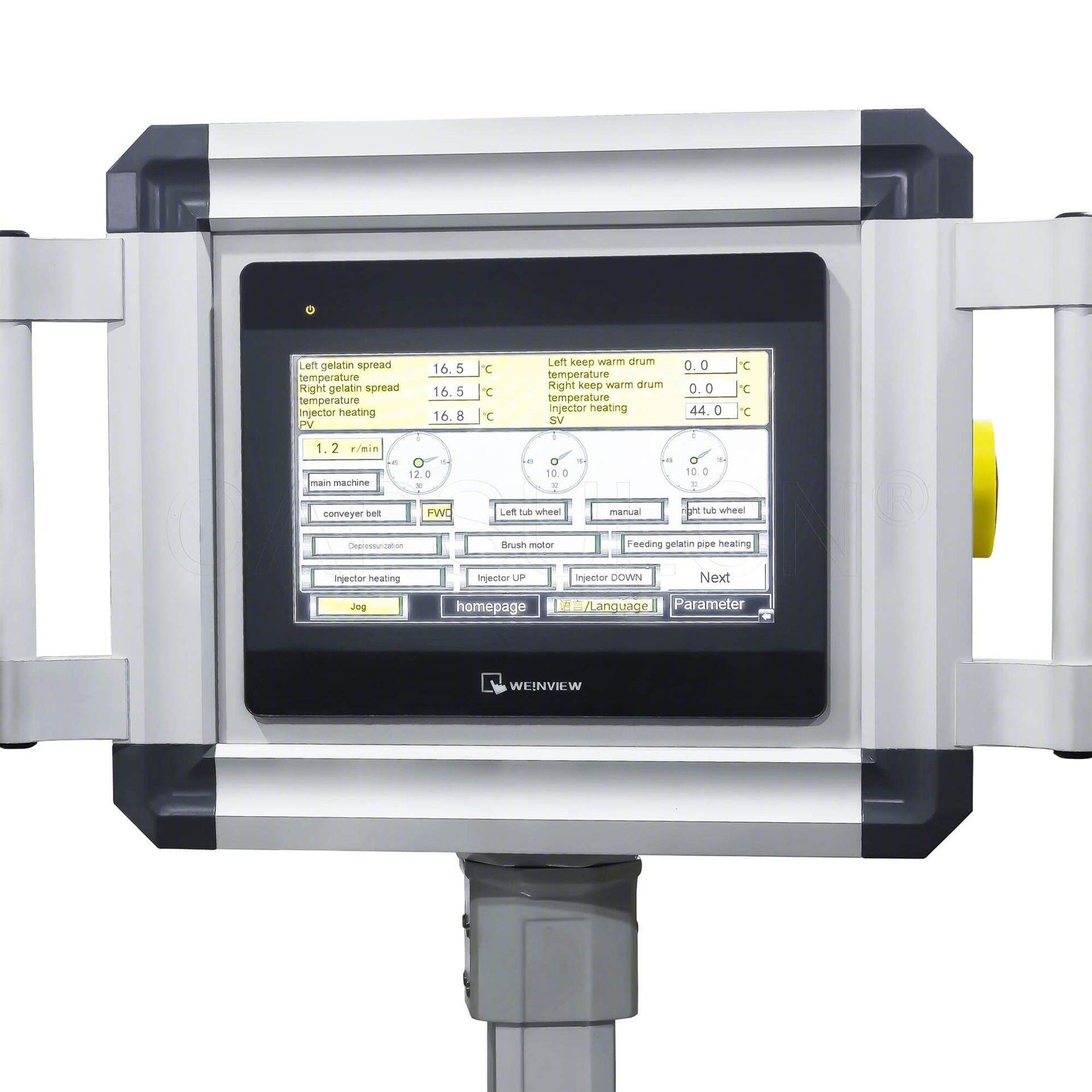 The machine is equipped with a mechanical pump that offers a longer service life.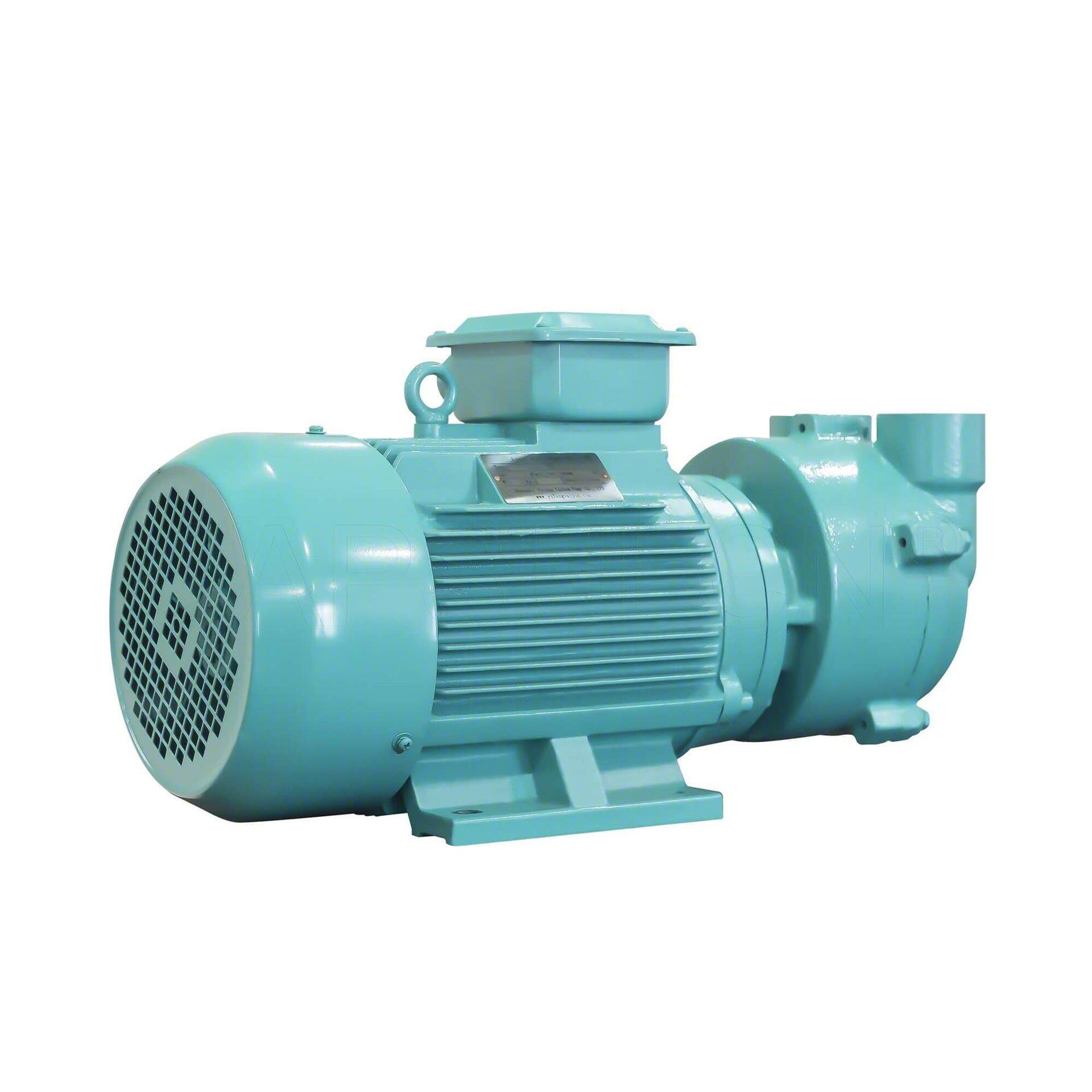 The die rolls are designed in a variety of shapes and sizes to have all your needs covered.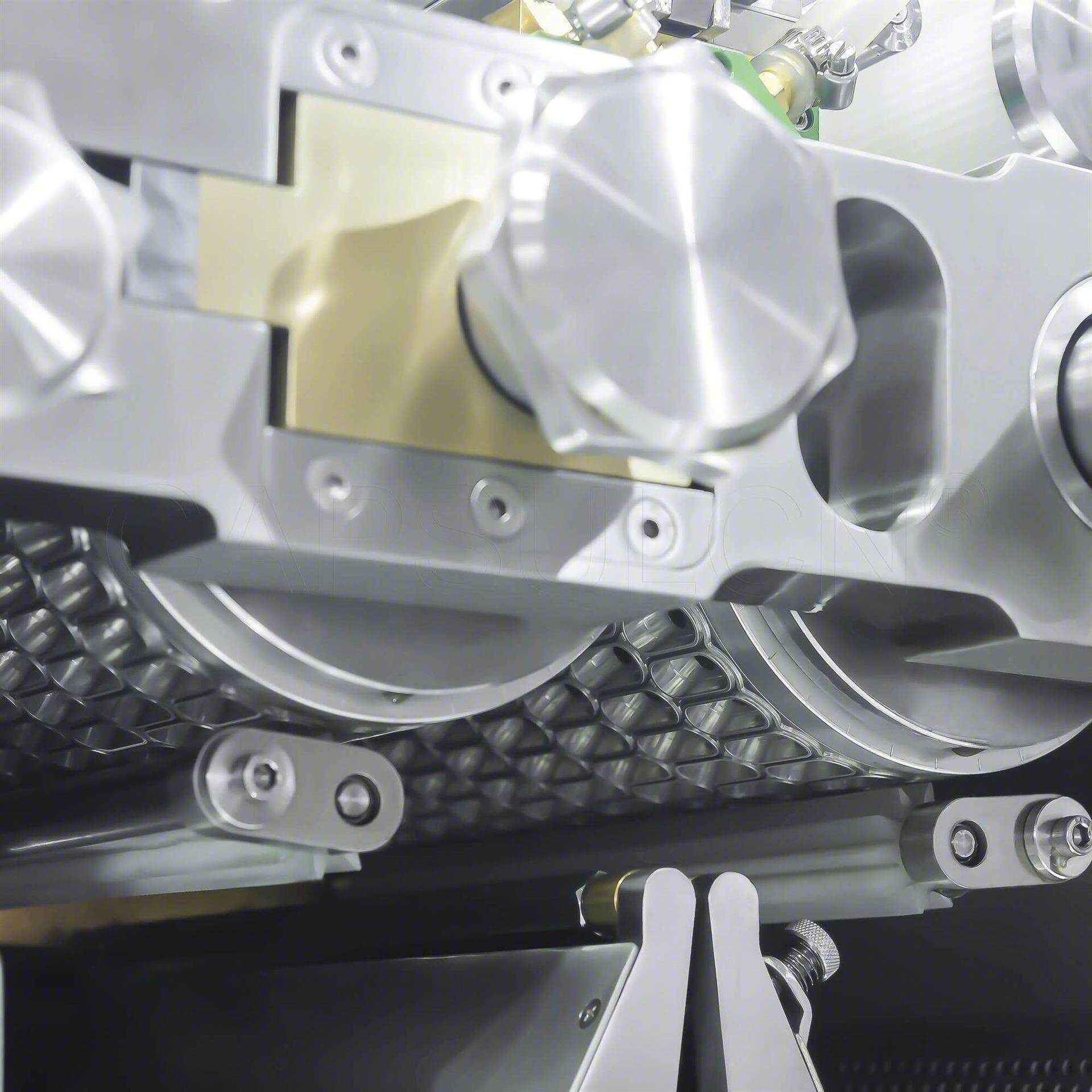 All contact parts are made from 316L stainless steel or feature a sanitary alloy construction to meet the GMP requirements.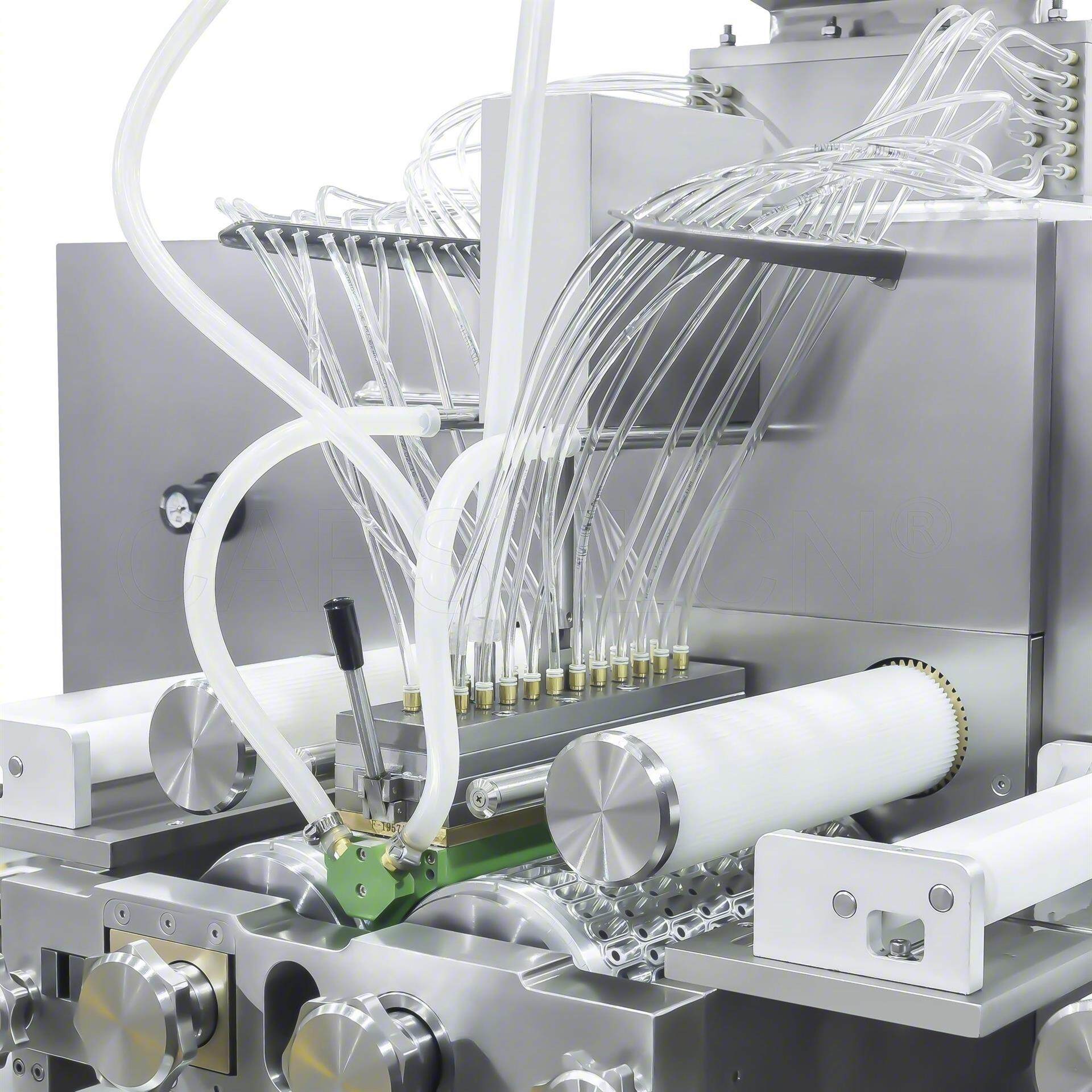 The dryer boasts a fluid bed system that offers high drying efficiency and energy savings.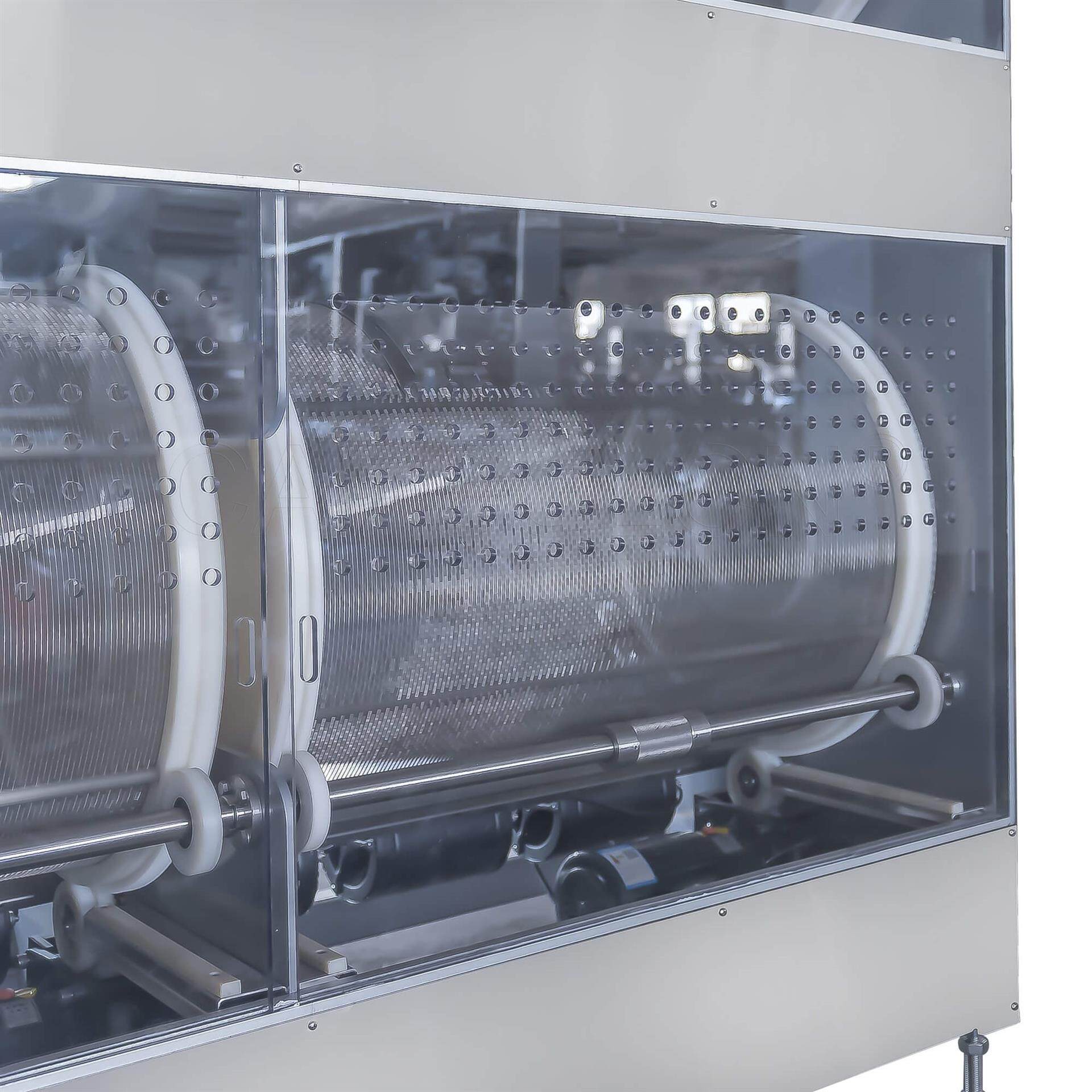 Please get in touch with us at any moment if you have questions about the softgel manufacturing process, equipment requirements, or anything else related to producing quality softgel products.
The Bottom Line
Simply put, investing in the right softgel encapsulation machine makes a huge difference. The right equipment can increase its longevity, decrease defective capsules, and cut labor expenses. So, making a wise investment now could result in big savings in the long run.
Leave your comment
Also Offers
New Arrival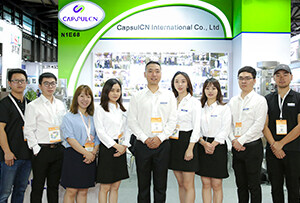 Our Team
As an expert in the pharmaceutical and pharmaceutical packaging industry, iPharMachine has provided solutions for hundreds of pharmaceutical and health product manufacturers for 17 years. By visiting customers, we get good reviews from our customers.