Different Types of Mixers in Pharmaceutical Industry
- Friday, December 9, 2022
The use of blenders in the pharmaceutical industry cannot be overemphasized. It makes the entire drug manufacturing process easier and more accurate. You can achieve excellent and uniform products with little effort. In this article, you will gain information about the various types of pharmaceutical blenders. This includes how they work, their specifications, and how you can get them.
Read more: Pharmaceutical Blending Process: A Complete Guide
What is a pharmaceutical blender & mixer?
Blender machines in the pharmaceutical industry differ from the regular blenders. Pharmaceutical blenders are essential for large-scale drug manufacturing. They are useful in mixing chemicals and ingredients such as granular medicine and solid powder. They effectively enhance mixing, discharging, and cleaning.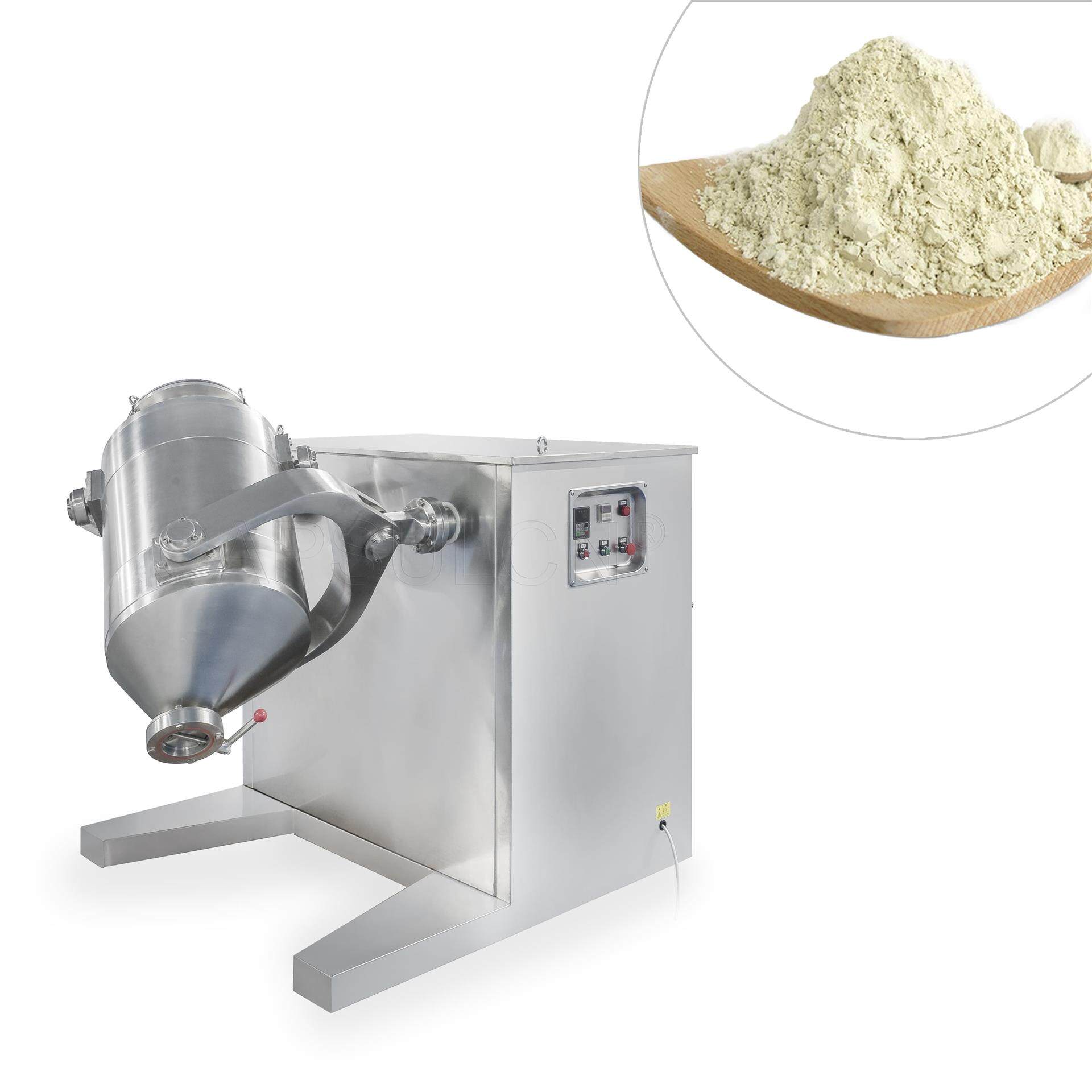 How does a pharmaceutical blender & Mixer work?
The blender machines in the pharmaceutical industry are made of materials like aluminum, steel, cast iron, and stainless steel. Pharmaceutical blenders can be general and unique in function. Their usage differs by the chemical nature and reactions of the substances.
Using blenders in pharmaceuticals breaks down materials to increase their surface area. This helps to speed up and enhance the reaction between the substances. Pharmaceutical blenders blend and mix materials and ingredients of different textures and consistencies. This gives end products with smooth and uniform thickness.

The functions of blender machines in the pharmaceutical industry are not limited to
1. They are used to adjust the pH and thickness of substances
2. They are essential in dispersing solids, mixing powders, and creating suspension.
3. They are used to ensure drug precision and stability of the core drug.
4. Pharmaceutical blenders merge active pharmaceutical ingredients and maintain drug appearance and uniformity.
5. They are necessary for combining organic and inorganic materials in drug manufacturing.
What are the types of mixers used in pharmaceutical industry?
There are many pharmaceutical blender types in the industry; most blenders are similar in function, with the significant difference being the design.
iPharMachine majors in the production and sale of pharmaceutical equipment and tools like pharmaceutical mixers & blenders. Some of these blenders are the V cone blenders, double cone blenders, ribbon blenders and 3D powder blenders.  Below are the details of different types of blenders in pharmaceuticals.
● Ribbon blender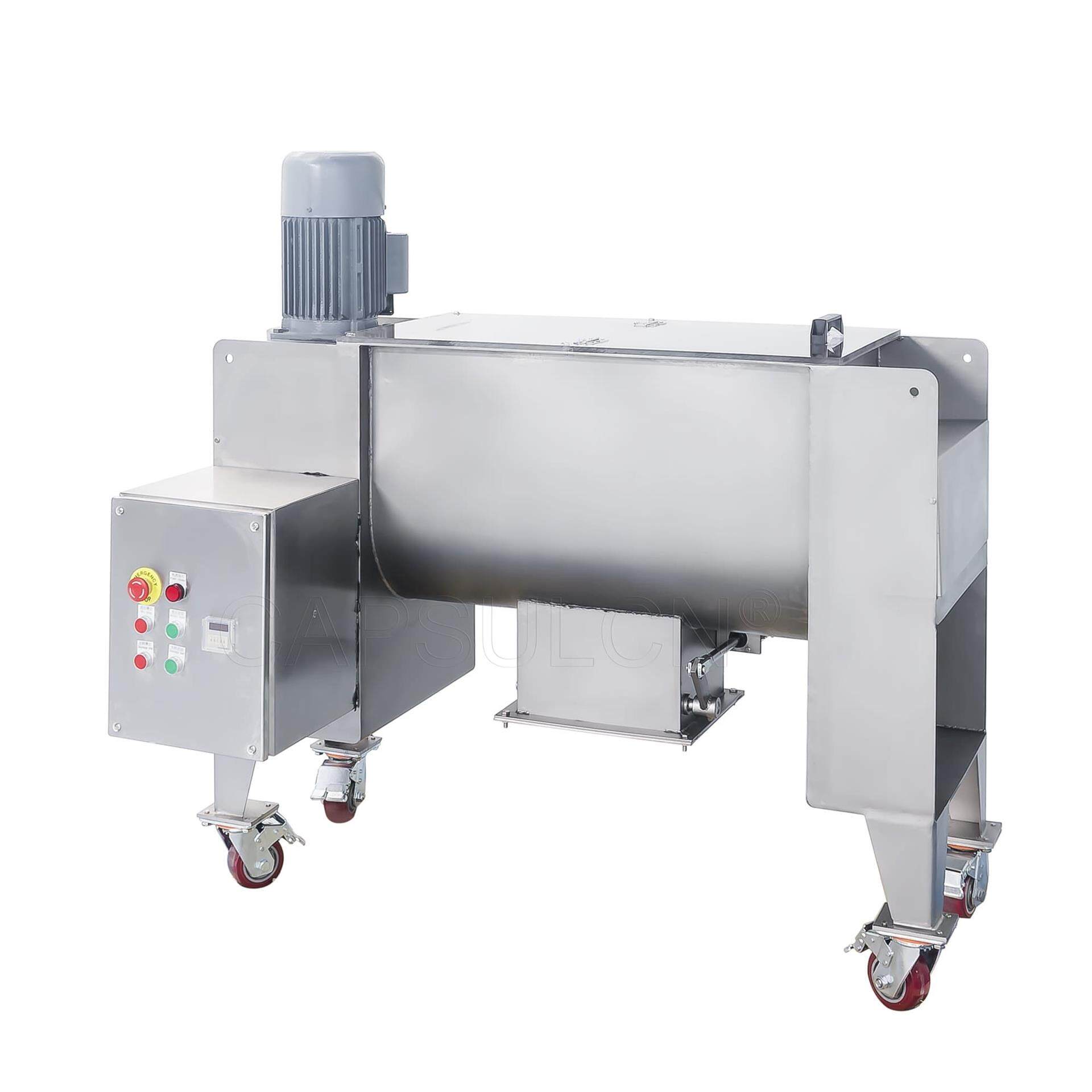 What is a ribbon blender machine? A ribbon blender is one of the most effective types of blenders in pharmaceuticals. It is also popularly used in other sectors, such as food, plastics, and chemicals. It is designed to achieve a triple mixing action. The ribbon blender is a light-duty low shear with a W or U-shaped horizontal trough with a rotating double helical ribbon agitator.
Ribbon blender machines can be used for solids, liquids, and gas streams. It is used for mixing dry and pre-processed powder. The estimated mixing time is about ten to fifteen minutes. It can be used for dry mixing solid lumps and processing large batches of wet mass.
Advantages of a ribbon blender include belt-driven transmission power, wear, and corrosion resistance, as well as cooling jackets for different applications.
A tutorial on how to use the ribbon blender can be seen in this video:
iPharMachine supplies a series of quality Horizontal Ribbon Blender Machines that operate with a paddle agitator, which can be used in mixing different proportion of dry or wet powdered material evenly. You could get the CH10-50, CH100-500, WLDH 100-500, and WLDH 1000-4000 series.
● V cone blender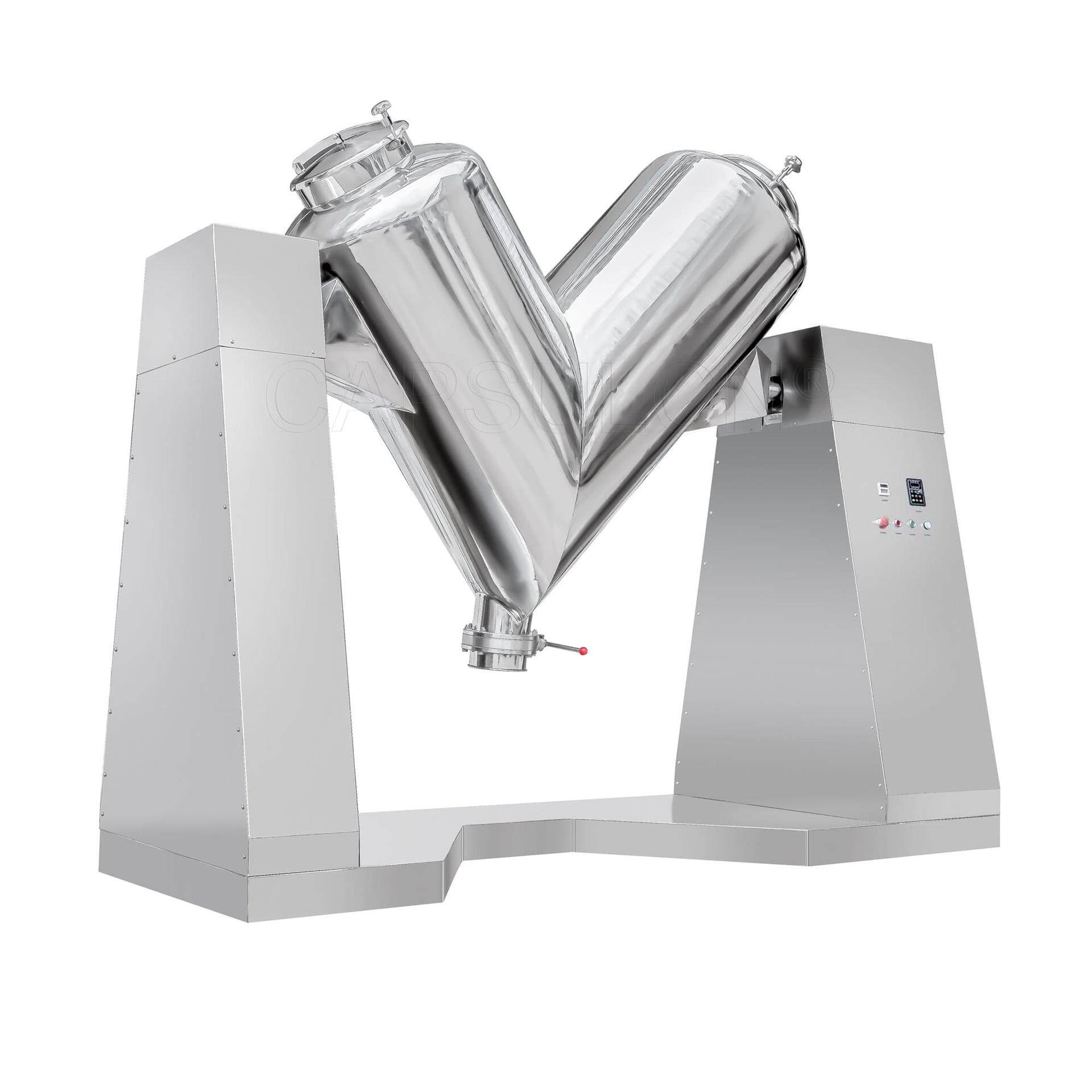 Another name for a V cone blender is a twin shell blender because it has two mixing shells joined together at 70 to 90-degree angles to form a V shape. The purpose of the V-shape is to ease the movement of particles and easy blending.
As for the v cone blender working principle, it rotates on the horizontal axis, so the material particles fall and stumble on the mixture's surface. It is used for mixing fragile solid-solid combinations as well as precise measurements of powder and granules mixing and lubricating.
V cone blender pharmaceutical is easy to use, has a worm gear for controlling the speed, and processes a weight capacity of 20 kilograms to one ton per batch.
A tutorial on how to use the V cone blender pharmaceutical can be seen in this video:
If you are looking for V types of blenders, you are at teh right place. With years of experience in raw material processing, iPharMachine can claim to be a real expert of v blender.  From V50-V4000, we offer a wide range of products to meet the diverse production needs. 
Read More:
V Mixer VS Ribbon Blender: Know the Difference
● Double cone blender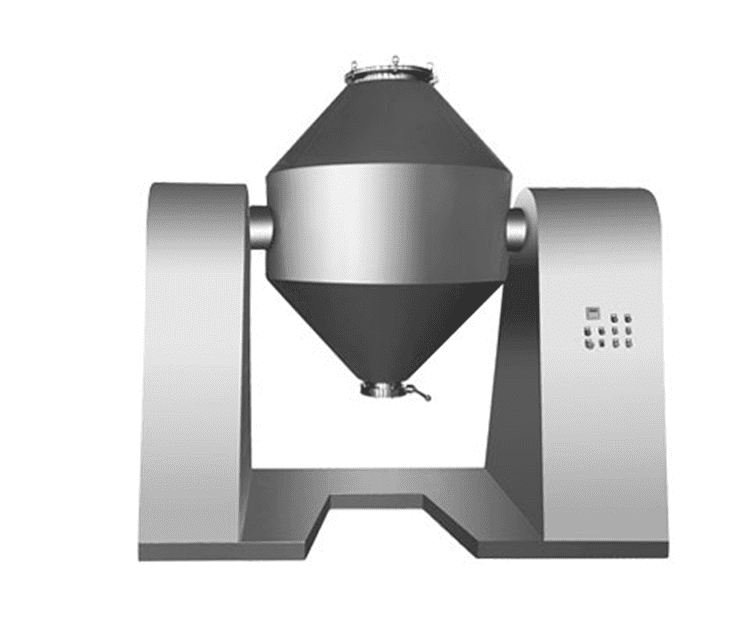 What is a double cone blender? It is a tumbling blender with a double-cone-shaped shell in a diagonal position. The cone form is fixed at a 90-degree angle to the cylindrical cone shell, which facilitates uniform combination. All parts of the blender, including the mixing tank and blades, are made of stainless steel.
The pharmaceutical double-cone blender has a gear box for adjusting the speed of the speed, as well as a fireproof motor to prevent the occurrence of accidents. One end of the cone has a butterfly valve for unloading the blended materials, while the other has a hole for loading the blender.
The primary application of the double cone blender is for the dry blending of less dense materials. It is commonly used in the cosmetic, food, chemical, and pharmaceutical industries to effectively mix dry powder and granules of different forms and sizes of homogeneous particles. With an estimated mixing time of about 10 minutes at 20 to 100 revolutions per minute, it has a low risk of spillage due to the design of the cone.
A tutorial on how to use the V cone blender pharmaceutical can be seen in this video:
Get your quality double cone pharmaceutical blender at iPharMachine, especially the double cone mixer CW-300.
Pharmaceutical blenders are not limited to those listed above; other types of blenders in pharmaceuticals include:
● Drum blender
A drum blender is a tumbling blending machine shaped like a gallon-like drum. It has a fully enclosed shell and is powered by electric motors. Yet, it does not need too much energy to run.
The drum blender does not have internal rotating parts like impellers or blades. Blending takes place through the up-and-down rotation of the drum.
The loading and unloading of materials are through the same valve. Also, it lacks dead spots within the drum, enabling uniform blending and mixing.
It is very efficient in mixing fragile and delicate materials like powders.is dust-contaminated free.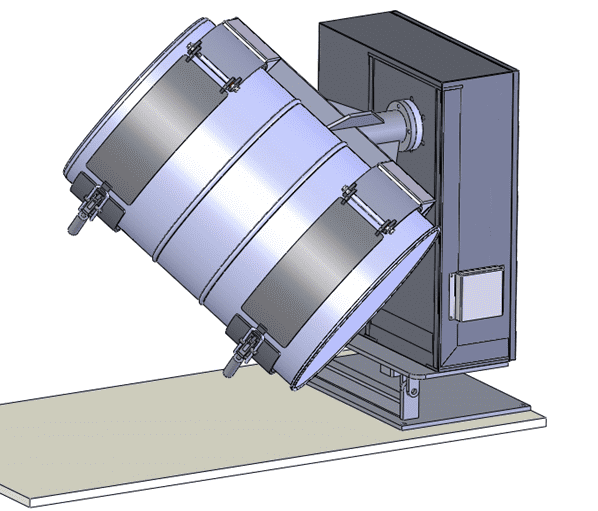 (Image source:Food Processing Technology)
At iPharMachine, we offer a unique type of tumbling machine, 3D powder blender, which is used majorly for mixing powder or granule materials. It has a unique three-dimensional swing movement that enables continuous and even mixing of the materials.
A tutorial on how the 3D powder blender works can be seen in this video:
● Octagonal blender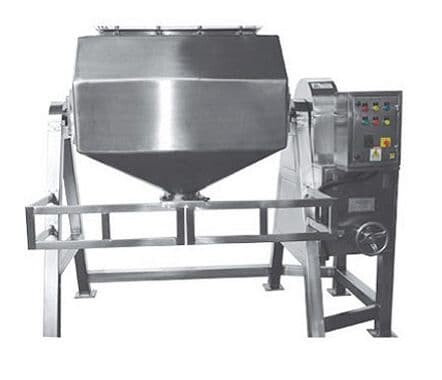 As the name implies, this pharmaceutical blender's shell is designed as an octagon. The middle section is rectangle-shaped, with the ends of the shell connected with firm strands. It belongs to the category of tumbling blenders and is designed to accommodate a larger volume of materials while occupying less space than V cone and Double cone blenders.
The stainless steel metal body is easy to clean and encases the materials fully to prevent spillage and contamination by dust articles. Loading materials is through the charging port at the top of the shell, while unloading is from the butterfly valve.
The pharmaceutical octagonal blender is at a slow speed and is used for the slow and gentle mixing of dry granules. The shell's inside is mirror polished, while the outside is matt polished.
● Bin blender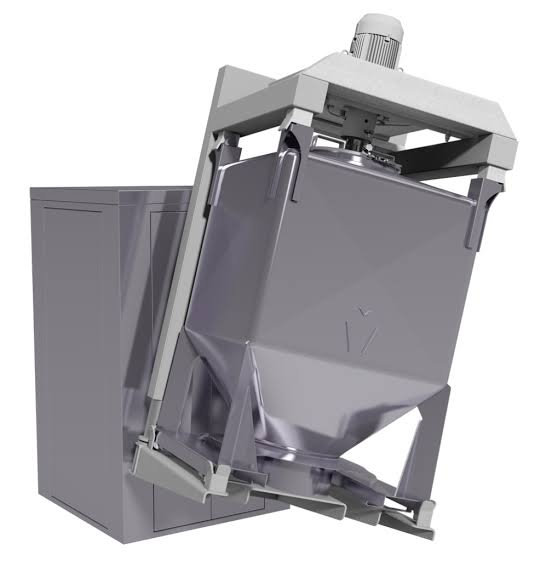 Bin blenders can come in different shapes, such as rectangles, squares, or V-shaped. They can also be called free-fall or V blenders.
It has two opening valves, one for loading materials and the other for unloading. There are a series of actions performed by a pharmaceutical bin blender to achieve a smooth product. These include lifting, rotary, lowering, clamping, and mixing actions.
● Vertical blender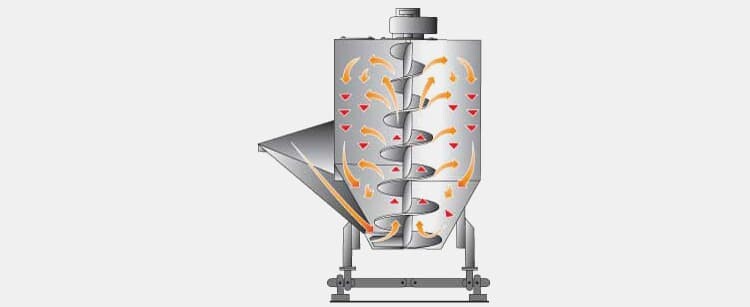 Vertical blenders belong to the category of connective blenders. They are used for blending and mixing dry granules and pellets. They are made of stainless steel with a narrow type and large diameter at the bottom, resembling a cone-shaped vessel.
Due to its design, the vertical blender can function effectively with just 10 percent of its blending capacity, with the complete discharge of the blended material.
How to pick the right pharmaceutical blender for your production?
It is crucial to pick the right pharmaceutical blender for your production, as it helps to save time, effort, and money.
Although they are generally similar in function, there are still some key differences. Therefore, there are some options to consider when picking a blender. Let us take a look at the following.
1. The sensitivity and frailty of the material.
It is a fundamental attribute and should be awarded priority. Before you pick a blender, you should consider the sensitivity of the material you are working with to avoid wasting time and resources. It is vital to note that some blenders like the v cone and double Cone blenders are suitable for fragile materials. This is unlike a ribbon blender, which uses a lot of heat that could damage sensitive materials.
2. The blending accuracy of the machine.
Most pharmaceutical blenders yield homogeneous products. Yet, there is still a need to confirm the operation of the blender for desired results before you buy one.
3. The capacity of the blender.
If you are interested in small-batch production, go for a cone crew blender that can blend 10 percent of its capacity. In comparison, ribbon blenders need about 40-50 percent of their blending capacity.
4. Your budget
It is an important option to consider. If you are on a tight budget, you should opt for blending machines that do not need too much power.
5. Space availability
You should consider the equipment size and space available before purchasing.
Other conditions include the method of discharge of the machine, time of processing, and cleaning, among others.
Conclusion
Are you looking for the best pharmaceutical manufacturing company in the industry? Or a brand that provides the best machines, equipment, and instruments in pharmaceuticals? You are at the right place. Look no further!
iPharMachine is a world-class pharmaceutical manufacturing company committed to promoting human health by providing quality pharmaceutical machines and all-inclusive, easy-to-use technology with professional customer services.
You can always trust iPharMachine to deliver quality and reliable machines in compliance with industry quality standards. Asides from pharmaceutical blenders, we also provide other pharmaceutical types of machinery. These include capsule filling machines, blister packing machines, film coating machines, etc.
Contact us today at iPharMachine to order your standard pharmaceutical equipment. 
Leave your comment
Also Offers
New Arrival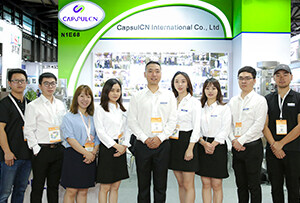 Our Team
As an expert in the pharmaceutical and pharmaceutical packaging industry, iPharMachine has provided solutions for hundreds of pharmaceutical and health product manufacturers for 17 years. By visiting customers, we get good reviews from our customers.