Top 5 Capsule Filling Machine Suppliers in the UK
- Friday, March 24, 2023
Capsule filling machines are essential pieces of equipment for pharmaceutical and nutraceutical companies. They are designed to fill capsules with powders, granules, pellets, liquids, or combinations. These machines have always been one of the most popular pharma machinery in the industry.
Fully automatic, semi-automatic, and manual capsule filling machines are now the three main types on the global market. These machines allow accurate and efficient filling operations depending on various production needs.
Let me guess - if you're reading this article, chances are you're running a pharmaceutical or nutraceutical business in Europe or the UK. Research shows the UK pharmaceutical and nutraceutical industries are flourishing following COVID-19. And the demand for capsule filling machines in the UK has been growing steadily in recent years.
Yet, settling on the best capsule filling machine manufacturers from the wide variety available can be challenging. If you want to source one locally, here is a list of the top 5 capsule filling machine suppliers in the UK. The following companies are handpicked as the cream of the crop in the industry in terms of quality, reputation, reliability, and customer service:
#2 iPharMachine
List of the Best UK-based Capsule Filling Machine Suppliers
#1 PTK-GB Limited                        
About the Company
Established in 2013, PTK-GB Limited supplies high-quality solid-dose equipment. This UK-based company offers machinery to the pharmaceutical, nutraceutical, confectionery, and chemical industries. It also provides a full range of after-sales services and support for customers.
PTK Co. Ltd. is the long-standing supplier of PTK-GB. The former is based in South Korea. It's a trusted global pharmaceutical machinery manufacturer with over 32 agencies worldwide. PTK-GB is the sole supplier of PTK products in the UK, Ireland, The Netherlands, and 47 other countries.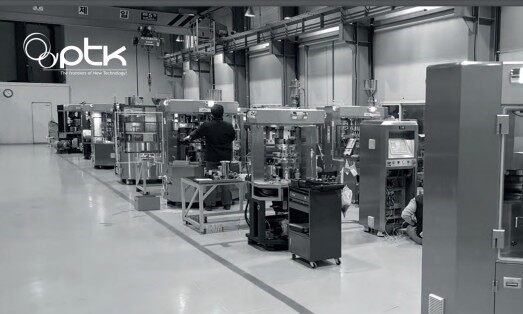 All PTK machinery is manufactured in a modern, purpose-built facility. They feature world-renowned branded components and ingenious designs. The ISO:9001-certified company keeps each piece of equipment under strict control during manufacturing. All PTK products brought to the market come with CE approval. Further, the company has a design team to help integrate your machine seamlessly into the existing production lines.
Products You Might Be Interested In
Capsule filling machines are one of the most iconic products available at PTK-GB. PTK Capsule Filling Machines provide the ultimate solution for automated capsule production.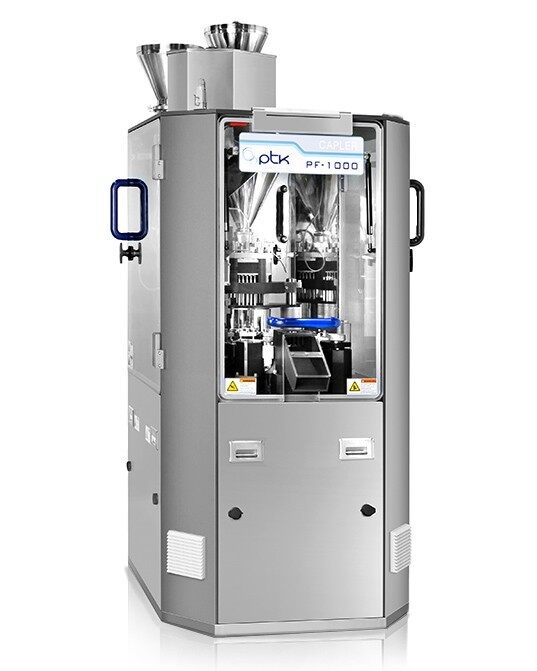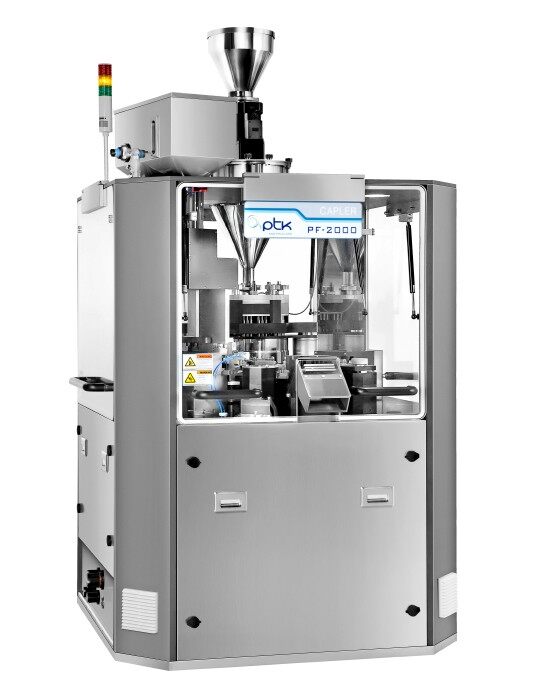 These machines feature a variety of filling systems to meet your unique needs. They're designed to fill empty capsules with powder, pellets, tablets, and combinations. The production capacity can range from 8,000 to 150,000 capsules per hour. Moreover, the company offers after-sales services and support for customers in the UK, Ireland, the Netherlands, and numerous other European countries.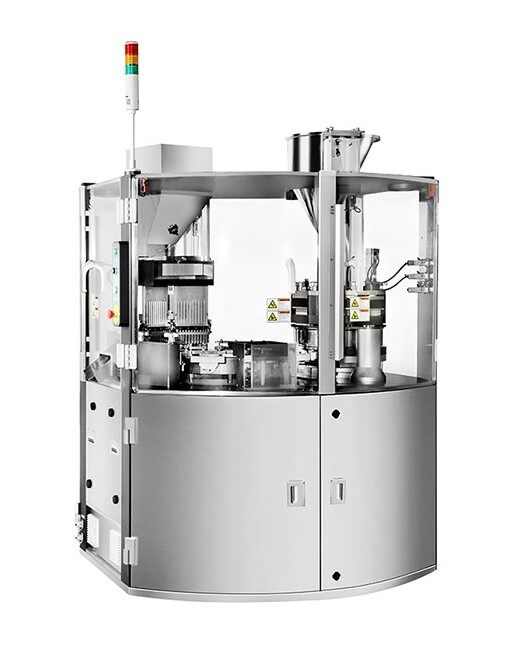 Product Features
Precise dosing and weight control
Wide range of filling options for challenging formulations
Good price-performance ratio for machine and replacement parts
Capsule sizes: 00,0,1,2,3,4 (option size 000, 5)
Options for filling tablets/pellets
Simple operation and low maintenance
Onsite support available the next day
Full commissioning program
CE, cGMP, and 21 CFR Part 11 compliance
#2 iPharMachine         
About the Company
iPharMachine is a prominent capsule filling machine manufacturer with businesses across the globe. The company has established a reputation as a reliable partner in the European market. With nearly 30 years of experience in manufacturing, the company has been widely recognized by customers worldwide.

The company initially specialized in manual capsule fillers. Today, it has become one of Europe's most trustworthy manufacturers and suppliers. A China-based manufacturing facility offers capsule filling machines, tablet presses, blister packaging equipment, bottling lines, and other pharmaceutical machinery.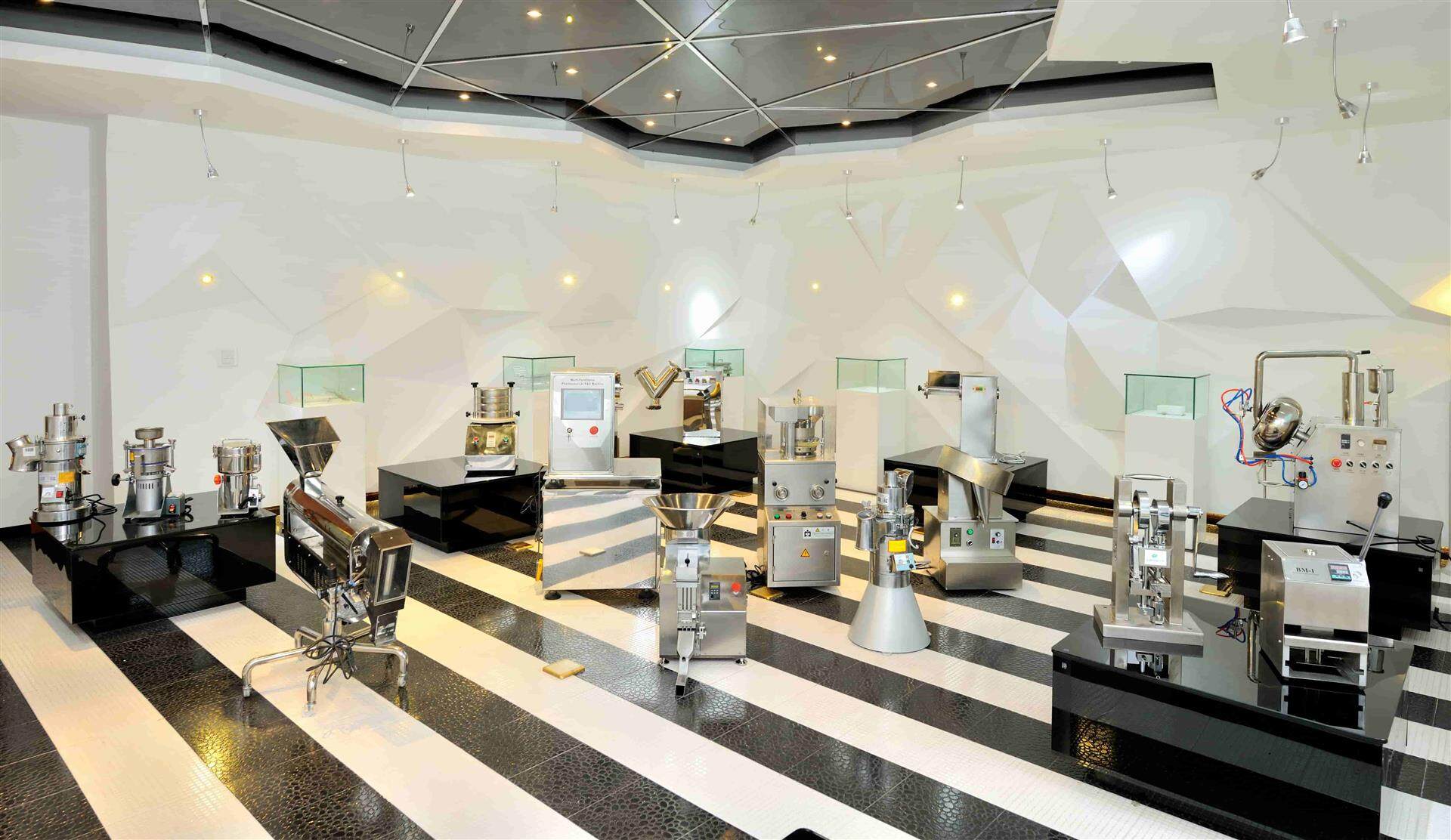 iPharMachine is dedicated to delivering comprehensive, high-quality, cost-effective solutions to its diverse customer base. The company has a professional technical team. The team is responsible for a wide range of after-sales services, from round-the-clock online support to on-site assistance.
Products You Might Be Interested In
Capsules filling machines are the centerpiece of iPharMachine. A full range of manual, semi-automatic, and fully automatic capsule filling machines is available at iPharMachine. Each piece of capsule filling equipment is equipped with state-of-the-art technologies. Also, they're all fabricated using the highest quality materials.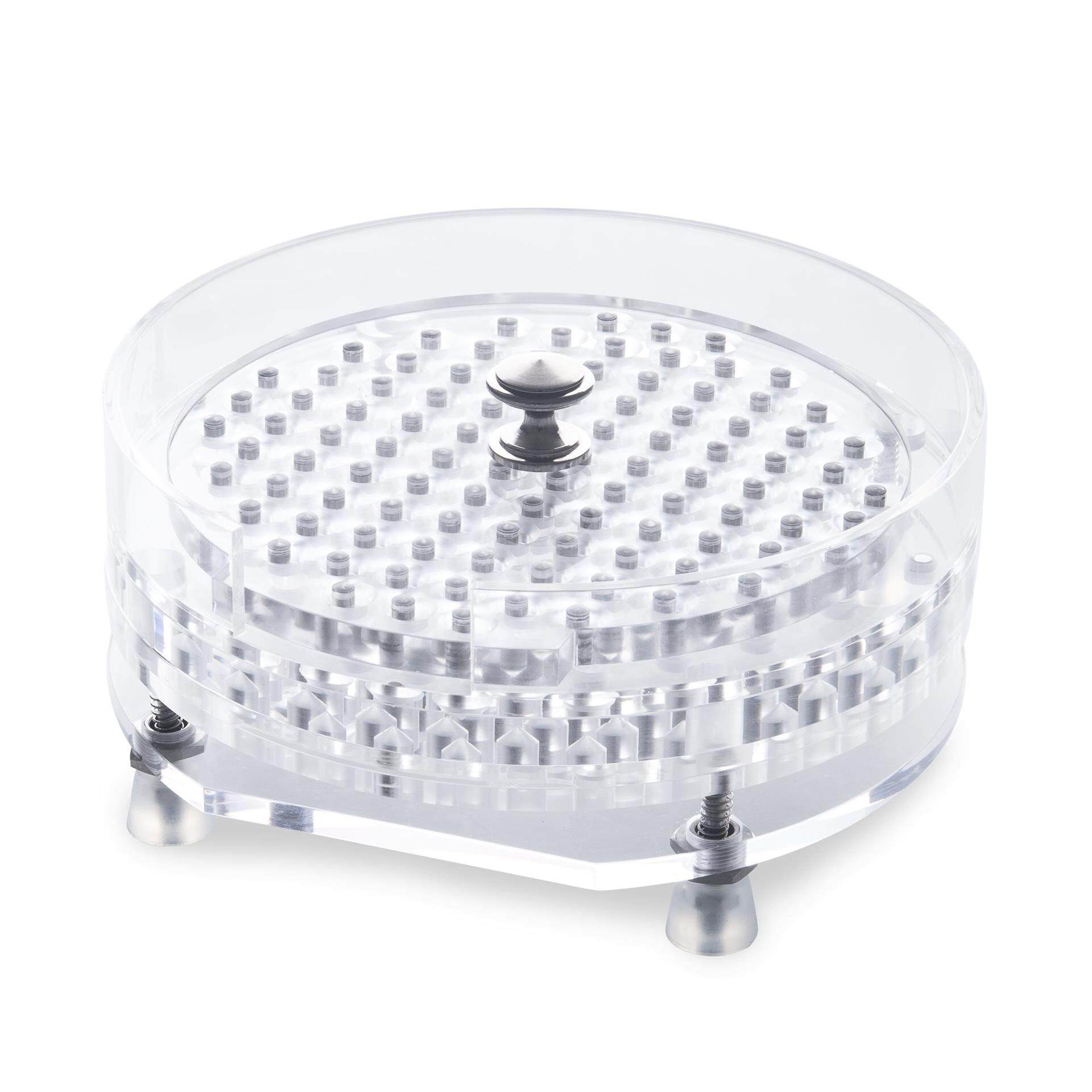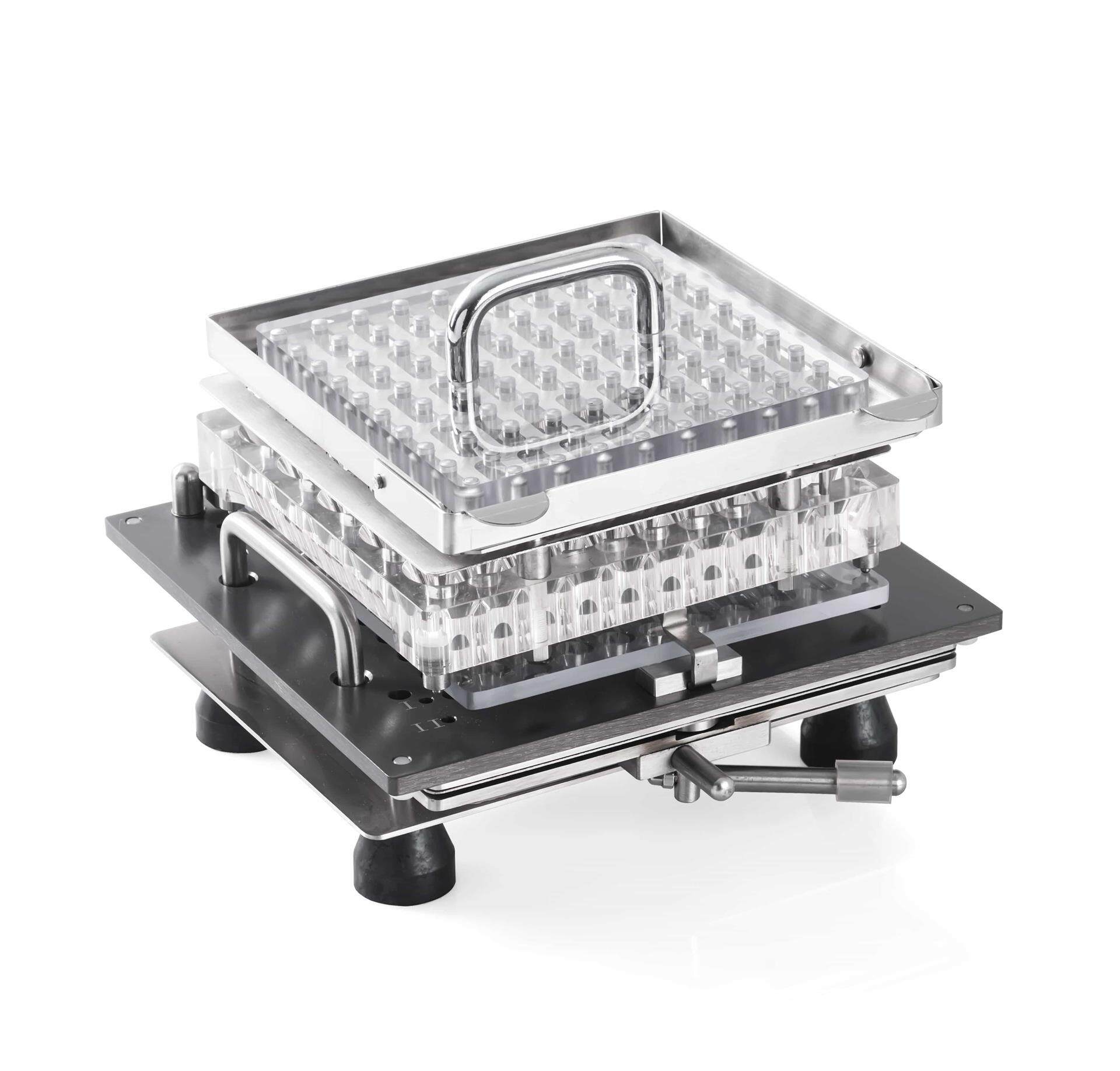 iPharMachine is known for offering affordable machinery without compromising on quality. Their products are designed with each customer's needs in mind. iPharMachine's capsule filling machines can also be customized to tackle various filling challenges.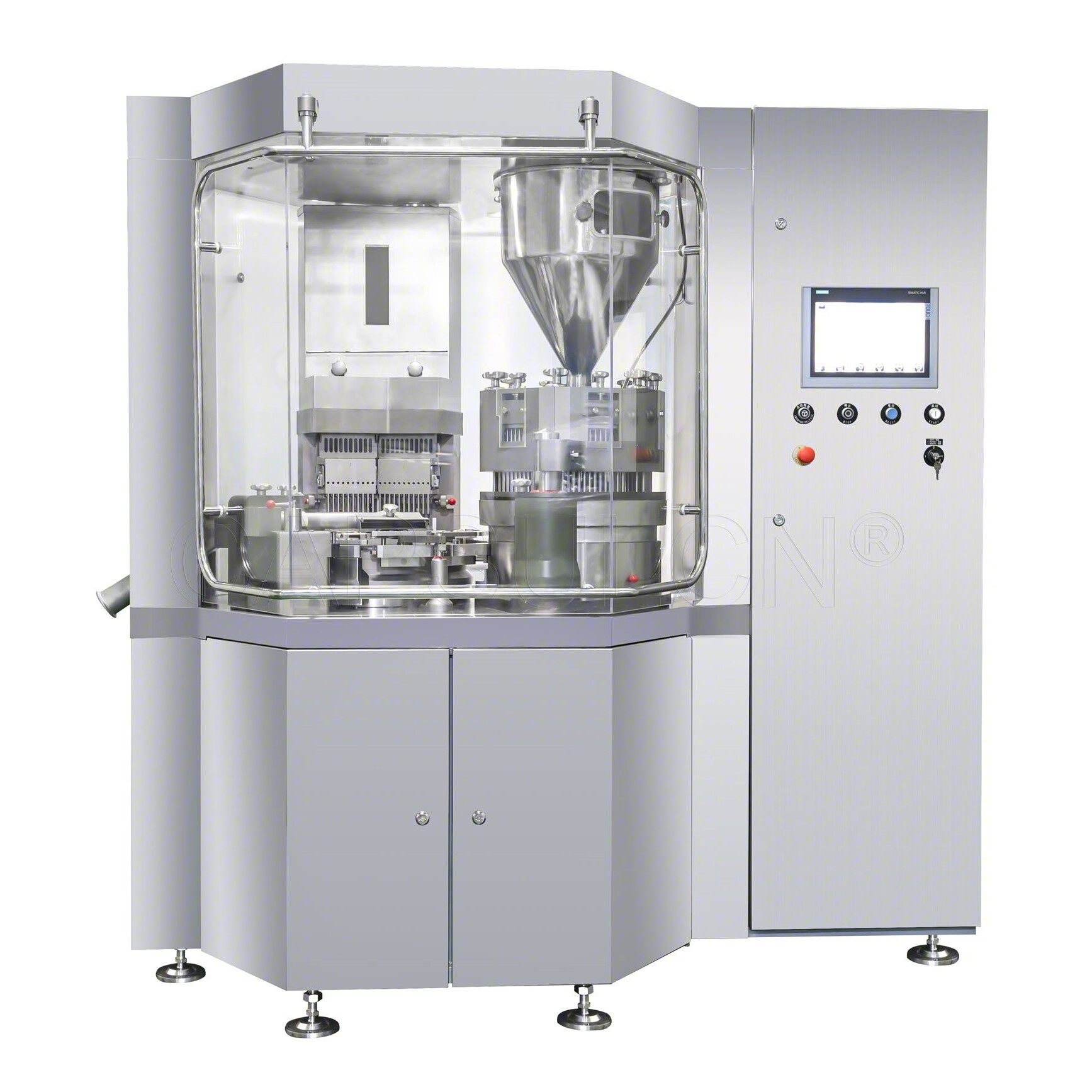 Product Features
Premium stainless steel construction for a longer service life
Hard anodized machine parts for extra durability
Ingenious design for simple operation and easy maintenance
Capable of handling capsule sizes from 000 to 5
Reliable performance with 10,000-hour failure-free operation
Custom capsule loading system for speedy production
User-friendly PLC-based touchscreen interface
Flexible, modular assembly design for a wide range of applications
Small footprint and interlocking guards
GMP, cGMP, and CE compliance
#3AVE Technologies Group  
About the Company
AVE Technologies Group is an experienced pharmaceutical machinery manufacturer and supplier. The Group is headquartered in the UK. Also, it has set up multiple manufacturing facilities in Asian countries such as China and South Korea. AVE Technologies Group is committed to providing essential pharmaceutical packaging equipment to startups and large established companies.
AVE Technologies Group offers design expertise, experience, and engineering backup. It also provides cost-effective solutions and comprehensive after-sales services. These help their customers get the most out of their machinery not only in the short term but also in the long run.
Products You Might Be Interested In
AVE Technologies offers a wide range of products. Encapsulation machines are one of the staples. Each piece of machinery has a small footprint and is manufactured to the best construction standards. These machines perform filling operations with cutting-edge technology. In the meantime, they are mechanically simple and sturdy.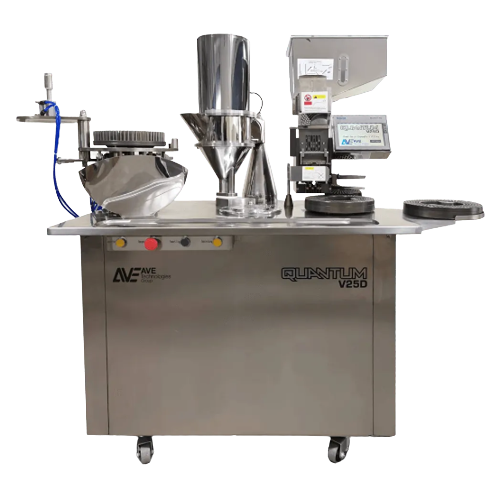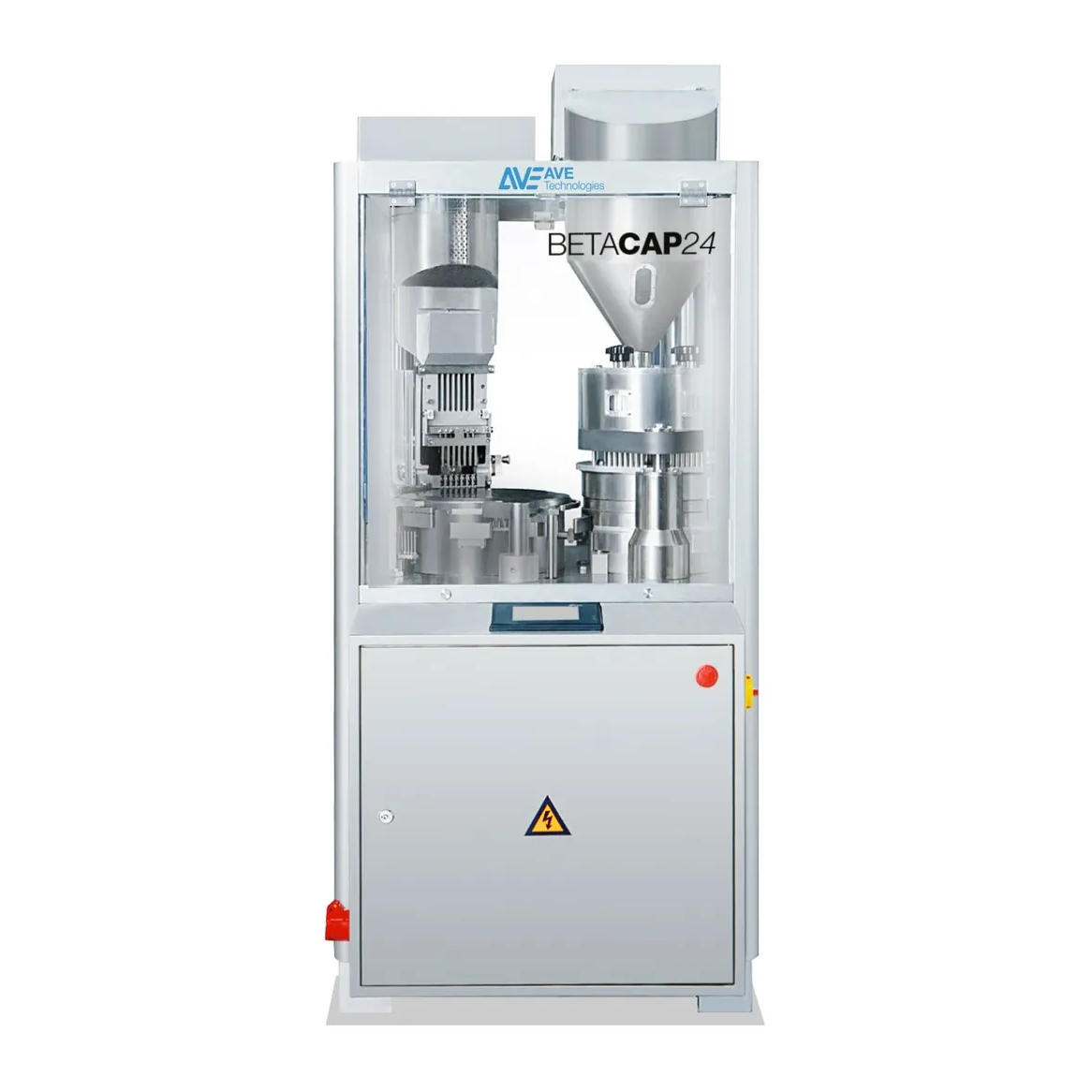 There is semi-automatic and fully automatic capsule filling equipment available at the company. These machines are designed to fill powders and pellets, producing 32,000 to 150,000 capsules per hour.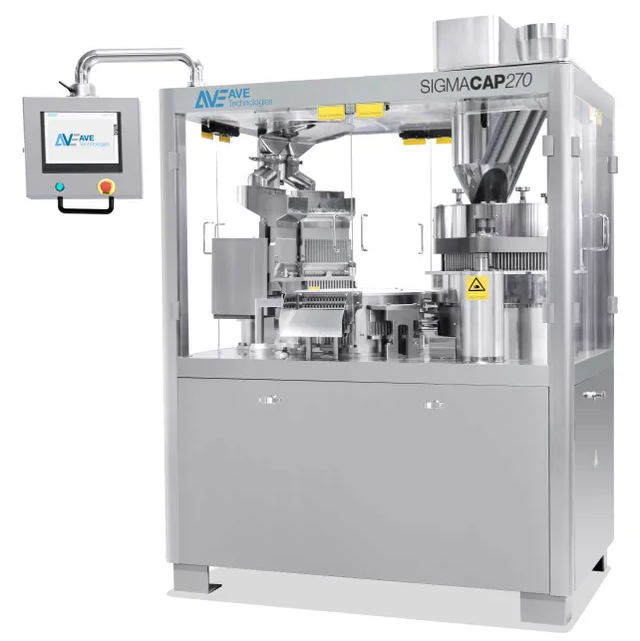 Product Features
High-quality stainless steel build
Easy to operate and maintain
PLC controls with TFT HMI touchscreen
Accurate dosing with dynamic adjustments
Great value for the cost
Batch counters and control
Tool-less changeover
Low power consumption
GMP/cGMP compliant and CE marked
#4 Adelphi Manufacturing              
About the Company
Adelphi Manufacturing Company Limited was founded in 1947. It's one of the four divisions of today's Adelphi Group of Companies. The Adelphi Group of Companies is a UK-based, family-owned business. The ISO 9001:2015 certified company is an award-winning manufacturer and supplier of packaging machinery in the UK. It offers its global customer base a diverse range of innovative products and services.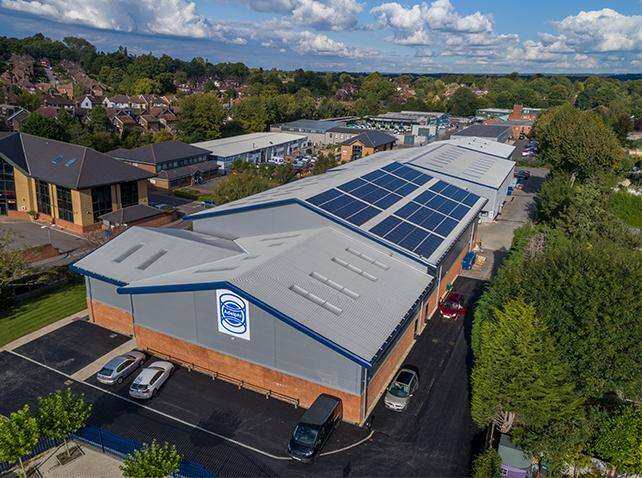 The Group has three modern purpose-built facilities across the UK. Adelphi Manufacturing's offerings are widely used in the pharmaceutical, healthcare, and food industries. The company is committed to being both a reliable supplier and tech support partner for every customer.
Products You Might Be Interested In
Adelphi Manufacturing's capsule filling machines are best known for their patented design, high filling accuracy, and hygienic construction. The company offers a wide selection of semi-automatic capsule fillers. These machines have a production capacity ranging from 3,400 to 9,000 capsules per hour.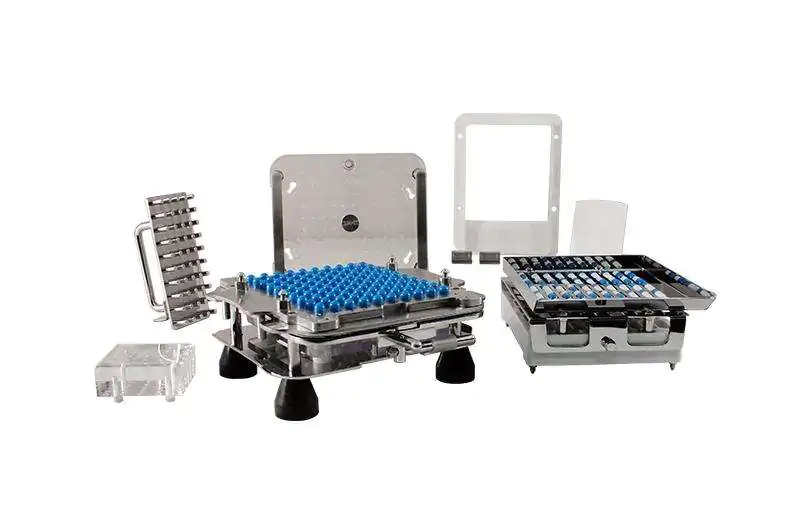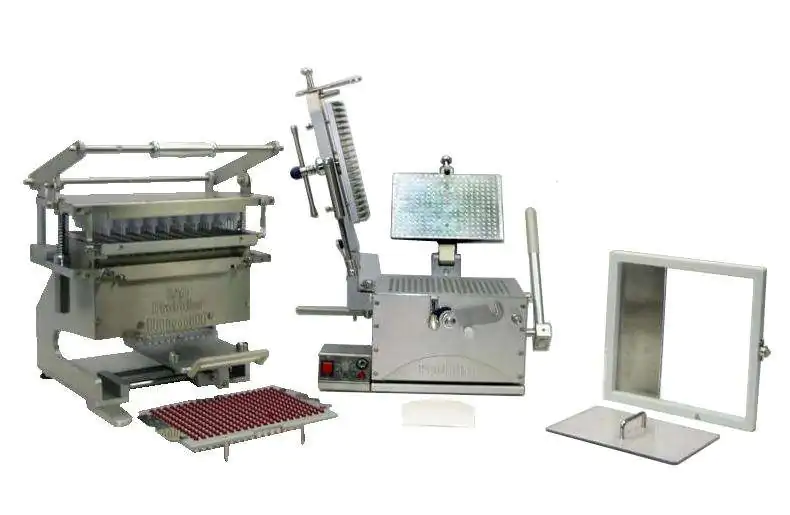 Although the capsule filling machines are not fully automated, they're fast and accurate enough to meet the production needs of any startup. If you're running a small or medium-sized business, Adelphi Manufacturing's capsule fillers will be your best bet.
Product Features
Efficiently handle hundreds of capsules at a time
Patented design, 35% faster than competitors
Highly accurate filling with less waste
Change parts available for capsule sizes from 000 to 5
316L pharmaceutical-grade stainless steel build
Easy disassembly and tool-free changeover
Compliant with GMP regulations
#5 TMG Marchesini UK Ltd.                
About the Company
Founded in 1984, TMG Marchesini UK Ltd is one of the earliest foreign branches of the Marchesini Group. The Marchesini Group is an Italian machinery solution provider for the pharmaceutical and cosmetic industries.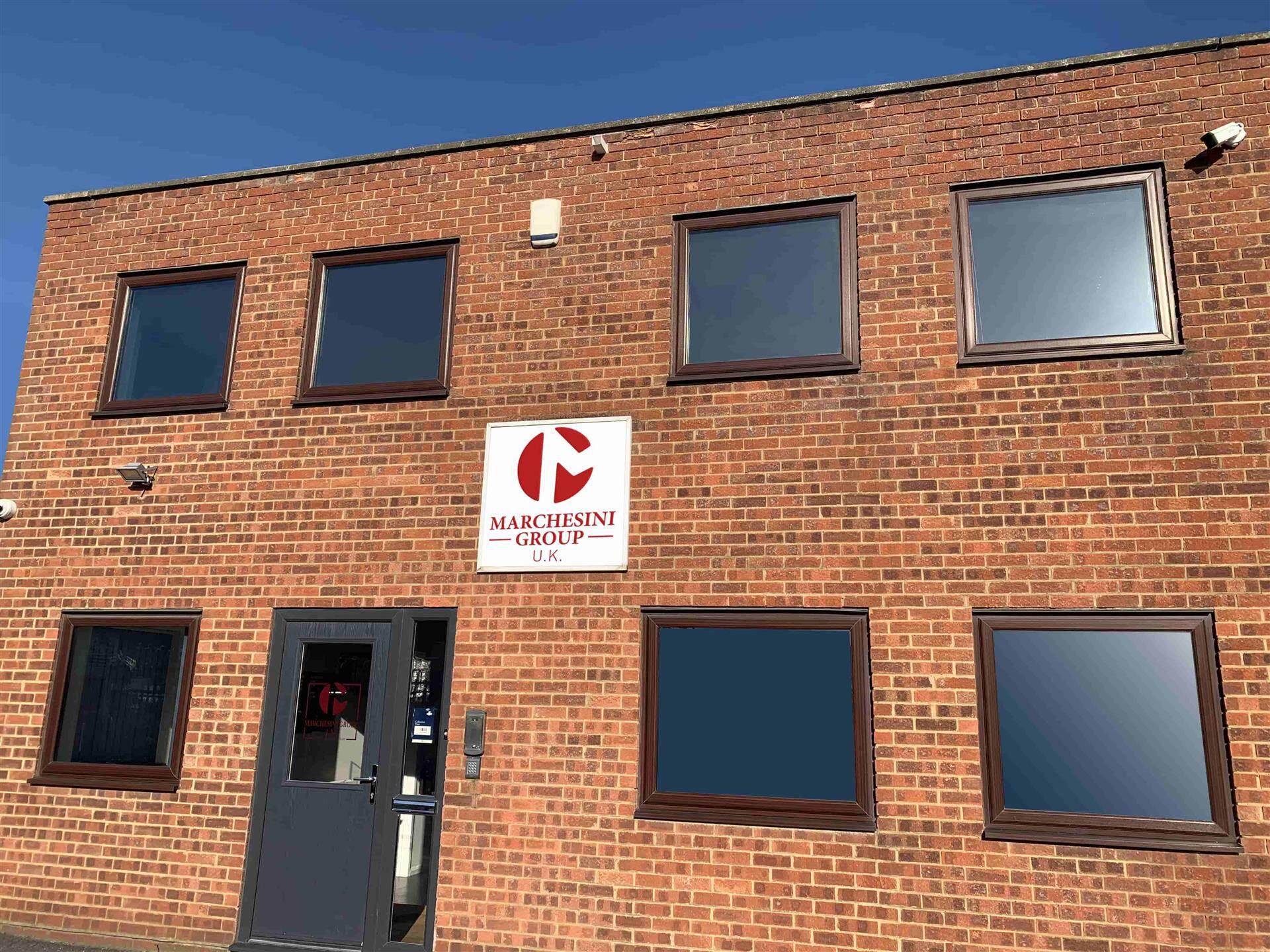 Dott. Bonapace & C. is another Italy-based pharmaceutical machinery manufacturer with 75 years of experience. The company is well known for capsule filling machines, tableting machines, and containment solutions. In 2021, Dott. Bonapace became a new addition to the Marchesini Group.
TMG Marchesini UK Ltd is responsible for selling the products manufactured by Dott. Bonapace in Europe. The company has a dedicated team of 21 technical experts. It's committed to delivering unwavering sales and after-sales support to its valued customers in the UK and Irish markets.
Products You Might Be Interested In
TMG Marchesini UK Ltd offers a selection of bench top semi-automatic and fully automated capsule filling machines. All these machines are suitable for various filling applications. They are designed to fill powders, pellets, tablets, mini-tablets, liquids, and capsule in capsule.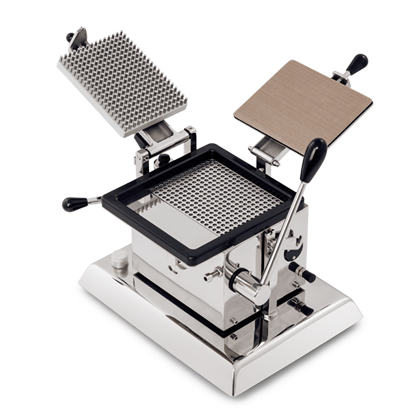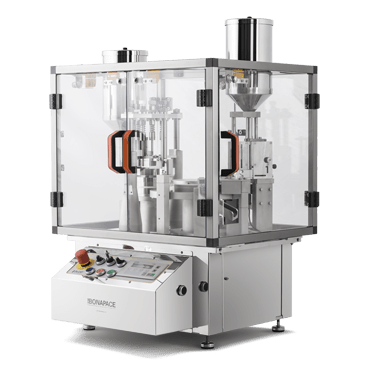 These capsule filling machines are ideal for where small production is required. Thanks to the high-quality material and exquisite craftsmanship, their capsule filling machines are well received by customers not only in Europe but also across the globe.
Product Features
Fully stainless steel build available
Easy to operate and maintain
Automated models packed with either tamping or dosator system
Capable of handling 3,000 capsules per hour and over 20 different combinations
100% watertight
Completely washable
Containment system
Compliant with GMP and CE rules
Final Word
When shopping for a capsule filling machine that best suits your business, picking a reliable manufacturer or supplier is the key to success. We hope the above list of the five best capsule filling machine suppliers in the UK will help you out.
Leave your comment
Also Offers
New Arrival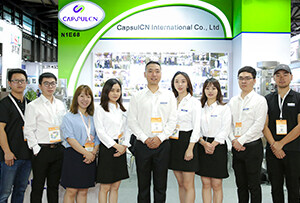 Our Team
As an expert in the pharmaceutical and pharmaceutical packaging industry, iPharMachine has provided solutions for hundreds of pharmaceutical and health product manufacturers for 17 years. By visiting customers, we get good reviews from our customers.