Top Global Capsule Filling Machine Suppliers: A Complete Review
- Thursday, September 15, 2022
Are you looking for first-rate capsule fillers for your pharmaceutical business? Then you should find professional capsule filling machine suppliers. As we know, capsule filling is a sophisticated process.
Advanced capsule fillers can automatically complete loading, separating, filling and capping. They tend to consist of parts like PLC, automatic loading devices, powder dosage filling devices, etc.
Only top-notch capsule fillers can produce capsules efficiently - let's say you want to produce over 10k capsules per hour. On top of that, they can achieve accurate dosing, low powder waste, and conform to the hygiene requirements of cGMP.
Thus, instead of start-ups, you surely want to source them from reputable suppliers. To help you find your partners, this blog has listed some top suppliers in the world.
1. Market Insights and the main regions of reputable capsule filling machine suppliers
The capsule filling machine market has witnessed tremendous growth in recent years. These may result from the growing demand for drugs, which can be attributed to disease prevalence.
According to Future Market Insights, the global market size of capsule fillers will increase from around $561.4 million in 2022 to $894.4 million in 2032. Among all the competitors, Europe accounts for 44 per cent of the market share. This region has many most senior capsule filling machine suppliers. They have the longest manufacturing history and state-of-the-art equipment. 
China is the second largest region, which accounts for 20 per cent of the market share. Despite the short history, companies in this region have been developing rapidly in recent years. 
Many of them can provide customized equipment and complete production lines. North America is the third largest region, accounting for 9.9 per cent of the global market. Then comes the fourth one, India, which accounts for 9.7 per cent.
2. What types of machines do capsule filler manufacturers offer?

 
Generally speaking, three main types of encapsulators are available in the market. And they have different degrees of automation. They can be divided into manual capsule fillers, semi-automatic capsule fillers, and automatic types.
Manual capsule fillers are the most cost-effective option for buyers. You only need to spend around $100 to $3000 to purchase one, which can help you produce 600 to 4000 capsules per hour.
As for semi-automatic types, they have achieved a relatively high level of automation. But it still needs extra personnel to complete some operations. For instance, they still need operators to put together upper and lower capsule trays. 
Their costs are around $10k to $25k, and they can produce up to 10k to 20k capsules per hour. For medium-size production, semi-automatic encapsulation machines can be your ideal choice.
For commercial production, automatic capsule fillers are the most efficient type. Despite their high initial cost, they will most likely skyrocket your business in the long run. The reasons are self-evident. It can help you save human labour, as a PLC and a mechanical drive system can help you finish most of the operations.
In general, the cost of automatic capsule fillers is between $30k to $50k or even higher. And its production capacity can reach 12k to 450k capsules per hour.
According to MarketWatch, 80 per cent of capsule filling machines are automatic types. In contrast, semi-automatic capsule fillers only account for only 13 per cent.
3.Top capsule filling machine suppliers in the world
Syntegon 
Company Introduction
If you ask who is the best capsule filling machine supplier, this may be a hard question to answer. But Syntegon, with its 160 years of experience in the pharmaceutical industry and over 50 years of experience as a capsule filler supplier, can no doubt claim to be one of the leading companies. 
In 2020, Bosch Packaging Technology left Bosch Group and was renamed Syntegon. And today, to better serve their wide range of customers, they have set up subsidiaries in more than 30 locations worldwide. 
Every day, their 5,800 employees pursue a common goal, "processing and packaging for a better life". They are detail-oriented to improve people's lives and always provide top-notch machines.
Product Highlights 
Regarding capsule fillers, their GKF series is well suited for all kinds of applications. Whether small-scale production like R&D, medium-size production like a pilot-scale experiment, or large-scale manufacturing, Syntegon can never fail to meet your expectations.
For different filling materials, they always adopt proper technology. They have mastered slide-gate technology for powder/pellets filling, vacuum-wheel dosing for micro-dosing capsules, and precise volumetric dosing for liquid filling.
As for safety, their GKF Containment series has the feature of barrier systems. This system can separate the operators from the product area, reducing the exposure to harmful ingredients. As for the features of ProTect and HiProTech, they can well ensure personal safety even at the OEB 4 or OEB 5 level.
Their product ranges include:
Fette Compacting 
Company Introduction
In 1948, Fette Compacting invented its first tablet press and started setting industry standards. As one of the pioneers in the industry, they have been dedicated to tablet compressing technology for over 70 years. And today, they can claim to be a real leader in tablet production. 
On top of the cutting-edge technology, Fette Compacting is also renowned for its comprehensive service. Globally, they have 800 service employees. They are available for comprehensive services in different regions. 
Their services include technical support, maintenance, and replacement of spare parts and equipment. Leave all your problems for Fette Compacting. They will keep your machines up-to-date. 
Product Highlights 
In 2016, Fette Compacting launched its first capsule filler, FEC40, at the Interphex in New York. The biggest highlight of their encapsulators is "efficiency". 
Boasting a smart interface, modular design and the high-precision NMC (Net Mass Control) sensor, the FEC Series can achieve great performance with low waste. 
So if you're sourcing capsule fillers for medium or large-scale production, then the FEC Series can be your best bet. It can fulfil your needs with its top-tier quality and high performance. 
The Features of FEC Series:
HMI (Human Machine Interface) for intuitive operation
Flexible set-up for saving time
Easy-to-dismantle stations for faster changeover and cleaning
High production capacity (up to 20k to 40k capsules per hour)
iPharmachine 
Company Introduction
In recent years, Chinese pharmaceutical processing & packaging industries have been developing rapidly. Now, China is the second largest manufacturing region - second only to Europe.
Among many Chinese counterparts, iPharmachine can claim to be a real expert. Well, their great skills speak for themselves:
At first, a company named CapsuleCN started with manual encapsulators. They only serve small pharmaceutical companies. Growing together with their partners, they gradually become the industry's pioneer in China.
Due to the strict material selection and delicate craftsmanship, the manual encapsulator series has become a real hit. You will find their CN series if you have searched on major e-commerce sites or Google. Their iconic acrylic sheets are so eye-catching that you will love them at first sight. 
During nearly 20 years of development, CapsuleCN International always craft the best products. And many of them become return customers when they have grown into a successful businesses. 
But CapsulCN was not pleased with themselves and continued to pursue the ultimate level of craftsmanship. In 2013, they established a subsidiary brand iPharmachine, providing professional pharmaceutical processing & packaging solutions.
To keep machines up-to-date, their engineers work tirelessly to innovate in expertise. They combined German technology with Chinese manufacturing advantages. And finally, they successfully brought about many revolutionary products. 
Today, they are capable of providing all kinds of pharmaceutical packaging machines. Their business ranges from raw material processing, capsule filling, and tablet pressing to powder & granule packaging and bottle filling. iPharmachine has the confidence to provide a one-stop solution for any production requirements. 
Product Highlights:
The biggest highlight of iPharmachine is its diverse product lines:
From Semi-automatic Capsule Filler JTJ-V Pro+ (cost-effective yet powerful), Automatic Capsule Filler NJP-7500 (450,000 capsules per hour), to Full-automatic Capsule Filler SFK-3000 (features the most advanced technology in the industry), iPharmachine can satisfy the various needs of different customer groups.
The features of the JTJ-V Pro+ Semi-auto Capsule Filling Machine:
Cost-effective yet efficient (50,000 capsules per hour, close to the output of the fully automatic filler NJP-800)
 Anodized capsule trays can greatly extend the service life
The features of Automatic Capsule Filler NJP-7500:
Capable of producing 7500 capsules per minute (up to 450,000 capsules per hour, the highest output in the industry)
5-stage tamping technology for high-precision powder dosing
Fully enclosed turning table creates a dust-proof environment
The features of the Fully-automatic Capsule Filling Machine SFK-3000:
Electrical components of international standard which ensures the long service life
 High-precision metering disc filling rod
 Novexx Solutions Motor with low noise and low energy consumption
Capsugel 
Company Introduction
Founded in the 1960s, Capsugel is a leader in hard capsule manufacturing. With their expertise in capsules and the equipment for pharmaceutical R&D, they now have more than 5000 customers in over 100 countries. 
In capsule manufacturing, they always lead the market with unsurpassed productivity. They have 4 innovation labs and 12 manufacturing sites. That accounts for their capacity of manufacturing 230 billion capsules every year.
Regarding capsule filling machines, Cpsugel has its strengths as well. They specialize in the equipment for R&D, clinical batches and medium-size production. 
Product Highlights
Are you looking for equipment for early-phase product development or medium-size production? Then Capsulgel may be your ideal choice. Not only because they have mastered encapsulation technologies but also because they have the drug development know-how.
Their featured products include cGMP-compliant Ultra III Semi-automatic Capsule Fillers and Micro-dosing Systems. All these patented products have features that support your R&D requirement.
Further, Capsugel offers considerate services to help your early phase clinical programs. Their support services include micro-dosing, packaging, distribution, and return services.
Their micro-dosing systems include:
Xcelodose 120S: semi-automated 
 Xcelodose 600S: fully automated 
ACG Group 
Company Introduction
Founded in Mumbai in 1961, ACG has always served pharmaceutical and nutraceutical companies. It has become a multinational company with its presence in 138 countries on 6 continents. 
Today, they can produce up to 120 billion capsules every year. Ad they have installed 23,947 machines for customers around the world.
As a member of the pharmaceutical industry, they know they have the responsibility to take machines seriously. Because they know pharmaceutical equipment is all about saving lives. 
From innovative design to the most stringent quality control, ACG takes every detail seriously. And now, they take the initiative to cooperate with global experts. 
In 2016, ACG acquired its German process development team. In February 2021, ACG set up its process development laboratory. 
And then, they invited their global customers to participate in the development. Up to now, ACG is also collaborating with equipment designers from all over the world.
If you are looking for suppliers from India, then ACG can best suit your needs.
Product Highlights
Due to the large investment in R&D, ACG has mastered many core technologies. And they can ensure the superior performance of their equipment. 
For instance, they have acquired the patent named ZRO technology. With the aid of it, the ZRO series can encapsulate a wide range of complex formulations. Further, they have adopted the dostar technology, which has achieved accurate micro-dosing (up to 15mg). 
The features of the AF series:
Capable of encapsulating wide ranges of complex formulations.
Flexible to fill capsules with various combinations, such as powder, tablets, micro- tablets, pellets, softgel and the capsule in a capsule combination
Adopt precise slug dosing technology, which ensures high precision
Able to integrate with Accura - their self-developed capsule checkweigher
Conclusion
The capsule filling machine suppliers listed above are the top-rated suppliers worldwide. 
Generally, suppliers from Europe, China, North America and India have rich experiences. Capsule filler suppliers from Europe tend to boast the longest manufacturing history. They can provide you with state-of-art equipment. 
And with years of development, Chinese and Indian suppliers are no worse than their European counterparts. They can offer you top-notch machines as well as one-stop solutions as well.
As for what are the best encapsulators, it may be a hard question to answer. Since these top capsule filling machine suppliers have different strengths. And they suit different buyers. 
Make sense of your brand position, and cooperate with a reliable supplier. Then, you will gain a lot in the long run. 
Leave your comment
Also Offers
New Arrival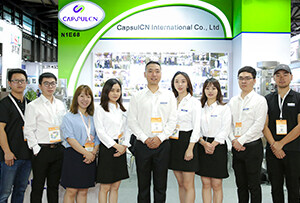 Our Team
As an expert in the pharmaceutical and pharmaceutical packaging industry, iPharMachine has provided solutions for hundreds of pharmaceutical and health product manufacturers for 17 years. By visiting customers, we get good reviews from our customers.