Best 5 V Blender Manufacturers
- Tuesday, January 17, 2023
V-type blenders are used to make homogeneous solid mixes. Mixing is a typical production step in manufacturing goods for various sectors. Such as healthcare, pharmaceutical, food, chemicals, cosmetics, detergents, colorants, fertilizers, and polymers. In these sectors, V blenders are commonly utilized.
This blog provides a list of some of the world's leading manufacturers to help you identify manufacturing partners.
1. PerMix
Company Introduction

PerMix has been producing mixing and blending equipment for various industries. Such as the pharmaceutical, nutraceutical, cosmeceutical, food, and chemical industries since 1954. PerMix has a solid reputation as a skilled industrial mixing and processing equipment and systems supplier. Our cutting-edge technology and know-how in this division developed in Israel, as did our manufacturers' low labor costs.
Over the years, PerMix has established a solid name in domestic and international markets over the years. PerMix provides full service to all customers, whether they are well-known or new. With a decade of engineering experience in this field, Permix can provide the best solution for any sector. And whoever requires industrial mixing and processing equipment.
Product Highlights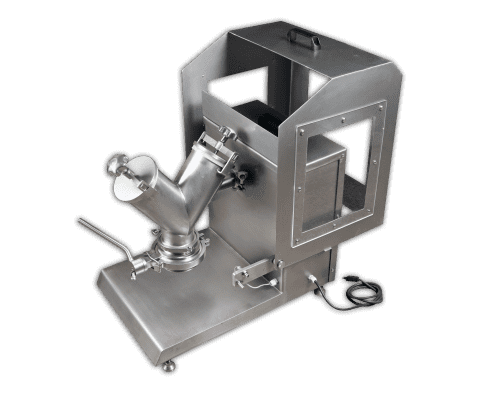 The PerMix V-Blenders, also known as Y-shaped Mixers, are well-known Tumbler Mixers. And it is used for the intimate mixing of free-flowing dry powders, granules, and crystals. The PerMix V-Blenders have a straightforward design and an easy-to-clean structure.
The "V" chamber of the PerMix PVM series V blenders is made up of two cylinders. V blenders rotate 360 degrees thanks to a gear motor. Powders and grains are manually or automatically fed into the V chamber.
This multi-dimensional action causes the powders and grains within to tumble up and down and collide all the time, achieving consistent mixing in a short amount of time.
The PerMix PVM series V blenders come with a number of attachments, including:
1. Internal shredders.
2. Execution by vacuuming/drying.
3. A unique spray unit.
4. A special safety barrier.
5. portable trolley
2. iPharmachine
Company Introduction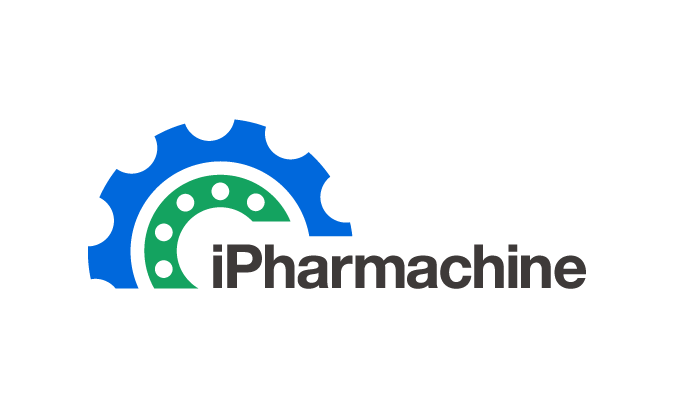 The leading manufacturer of empty capsules and equipment for filling capsules is iPharmachine. With a long history of producing capsules and related equipment, iPharmachine holds many patents in this area. iPharmahine, a research and development organization, provides pharmaceutical engineering solutions.
iPharmachine may claim to be a true leader among numerous Chinese rivals. Indeed, the superior abilities of the company speak for themselves.
In the beginning, iPharmachine used manual capsule fillers. Now, it is a professional pharmaceutical company that offers products including bottling lines, tablet presses, capsule filling equipment, powder mixers & blenders, and blister packaging equipment. The company is dedicated to offering top-notch, all-in-one solutions to a wide range of customers.
Initially, the firm called CapsuleCN used hand encapsulators. CapsuleCN exclusively provides services to small pharmaceutical firms. The company eventually established themselves as the industry's pioneer in China as the firm has expanded alongside their partners.
The manual encapsulator series has gained a lot of popularity because of its meticulous craftsmanship and careful material selection. You will fall in love with the recognizable acrylic sheets at first sight because they are captivating. You will locate the CN series if you have looked on popular e-commerce websites or Google.
To maintain machinery up to date, the professional engineers of the organization constantly work to develop expertise. The team merged Chinese manufacturing expertise with German technology. And lastly, the firm became successful in creating a number of revolutionary products.
Product Highlights
The v blenders of iPharmachine are recognized for their high quality and reasonable prices. The most notable feature of iPharmachine is its extensive product line. Cone Blender Machine is one of them. Its product lines vary from 1 to 5000, with filling volumes ranging from 0.25L to 5000L.
These exceptional mixers are appropriate for the pharmaceutical and chemical industries, the food industry, and any application that demands the combination of two or more dry powders or granules. Following are the Cone Blender Machine including:
V-1 Mini V Type Powder Mixer Machine
The mini V Type Powder Mixer Machine V-1 has several characteristics that make it ideal for use in any laboratory. This machine is excellent for mixing powder or granular materials in the pharmaceutical, chemical, and food sectors.

Features:
A safety system prevents the mixer from rotating when the safety cover is opened.
This machine is small in size, lightweight, and simple to use.
The cylindrical construction is distinctive, and the mixing ability is well-proportioned and efficient, with no blind spots in the cylinders and no material buildup. 
V Blender Dry Powder Mixer Blending Machine V50 Pro
CapsulCN's V Blender Dry Powder Mixer Blending Machine Mixer V50 Pro is a mixing machine. Its materials-contact components are constructed of stainless steel, which complies with CGMP. The mixer has a basic structure, simple operation, and pretty appearance.

Features:
It is adaptable to the blending of diverse materials and has a consistency rate of up to 98%.
To ensure the safety of the manufacturing process, there are safety fences.
This machine is easy to use, runs well, and makes no noise.
Customers may easily alter the location of the equipment since the machine is fitted with universal casters.
Read this guide, and you can check iPharmachine's V Blender Diagram and Design.
3. Servolift
Company Introduction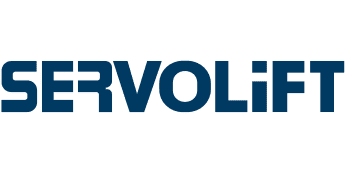 SERVOLiFT LLC has been a major provider of high-quality, custom-engineered process and handling systems to firms in the pharmaceutical, food, chemical, and cosmetics industries in the United States, Puerto Rico, and Canada since 1976.
Over 10,000 successful installations worldwide have provided us with extensive expertise and knowledge that we use for every project we work on.
Servolift provides full project management, consultancy, and design services. We are entirely adaptable to our client's demands and never forget to recognize the fact that the customer is everything.
Product Highlights
Cantilevered V Blender and Cantilever V Lift Blender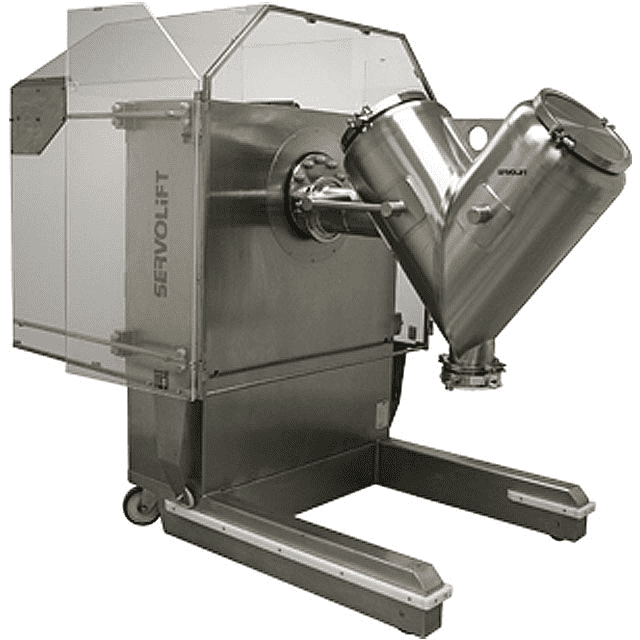 Unlike traditional V-blenders, which have support on both sides of the shell, Servolift blenders use our innovative cantilevered design, which allows the shells to be removed. We can also attach the shell to our lifter blender system for a genuinely functional design! We can do both motorized and manual shell repairs.
The Servolift blender series meets all of your company's capacity and demands, from tabletop machines for research and development through pilot-size batch manufacture to full-scale big, volume production.
V-Shell Blender - Laboratory Series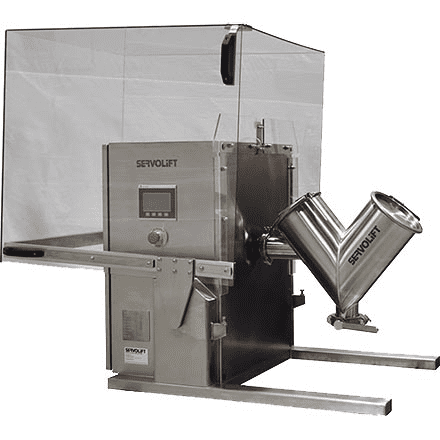 V-Shell Blender A&M Laboratory for the pharmaceutical, food, and chemical industries.
Standard Bench-top Design Features:
The electrical controls are housed in a NEMA 4X stainless steel, water-tight box, complete with an Allen Bradley HMI and PLC.
Standard is a manual pivot valve with a silicone gasket. A sanitary butterfly valve is an optional extra.
Shell modules with capacities of 4, 8, and 16 quarts are offered.
Cantilevered shells are held in place by a sanitary clip allowing easy removal for cleaning.
4. Yinda Machinery
Company Introduction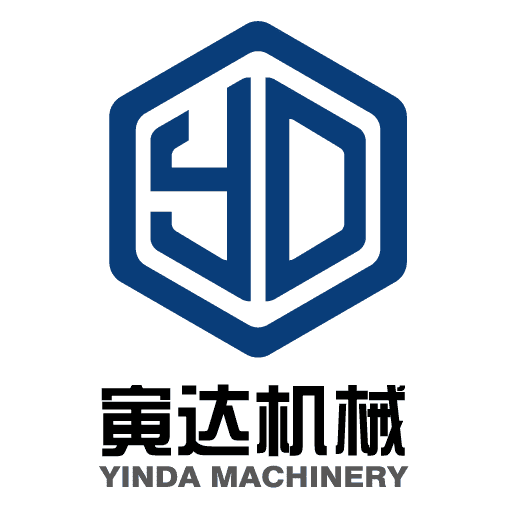 Yinda Machinery is a major V mixer manufacturer and factory in China, offering V mixers in a variety of sizes, volumes, and optional accessories.
Our skilled engineering team creates precisely engineered V Mixers for laboratory and industrial production. We sell powder processing machines at factory pricing all around the world. Our attentive sales staff ensures that communication is efficient, equipment is reliable and trouble-free, and we provide exceptional support.
Each machine in Yinda has a robust construction and higher production, allowing clients to achieve the required results and performance.
Product Highlights
Yinda V mixer has fast mixing speed and homogeneity and is easy to clean; it will not harm the original shape of the materials. Yinda is a renowned V mixer provider, and all of our V mixers fulfill ISO/CE/GMP requirements. We can also give competitive pricing based on your project.
V20-V50L Laboratory V Mixer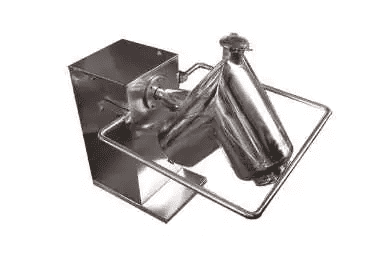 Suitable for use in the laboratory or at home.
The optimal filling range is 10 L-25 L.
Long service life and stable functioning.
V100-V300L V Blender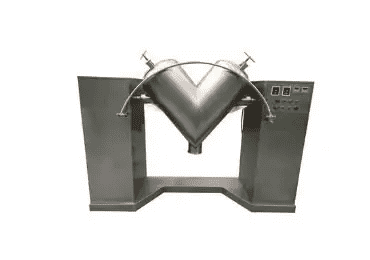 Commercial or industrial usage is permitted.
The optimal filling range is 50L-150L.
The Discharge valve is operated manually.
Control system with buttons.
V500-V2000L Bin Blender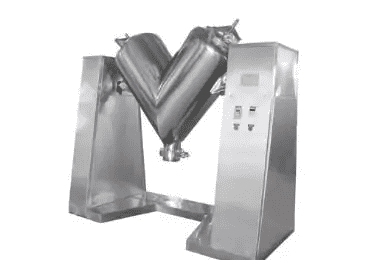 The platform is advised for safety reasons.
For big quantities, vacuum feeding is advised.
5. Yenchen
Company Introduction

Yenchen was founded in 1967, and with over 50 years of professional expertise, we have grown to become Taiwan's top pharmaceutical equipment provider. The laboratory in Yenchen is outfitted with tabletting, granulation, extraction, and concentration equipment. Their goods and services are widely employed in the pharmaceuticals, food, biotechnology, chemicals, and cosmetics industries.
Their new manufacturing plant, with approximately 6000 square meters of space, was completed in 2006, with a clean and well-organized atmosphere that allowed us to deliver improved service facilities to our clients.
Yenchen celebrated its 50th anniversary in 2016. In order to become a multinational firm, they respect the fundamental principles and global vision. And they offer comprehensive customer satisfaction with goods and services.
Product Highlights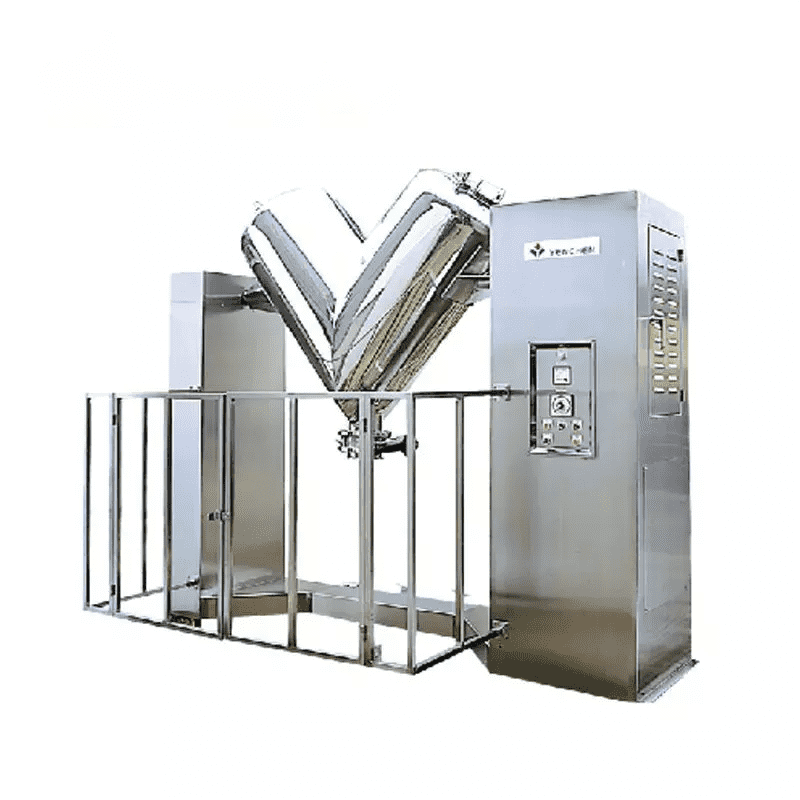 The V-shaped mixer's mixing mechanism involves rapidly rotating the grains, which allows the result to separate into two cones before merging back into one. By repeating the method, the granules will be separated and combined again and again until the optimal mixing result is obtained.
Features
1. Effective mixing effect
2. Structure Is Simple
3. Simple to clean
4. With a safety gate and an interlock.
5. It can be linked to a vacuum suction system and a dry granulator for closed-loop operation and continuous auto-loading.
Conclusion
Before purchasing a V Blender machine, it is necessary to conduct an extensive study. They naturally come in a variety of shapes, sizes, designs, and applications. We have included vital information for your search for the best manufacturer as well as a list of the top 5 V Blender manufacturers in this post. At iPharmachine, we ensure that we are the finest manufacturer and supplier of V Blender. Feel free to connect with us if you have any query.
Read more:
Best 5 Pharmaceutical Blender Manufacturers
Best 5 Double Cone blender Manufacturers
Best 5 Ribbon Blender Manufacturers
Leave your comment
Also Offers
New Arrival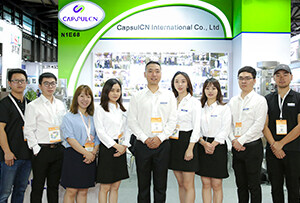 Our Team
As an expert in the pharmaceutical and pharmaceutical packaging industry, iPharMachine has provided solutions for hundreds of pharmaceutical and health product manufacturers for 17 years. By visiting customers, we get good reviews from our customers.