Working Principle of Labeling Machine
- Thursday, June 6, 2019
The labeling machine is a device for attaching a roll of self-adhesive paper label or other suitable material to a PCB, a product or a prescribed package, and is widely used in various industries such as electronics, furniture, beverage, daily chemical, food, medicine, petrochemical, etc. Labeling of product packaging containers and packaging boxes. Automatic labeling machine equipment plays an important role in various industries. The device's own structure is perfect, and the all stainless-steel material makes it easier to store and prevent equipment from getting wet and rusting.
The principle of the labeling machine is that the item is fed to the labeling machine at a constant speed on the conveyor. The mechanical fixture separates the items a fixed distance and pushes the item in the direction of the conveyor.
It has a drive wheel, a labeling wheel and a reel. The drive wheel intermittently drags the label strip movement such that the label strip is pulled out of the spool while the label strip is pressed against the article by the labeler wheel. An open-loop displacement control is used on the reel to maintain the tension of the label strips because the label strips are connected to each other. The label belt is continuously stopped and stopped so that the label tape is attached to the article with the labeling wheel moving at the same speed as the article. When the conveyor reaches a certain position, the label drive wheel accelerates to the speed at which the belt matches. And after the label is attached, it decelerates to a stop.
Since the label may slip slightly, it has a mark on it to ensure that each label is placed correctly, which is read by a sensor. During the deceleration phase of the label, the drive wheel will re-adjust the position to correct any errors on the label.
Leave your comment
Also Offers
New Arrival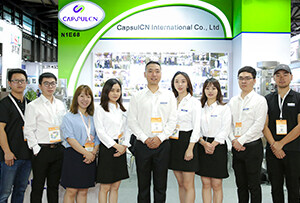 Our Team
As an expert in the pharmaceutical and pharmaceutical packaging industry, iPharMachine has provided solutions for hundreds of pharmaceutical and health product manufacturers for 17 years. By visiting customers, we get good reviews from our customers.